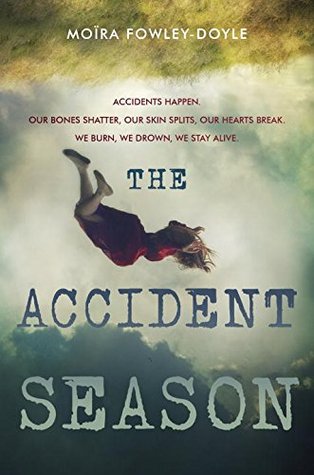 The Accident Season
by
Moïra Fowley-Doyle
Series:
standalone
Published by
Kathy Dawson Books
on August 18th 2015
Genres:
Young Adult
,
Paranormal
,
Magical Realism
Pages:
304
Format:
Hardcover
Source:
Bought
Buy on Amazon
Rating:
Every October Cara and her family become inexplicably and unavoidably accident-prone. Some years it's bad, like the season when her father died, and some years it's just a lot of cuts and scrapes. This accident season—when Cara, her ex-stepbrother, Sam, and her best friend, Bea, are 17—is going to be a bad one. But not for the reasons they think.
Cara is about to learn that not all the scars left by the accident season are physical: There's a long-hidden family secret underneath the bumps and bruises. This is the year Cara will finally fall desperately in love, when she'll start discovering the painful truth about the adults in her life, and when she'll uncover the dark origins of the accident season—whether she's ready or not.
This book, wow, I am pleasantly surprised! I honestly picked this one up because it sparked my attention and it looked like it might be an enjoyable read for the Halloween season. I got everything I wanted to wrap up in a nice package and delivered! Boy did this book deliver. Moïra Fowley-Doyle writing is hauntingly beautiful and creepily atmospheric! I was hooked, totally hooked from the start and once I got to the Halloween party and the last what 40%? I could not put this book down. I totally needed my sleep, but it was hard to let go I needed to know what happens in the end. I found myself chomping through the pages until I hit the end.
So let's raise our glasses to the accident season,
To the river beneath us where we sink our souls,
To the bruises and secrets, to the ghosts in the ceilings,
One more drink for the watery road.
It's October therefor it's Accident season, something that has been plaguing the Cara's family for years. They have lost many loved ones due to the season so Cara's mother is exceptionally protective. Unfortunately, not a lot of kids in school believe them so they get a bunch of funny looks every time something happens and they get a little more banged up.
I loved the character's in this book, including the secondary and supportive. I thought they really added to the book as a whole and deepened the already creepy plot. Bea is Cara's friend, who reads tarot cards. I really enjoyed her character and the whole tarot card reading was a kind of a great addition to the story. Like the rest of the characters in the book Bea isn't any different. She has her secrets and she hides them all behind her tarot cards, but she is an excellent and supportive friend to Cara.
Sam is Cara's ex-step-brother who is also plagued by the accident season even thought they are not blood related. I found that oddly interesting. I liked Sam, he is very protective of Cara and has his own demons when it comes to his father.
Alice is the older sister of Cara, and is very troubled and probably sees things more clearly when it comes to the accident season over Cara.
The story itself was creepy and hauntingly beautiful, the writing was fantastic a bit lyrical and filled with magical realism. The story was fast paced and I did not find it dull, even with the well done descriptions, especially all the scenes in the haunted house. Cara's comparison to the changelings that shed their human skin for one night a year was so different and freaky. Alice's struggles with the boyfriend was well done, especially in the situations like this, not only was it realistic it was a bit frightening in its own way.
The mystery behind the Accident season had me hooked until the very end. Especially wanting to know more about this mysterious girl named Elsie, who happens to pop up in all of Cara's pictures, no matter where she takes them.
Accidents happen. Our bones shatter, our skin splits, our heart break. We burn, we drown, we stay alive.
There is romance in this book, it's a bit unusual. I was honestly mostly surprised this subject made it into the YA genre. I was recently amused to myself how popular it is right now. It's a bit taboo, but it works. My husband and I had a discussion about it, because I did not know it was considered a taboo, given the circumstances, but I get it.
The teens in this book felt realistic, even if I was particularly grumpy that they drank and smoke. Looking back at my teen years, I realize it is part of the "teen culture" it does happen, and it's stupid to remain ignorant.
I am still lost about this, metal, tin? Man that Cara has several run's in with. I am not sure that part was ever explained fully.
Overall, if you are looking for at least one book to read this Halloween, I do strongly recommend this one. The hauntingly beautiful, creepy writing, the characters, the mystery and the magical realism wrap this book up nicely and make it worth the read!