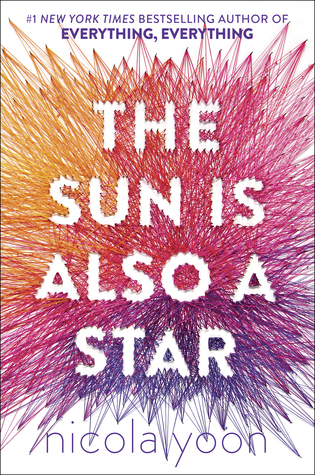 The Sun Is Also a Star
by
Nicola Yoon
Series:
standalone
Published by
Delacorte Press
on November 1st 2016
Genres:
Young Adult
,
Contemporary
Pages:
348
Format:
Hardcover
Source:
Library
Buy on Amazon
Rating:
Heat:
Natasha: I'm a girl who believes in science and facts. Not fate. Not destiny. Or dreams that will never come true. I'm definitely not the kind of girl who meets a cute boy on a crowded New York City street and falls in love with him. Not when my family is twelve hours away from being deported to Jamaica. Falling in love with him won't be my story.
Daniel: I've always been the good son, the good student, living up to my parents' high expectations. Never the poet. Or the dreamer. But when I see her, I forget about all that. Something about Natasha makes me think that fate has something much more extraordinary in store—for both of us.
The Universe: Every moment in our lives has brought us to this single moment. A million futures lie before us. Which one will come true?
I admit that I picked up this book because of the hype surrounding it lately. I felt like this book was everywhere and after finally managing to get a copy from my library to read it, I was excited. Unfortunately, this is why I am also sad to say I feel like a black sheep on this one. I did not enjoy it as much as I wanted to and I did not understand the appeal of it.
Let me explain what worked and what did not work for me.
Instalove – Now this is something that I was warned about so it partially might have been my fault. I knew it was coming, but as I went into this book sort of blindly I was okay with giving it the benefit of a doubt. Still, it ended up not working for me. I would really have to suspend disbelief with this one and even thought I could in most cases, as a contemporary this did not feel realistic. Seriously, Daniel – the male in this book – basically stalks her. As someone who lived in the city, this was like beyond awkward for me to live and understand it. Also, half the time they talk about their flaws and what annoys them about each other. So not really sure how the whole can't breath, can't think about my life without you worked here.
Could not Connect – I did not feel the attraction between these two and just felt like I was on the outside looking in. I could not form any sort of attachment to any of the characters and had just the worse time connecting which I think really took away from the story when I found that emotional detachment.
Nothing Happens – almost nothing. This book could have honestly been summed up in 100 pages. Basically, it's about these two unlikely teens in the city. Natasha is from Jamaica and is getting deported, thanks to her dad and Daniel is a Korean American from a very strict Korean family that has his life mapped from him. She is trying to find a solution to her deportations and while that is part of the story most of the book is honestly walking, talking, and some verbal fighting. I was bored, I was beyond bored. I just could not understand the appeal with this. If you like walking and talking books where that is literally almost the entirety of the book, then maybe? But with about 300 pages, my brain was starting to feel numb.
Family Dynamics – I did not like the family dynamics in this book. I could not wrap my head around Daniel and his brother's relationship. There is so much hate there and the reason the author gave for it did not work for me I guess? Basically, it just felt like, this is it and there is no other way.
Open endings – UGH!! Okay, I DO NOT read books for opening, endings okay? Why is this now a thing? If I wanted an open ending in a book I would read it half way and just make up the rest of it in my head. This is just as bad as cliffhangers if not worse? In standalone novels, it feels like the ultimate killer. I almost gave this book 1 star because I ended up being SO MAD. Like what was the point of the epilogue if you are just going to leave it like that? It is the worse.
So what did I like?
I liked that these two kids came from two different worlds. I liked the different background cultures and I loved the different ethnic representation. This is probably why I felt so sad that I just couldn't like it.
Also, I really enjoyed seeing how their interactions with other people in this book also effected these people in real life beyond their interaction. That was cool.
Overall, I really wanted to love this, but in the end I just did not understand the hype, and there was one too many things that just did not work for me.