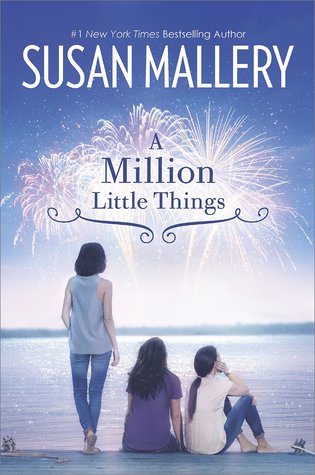 A Million Little Things
by
Susan Mallery
Series:
Mischief Bay #3
Published by
Mira Books
on February 28th 2017
Genres:
Womens Fiction
,
Chick-Lit
Pages:
368
Format:
Kindle Edition
Source:
Publisher
Buy on Amazon
Rating:
Heat:
I received this book for free from Publisher in exchange for an honest review. This does not affect my opinion of the book or the content of my review.

From the bestselling author of
The Girls of Mischief Bay
and
The Friends We Keep
comes a twisty tale of family dynamics that explores what can go terribly, hysterically wrong when the line between friendship and family blurs



Zoe Saldivar is more than just single-she's ALONE. She recently broke up with her longtime boyfriend, she works from home and her best friend Jen is so obsessed with her baby that she has practically abandoned their friendship. The day Zoe accidentally traps herself in her attic with her hungry-looking cat, she realizes that it's up to her to stop living in isolation.
Her seemingly empty life takes a sudden turn for the complicated-her first new friend is Jen's widowed mom, Pam. The only guy to give her butterflies in a very long time is Jen's brother. And meanwhile, Pam is being very deliberately seduced by Zoe's own smooth-as-tequila father. Pam's flustered, Jen's annoyed and Zoe is beginning to think "alone" doesn't sound so bad, after all.

Friendship isn't just one thing-it's a million little things, and no one writes them with more heart and humor than book club sensation Susan Mallery!

"
I usually like Susan Mallery's writing, I struggled with this one on a lot of levels.
The book follows three different women in three different stages of their lives.
Zoe has just had sex with her ex-boyfriend who couldn't commit. She bought a bigger house and quit her teaching job because apparently for some reason (even thought he didn't give her much) she thought she was going to need to be a step-mother to his daughters and that he was going to propose…
Jen is Zoe's best friend and is a stay at home mom that constantly worries. Her 18-month-old child has hit every single milestone in his development with the exception of talking. Jen firmly believes that there is something wrong with her son, even thought everyone else is telling her to give it time. Her husband is a detective and she doesn't like his partner Lucas because he likes his women too much.
Pam is Jen's mother and has always been a good friend to Zoe. She is a widow and isn't looking for love, but she was quick to try and hook up her son Steven with Zoe because she thought they would be good for each other. She also meets Zoe's father Miguel, who wants to date her.
So there is a lot of things going on in this book, there is some romance and dealing with issues and parenting. I just struggled with this because ever character was tough to like and the plot twist the author threw in the middle of the book felt displaced and I found myself angry.
I hated Jen, she was not only horrible to her husband's partner, but everyone else around her.  She thinks there is something wrong with her son and she does everything she can to limit his exposure to freaking everything. Her mother's dog cannot come into her house unless he had a bath the day off. Anytime her friend or mother shows up at her house, she is confused and asks them if she knew they were coming. She is into organic eating, no chemicals in her house, and everything has to be made of cotton and nothing that might be dangerous. Everyone she takes her son to tell her to give him time, that all the tests they did do not reveal anything wrong with her son, and she still explodes on them. She hates Lucas because he won't settle down and dates 20 year olds and thinks he is going to lead her husband astray, based on what logic? I am not sure.
Okay, let me point out that mothers with autistic children do not act like freaking idiots okay? My sister has a daughter, who she believed something was wrong with her after two years of not talking. When she took them to the doctor, they did tests and did find that she was in fact behind. No one told her to give her time, when they saw something, they did something, so when Jen constantly stood defiantly against the doctors claiming no, something is wrong, it was grating.
And of course, it spectacularly bites her in the ass half way through the book. I cannot mention what happens, but it took me everything to finish this damn book.
I felt like there was a ton of mixed signals in this book and it felt like the author was preaching some kind of an agenda. I didn't like how mothers with autistic children were addressed and painted in this book, it was unrealistic and it made me so angry.
I didn't like how unplanned pregnancy was addressed in this book either, especially given the situation. It felt like there was the only right answer to what happened here and anything is might as well rain fire.
Pam turned into a very ugly person by the end of this book and the way she was treating Zoe was unfounded and vicious.
I had a really, really hard time with the tone and the messages in this book. I even had the worse time agreeing with anything that happened.
I was actually happy when things bit Jen in the ass both times, but everything still felt just too wrong for me.
After writing this review.. I've decided a 2 star rating was appropriate after all. I know a lot of people loved it, and it's great, but some things just did not do well for me at all.
Please follow and like us: