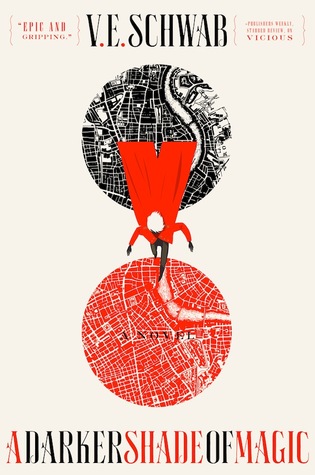 A Darker Shade of Magic
by
V.E. Schwab
,
Victoria Schwab
Series:
Shades of Magic #1
Published by
Tor Books
on February 24th 2015
Genres:
Fantasy
Pages:
400
Format:
Hardcover
Source:
Publisher
Buy on Amazon
Rating:
Heat:
I received this book for free from Publisher in exchange for an honest review. This does not affect my opinion of the book or the content of my review.
Kell is one of the last travelers--magicians with a rare, coveted ability to travel between parallel universes connected by one magical city.
There's Grey London, dirty and boring, without any magic, and with one mad King--George III. Red London, where life and magic are revered--and where Kell was raised alongside Rhy Maresh, the roguish heir to a flourishing empire. White London--a place where people fight to control magic and the magic fights back, draining the city to its very bones. And once upon a time, there was Black London. But no one speaks of that now.
Officially, Kell is the Red traveler, ambassador of the Maresh empire, carrying the monthly correspondences between the royals of each London. Unofficially, Kell is a smuggler, servicing people willing to pay for even the smallest glimpses of a world they'll never see. It's a defiant hobby with dangerous consequences, which Kell is now seeing firsthand.
Fleeing into Grey London, Kell runs into Delilah Bard, a cut-purse with lofty aspirations. She robs him, saves him from a deadly enemy, and finally forces Kell to spirit her to another world for a proper adventure.
Now perilous magic is afoot, and treachery lurks at every turn. To save all of the worlds, they'll first need to stay alive.
Well guys, I finally did it. I finally read, A Darker Shade of Magic. It's kind of embarrassing really. I had this book sitting on my shelf since 2015 and I have not picked it up due to the cover. It's a terrible thing to judge a book by its cover, but this was one of those instances that I did. But, I was watching a ton of book wrap ups on youtube and this book kept appearing and it just had so many glowing reviews from booktubers, that I decided that I was going to go and give it a chance.
So this story follows Kell, who lives in Red London and is one of a very rare and dying breed of magic user (as far as he could tell). Kell can travel through doors into other Londons, or as he calls them, Gray, White and Red Londons. There is a mention of Black London, but due to its complicated history – no one travels there.
Kell likes to smuggle and collect objects from other Londons, so when he accidentally accepts a job and smuggles something he shouldn't into Red London, he brings danger right into his back yard.
The story also follows Laila, a cross dressing girl who wants something more out of her life. She wants a ship and she wants an adventure. So when she stumbled into Kell and steals a black stone from him, she ends up attaching herself to him and the danger in hopes of finding something more to her purpose in life.
This book was actually pretty good. It was an interesting read. As far as fantasy books go this was was easy, cozy, page turning and not at all intimidating. If you are the type of person who wants to try fantasy, but find it a bit intimidating I feel like this book is for you. It really was just an easy read.
I liked Kell. I liked him even if he had that special factor to him, but he was just a really good character. He wasn't perfect, which made me happy and his love for his brother – Rhys just go so deep, it's fantastic.
I didn't find myself as attached to it as I wanted to. I didn't love it. I liked it well enough, but I didn't love it. It was a good book for me to read, while reading some of the other things that I wasn't necessarily into. I didn't read it in one sitting, it did take me a couple of days to get through. I liked the fact that it mostly follows just two people, so your head isn't swimming with too much information and the author gave us just enough for it to have great world building and great character building. The book was very creative, I really enjoyed the world a lot. There is obviously a lot more that we are still waiting to discover, but book one is solid, the writing was really good and I am looking forward to reading book two – hopefully soon.
I do totally recommend this book because I believe there are people that will love it and I do find it a must read if you like great writing, interesting characters and worlds.
Please follow and like us: