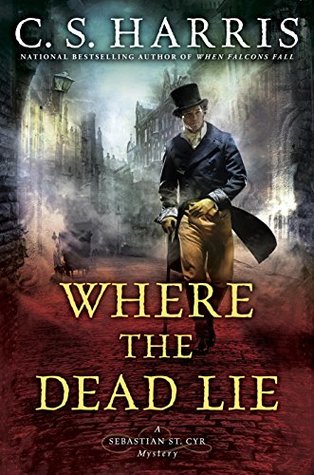 Where the Dead Lie
by
C.S. Harris
Series:
Sebastian St. Cyr #12
Published by
Berkley
on April 4th 2017
Genres:
Historical Mystery
Pages:
352
Format:
Kindle Edition
Source:
Publisher
Buy on Amazon
Rating:
I received this book for free from Publisher in exchange for an honest review. This does not affect my opinion of the book or the content of my review.
London, 1813. Sebastian St. Cyr, Viscount Devlin, is no stranger to the dark side of the city, but he's never seen anything like this: the brutalized body of a 15-year-old boy dumped into a makeshift grave on the grounds of an abandoned factory. One of London's many homeless children, Benji Thatcher was abducted and tortured before his murder—and his younger sister is still missing. Few in authority care about a street urchin's fate, but Sebastian refuses to let this killer go unpunished. Uncovering a disturbing pattern of missing children, Sebastian is drawn into a shadowy, sadistic world. As he follows a grim trail that leads from the writings of the debauched Marquis de Sade to the city's most notorious brothels, he comes to a horrifying realization: Someone from society's upper echelon is preying upon the city's most vulnerable. And though dark, powerful forces are moving against him, Sebastian will risk his reputation and his life to keep more innocents from harm.
Phew, I feel like I have the hardest time writing this review.
This was my first Sebastian St. Cyr book (despite the fact that it is #12), I have been meaning to read this series what feels like forever so when I was offered it for review? Yes, please.
I thoroughly enjoyed this book. It was very atmospheric, but in the heart of it all it is very much so character driven. Could it be read as a standalone? I think so, yes, but and I warn you, you will miss a lot of the character's back story. Outside of the main mystery, there is a ton going on in the character's personal life and although I was able to keep up, I felt a little out of the loop.
Despite all that, I was still able to enjoy the book. If I was good at trigger warnings, which I am not, I caution you to go into this knowing it's a bit of a dark side. Again, this book took me completely out of my comfort zone and I did not find this easy to read. Why? This book deals with the murder of children, rape, flogging and just some really touchy subjects which all of it deals with with like young children around 12-14 year old – so it can be a bit uncomfortable.
This book did have a meaning behind its writing and it was for the author to shed some light on basically street children and how it use to be and the fact that the numbers are still prevalent even in todays society. The horrors, the battles, the means through which they would go through just to survive – I felt there was a message. Despite the fact that it made me feel uncomfortable, it felt realistic.
I read the author's note and in itself I felt like it was a must read with this kind of a book. She talks about how the research is done, what is fact and fiction and how it was used in her book. It just ties a lot of stuff together, I felt it was important.
As far as the plot goes. It was interesting. I really loved Sebastian and following him as he unraveled the clues to the murders. It was just at times, hard to read, as to me it did feel dark. But, it was good, the writing itself was beyond excellent. Harris is just a really talented writer and has a great way with words. Every sentence just felt so perfectly crafted. I just felt that it was so good, so, so good.
Overall, I really enjoyed the story – despite the fact that it pulled me out of my comfort zone. I found myself rooting for Sebastian to find the killer and avenge all those poor children. As much as it was unsettling, I felt the author did an amazing job. The writing in itself was just brilliant. The characters will stay with me. I will continue this series.
The ending though, ugh… Left a lot of things on the table, it's not over.
Please follow and like us: