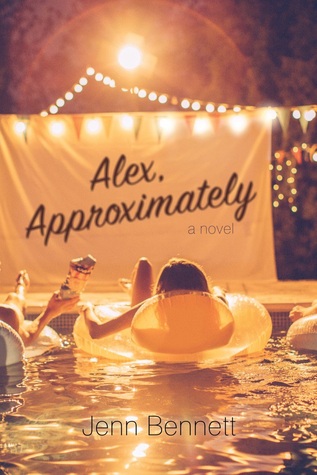 Alex, Approximately
by
Jenn Bennett
Series:
standalone
Published by
Simon Pulse
on April 4th 2017
Genres:
Young Adult
,
Contemporary Romance
Pages:
391
Format:
Hardcover
Source:
Library
Buy on Amazon
Rating:
Heat:
The one guy Bailey Rydell can't stand is actually the boy of her dreams—she just doesn't know it yet.
Classic movie fan Bailey "Mink" Rydell has spent months crushing on a witty film geek she only knows online as Alex. Two coasts separate the teens until Bailey moves in with her dad, who lives in the same California surfing town as her online crush.
Faced with doubts (what if he's a creep in real life—or worse?), Bailey doesn't tell Alex she's moved to his hometown. Or that she's landed a job at the local tourist-trap museum. Or that she's being heckled daily by the irritatingly hot museum security guard, Porter Roth—a.k.a. her new archnemesis. But life is whole lot messier than the movies, especially when Bailey discovers that tricky fine line between hate, love, and whatever it is she's starting to feel for Porter.
And as the summer months go by, Bailey must choose whether to cling to a dreamy online fantasy in Alex or take a risk on an imperfect reality with Porter. The choice is both simpler and more complicated than she realizes, because Porter Roth is hiding a secret of his own: Porter is Alex…Approximately.
If you guys are looking for a fun summer young adult read, look no further because Alex, Approximately might just be the right book for you.
It follows a girl named Bailey who is a completely classics movie buff. She meets a boy nicknamed 'Alex' online on a movie forum and they share a lot of things in common. Alex wants her to travel to California because they are going to have this big movie festival during summer and there is a movie he wants her to see, plus because they click so much, he wants to meet her. When her mother's relationship ends up on the rocks with her current husband, Bailey feels like she has had enough drama and moves to California to live with her dad.
It just happens that Alex, also lives in the same city as her dad.
Bailey get's cold feet and never tells 'Alex' that she is in town in hopes of scoping out the boy first, in case he is a creepy old man, and with her past she has every right to be careful.
Unfortunately the search for Alex hits home a lot closer than she thinks.
Can I just say I absolutely loved and adored this book. As far as romances go, this is like one of my top five favorites of this year so far. I had so much fun with this, with Bailey and Porter. I adored them.
When the two first meet at work, it's a bit rocky. Porter comes off like an ass and Bailey does not want to cower in front of him.
In fact, right from the start he really pisses her off. The two end up arguing a lot, but when they don't fight, sparks fly and magic happens. It turns out, Porter actually really likes her.
I just loved this I really did. I needed something light after reading a dark book and this helped a lot. Lately I've also been enjoying Young Adult Contemporary because I haven't read a lot of them. Plus, it helps with the Adult Romance rot I am currently feeling.
Bailey and Porter were great together. Not only did I love their relationship. I enjoyed the positive family relationships as well as friendships that developed in this book.
I absolutely adored how everything unfolded and that Porter is actually Alex and how the two clicked offline, without actually knowing who the two really are. (This is not a spoiler, it's in the blurb y'all)
There wasn't much that I disliked about this book except for the part where Bailey felt a bit thick when it came to the big reveal. Porter kind of put the two and two together first and his reaction made me a bit grumpy, but I just couldn't understand how Bailey did not see the missing puzzle piece when everything was sitting in front of her. Honestly, she should have put the two together a lot more quickly.
Also, the Davy storyline in this was a little rough and a bit weirdly unnecessary.
Overall, this was a great read – currently top 5 romance favorites this year. It was well written, with a wonderful storyline, great characters, positive relationships with friends, family and between Bailey and Porter.
I loved Porter, I really did. He really made the story for me.
Please follow and like us: