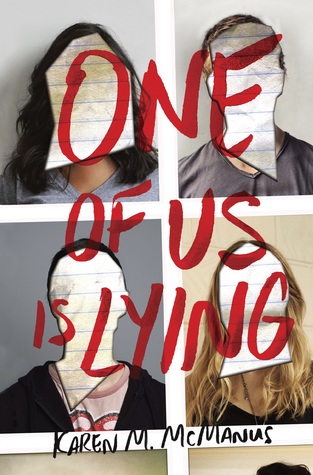 One of Us Is Lying
by
Karen M. McManus
Series:
standalone
Published by
Delacorte Press
on May 30th 2017
Genres:
Young Adult
,
Contemporary
,
Thriller
Pages:
368
Format:
Kindle Edition
Source:
Publisher
Buy on Amazon
Rating:
I received this book for free from Publisher in exchange for an honest review. This does not affect my opinion of the book or the content of my review.
One of Us Is Lying is the story of what happens when five strangers walk into detention and only four walk out alive. Everyone is a suspect, and everyone has something to hide.
Pay close attention and you might solve this.
On Monday afternoon, five students at Bayview High walk into detention.
Bronwyn, the brain, is Yale-bound and never breaks a rule.
Addy, the beauty, is the picture-perfect homecoming princess.
Nate, the criminal, is already on probation for dealing.
Cooper, the athlete, is the all-star baseball pitcher.
And Simon, the outcast, is the creator of Bayview High's notorious gossip app.
Only, Simon never makes it out of that classroom. Before the end of detention Simon's dead. And according to investigators, his death wasn't an accident. On Monday, he died. But on Tuesday, he'd planned to post juicy reveals about all four of his high-profile classmates, which makes all four of them suspects in his murder. Or are they the perfect patsies for a killer who's still on the loose?
Everyone has secrets, right? What really matters is how far you would go to protect them.
Well guys, I official don't know how to review this book. I set on it for a day now and I think this will end up just me spilling my thoughts out the best way possible, without spoilers.
The book is about five teens that end up in detention together. Abby, the popular girl. Bronwyn, the good, smart girl. Nate the bad boy. Copper, the jock, and Simon the social pariah. Nothing too original. They end up in detention after a teacher confiscates their phones for breaking his rules. So despite the fact that after they present evidence that the phones are not theirs and this looks like a setup, the teacher refuses to believe them. Right, that happens…
So an incident occurs and Simon, the social pariah ends up dead. So despite the fact that the teacher was also in the room, the police are convinced that it was murder and the foursome is lying.
Which leads me to the title, it's very misleading. All four of them are lying and Simon was about to expose them for their lies, but he dies (also, not a spoiler it's in the blurb)
The book is also the first point of view with a section dedicated to each teen. So sometimes, when your mind wanders, and mine did often, you kind of forget who you are now reading. Especially since none of the teens really stood out.
So despite the fact that the police have no evidence and it's blatantly obvious that the group was set up. They continue to grip at straws and drag these teens through the mud.
Which brings me to my next gripe. The adults in this book, are painted as major idiots. I get it, okay, teenagers can clash with adults. But this time I have to say, wtf?
The police? Idiots. The Lawyers? Idiots. The media? Idiots. The parents? Yeah, you get it.
It is just so damn frustrating what the cops/detectives put these teens through and the part where they violate Coopers personal rights made me so angry. Because one, they didn't even bother looking elsewhere, they were so focused on destroying these young peoples lives. Like does that happen? Because the clues really kind of lead you that someone else might be involved, but they don't even bother. So obviously they are completely incompetent and it's up to the four to find the real killer.
So you can guess…
The cops did not solve the mystery in this book.
I love that for the teens that do end up reading this. The authorities are painted so damn badly in this, that it's not only scary it just does not instill any sort of confidence in them or respect. See, that really bothers me.
Also
I hated the ending. No. I did not fully see it coming and when things were explained I was actually taken back by it. Because one, I was really angry and annoyed about how far one of the people involved in this let it get and the fact that another character in this continued their relationship with this person.
Like that person should have never let it get this far.
Second, the ending has been just horrible.
Which leads me to another issue.
I do not like the way bullying was handled in this book. I kind of felt like everyone was a bully in this book. The teens, the classmates, the media, the cops, the parents. Ugh. The treatment has been just horrible.
I can see the appeal of this book, so maybe I am over analyzing it. But, I do have to get one thing out there to adult authors who are writing YA books.
Stops making EVERY single adult in YA Books and IDIOT. You are doing no one a favor here, including yourself.
And dear god, if you're going to deal with a form of bullying in your book. Deal with it better, cause this gave me a headache.
But I get the appeal and why so many people loved it. To me though, I felt there were quiet a few issues I wasn't comfortable with.