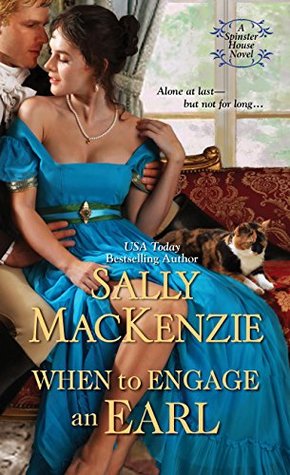 When to Engage an Earl
by
Sally MacKenzie
Series:
Spinster House #3
Published by
Kensington Publishing
on May 30th 2017
Genres:
Historical Romance
Pages:
352
Format:
Paperback
Source:
Publisher
Buy on Amazon
Rating:
Heat:
I received this book for free from Publisher in exchange for an honest review. This does not affect my opinion of the book or the content of my review.
If love is a malady, the Spinster House ladies have caught it, one by one. Miss Jane Wilkinson couldn t be more delighted when her two best friends marry, creating a much-desired vacancy at the Spinster House. For the first time in her twenty-eight years, Jane can be free of her annoying older brother and enjoy complete solitude with the exception of the Spinster House cat, Poppy. If only Jane s unruly thoughts didn t keep drifting to handsome Alex, Earl of Evans, in the most un-spinster like ways Though jilted once, Alex has always intended to marry and raise a family. Now that his two closest friends have tied the knot, he is more determined than ever to find a wife. If only it wasn t the intriguing Miss Jane Wilkinson that his heart as well as the rest of him desired. Not only does she appear uninterested in marriage, it s clear she s the managing sort. And yet, despite Alex s fiercely independent spirit, the idea of being managed by her is quite appealing. Now if he can only convince her to give up her beloved Spinster House in favor of a far more pleasurable home in his arms Sally MacKenzie s novels are Naked, noble, and irresistible! Eloisa James Perfect. RT Book Reviews Great fun. Publishers Weekly Always a delight to read. Booklist, Starred Review"
This will be a quick review.
When to Engage an Earl is the third book in the Spinster House Series and this one follows Miss Jane Wilkinson and Alex, the Earl of Evans. Jane is a self proclaimed spinster. She has been eyeing the Spinster House for a really long time, but kept loosing the lottery so she deviously won the house by making sure the two women before her, fell in love and got married. Now Jane lives in the house alone with Poppy the cat and has no plans on getting married.
Alex is the Earl of Evans and he is looking for a wife because he needs an heir. Alex is a bit wary, especially since he was recently jilted at the altar by the woman he thought he loved. He knows Jane is out of the question as the woman is a proclaimed spinster who is uninterested in marriage and fiercely independent. Yet, Alex can't seem to stop being drawn to her and often shows up with no reason in her town just to see her.
This was super cute and a quick read. The romance was easy, albeit a bit frustrating in the end there until Jane's wants and needs get resolved. I enjoyed Alex and Jane together and the secondary characters had me chuckling. I especially love Alex's mom and sister's involvement in trying to get the two together. Their meddling at times has led to some interesting scenes between Jane and Alex.
This book was definitely on the lighter side and what kept me on reading. I enjoyed how the romances unfolded and I did adore the secondary characters. Jane and Alex were so easy to live and overall I found it to be a very solid read.
Please follow and like us: