Good Morning guys! I hope you all are doing well and enjoying your July. I myself cannot believe how fast this summer is flying. Before you know it, we are going to be in the fall and than the year will come to a close. I miss you guys. It's been super busy around here but I have managed to keep on reading, so I have a bunch of books to review for you and hopefully be back in full swing soon. Until than, the lovely Sophia has another review for you. Enjoy her take on how she felt about book twelve in the Pink Carnation series. I've been eyeing this series what feels like forever, it sounds like a great read with interesting characters.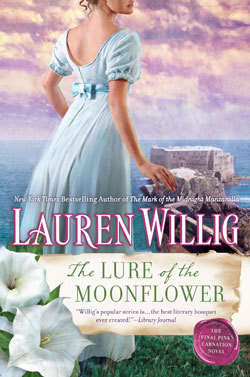 The Lure of the Moonflower
by
Lauren Willig
Series:
Pink Carnation #12
Published by
NAL
on August 4th 2015
Genres:
Historical Romance
,
Romantic Suspense
Pages:
528
Format:
Paperback
Source:
Publisher
Buy on Amazon
Rating:
Heat:
I received this book for free from Publisher in exchange for an honest review. This does not affect my opinion of the book or the content of my review.
In the final Pink Carnation novel from the New York Times bestselling author of The Mark of the Midnight Manzanilla, Napoleon has occupied Lisbon, and Jane Wooliston, aka the Pink Carnation, teams up with a rogue agent to protect the escaped Queen of Portugal. Portugal, December 1807. Jack Reid, the British agent known as the Moonflower (formerly the French agent known as the Moonflower), has been stationed in Portugal and is awaiting his new contact. He does not expect to be paired with a woman—especially not the legendary Pink Carnation. All of Portugal believes that the royal family departed for Brazil just before the French troops marched into Lisbon. Only the English government knows that mad seventy-three-year-old Queen Maria was spirited away by a group of loyalists determined to rally a resistance. But as the French garrison scours the countryside, it's only a matter of time before she's found and taken. It's up to Jane to find her first and ensure her safety. But she has no knowledge of Portugal or the language. Though she is loath to admit it, she needs the Moonflower. Operating alone has taught her to respect her own limitations. But she knows better than to show weakness around the Moonflower—an agent with a reputation for brilliance, a tendency toward insubordination, and a history of going rogue.
READERS GUIDE INCLUDED
I've always had a bit of a thing for espionage stories particularly from the past so the Pink Carnation series has been right up my alley. The Lure of the Moonflower is the twelfth and final book of the series and brings things full circle with a mission for the Pink Carnation herself.
For those not in the know, this series is told split story- present story framing a past story. In the present, Eloise and Collin have their adventures as Eloise lives at the old Selwick country estate to do research for her grad dissertation on the enigmatic shadowy lady spy of the past during the wars with France, The Pink Carnation. And in the past, the stories follow the missions of the members in the Pink Carnation's league of spies. There is suspense and romance to be had- heavier on the romance much of the time.
The missions can get quite twisty so that sometimes it comes down to the end before secrets are revealed. These are exciting stories, but don't slip into gritty thriller territory. I confess that the split stories don't hold my attention equally. I enjoy Eloise, Collin and their families, but I get more engaged with the stories in the past. That said, with this last one, I found both stories engaging and I loved how this last story ended up. And I really hope a few of those possible future threads get addressed.
What I enjoyed about this one was not the actual spy mission itself- Jane, the Pink Carnation, recruiting a dubious Jack to help remove the queen of Portugal from French hands. No, I enjoyed the interplay between stiff, prejudiced, and know it all Jane against a man of equal intellect who is not what she thought he was. The Pink Carnation never errs and never is taken by surprise, but from the outset, she thinks she knows all about him and lets these preconceived notions guide her into making mistakes.
I was so afraid that there would be an imbalance and that the hero would never live up to who was needed to pair with Jane because she is such a strong and highly skilled agent and woman, but that was not the case. Jack was a brilliant complex character- strong enough to stand beside Jane and let her do her thing, but also have her respect because he was strong in his own right. Their chemistry was smoldering at first as they battled wits and figured out how best to get along, but then it was sizzling. Loved how their relationship was brought along.
Incidentally, my paper copy came with some extras at the back- historical notes, author q&a, extended and deleted scenes, and reader discussions.
So this was a great end to the series, but I do hope there are a few more to come someday. These will be for those who can appreciate a split story, gentle suspense that is more focused on romance and character parts of the plot.
Please follow and like us: