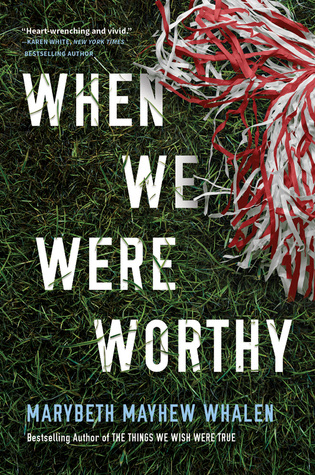 When We Were Worthy
by
Marybeth Mayhew Whalen
Series:
standalone
Published by
Lake Union Publishing
on September 12th 2017
Genres:
Contemporary
Pages:
276
Format:
Kindle Edition
Source:
Publisher
Buy on Amazon
Rating:
I received this book for free from Publisher in exchange for an honest review. This does not affect my opinion of the book or the content of my review.
When the sound of sirens cuts through a cool fall night, the small town of Worthy, Georgia, hurtles from triumph to tragedy. Just hours before, they'd watched the Wildcats score a winning touchdown. Now, they're faced with the deaths of three cheerleaders—their promising lives cut short in a fatal crash. And the boy in the other car—the only one to survive—is believed to be at fault. As rumors begin to fly and accusations spin, allegiances form and long-kept secrets emerge.

At the center of the whirlwind are four women, each grappling with loss, regret, shame, and lies: Marglyn, a grieving mother; Darcy, whose son had been behind the wheel; Ava, a substitute teacher with a scandalous secret; and Leah, a cheerleader who should have been in the car with her friends, but wasn't. If the truth comes out, will it bring redemption—or will it be their downfall?
I did not really know what I was getting myself in it. I picked this book up on a whim after a Youtuber I have been watching mentioned it, then I sat down to read it and I could not put this book down.
If you are looking for a contemporary book with raw, vivid characters, a heartbreaking chain of events set in small-town that triggers self perseverance in a midst of a tragedy look no further.
Worthy is a town of about 5,000 people in Georgia who basically see all and known all. It's a small town so someone will always know someone. Worthy has one thing that they are really proud of and that is their football team who seem to be one of the best. It's a huge thing anytime the high school football happens and the town to be involved in. Well, one night, after a big win, three teenage cheerleaders end up in a big car accident with one of the teenage boys from their school. The three girls die, the boy survives, and the event shakes the whole town.
This story was heartbreaking and it felt so real. Like the reactions, the actions, the emotions. You as a reader can just picture this happening and it doesn't feel far from the truth in a likely event. As someone who now lives in a small town for a couple of years, I can definitely see how something like this can shake the community.
The book falls Ava, a high school teacher who is struggling in her marriage and ends up being reckless with another person that leads to some legal troubles. Leah, another cheerleader that was part of the group of girls who died, who somehow avoided the accident by not being in the car with them at the time. Darcy, the mother of the son who the town is holding responsible for the accident that took the lives of the three girls. And Marglyn , mother of one of the cheerleaders that died.
The story was well done. I did take one star off because I felt like the end did wrap up kind of quickly, but I can see in retrospect how it works anyway. The characters felt real and as a mother, I couldn't help but feel for Marglyn and her pain. I cannot imagine losing a son or a daughter on such a note. Her story was even more heart breaking because the last time she saw her daughter, they fought and it feels like one of the worse things that can occur to anyone if that is the last time they see this person.
The writing was great. The storytelling was wonderful and emotional. The characters just stick with you. It was a really quick read for me and I found that I did not want to put the book down until I knew how it was all going to come together.
I do have to say. The mystery male in the book that Ava had a flirtation with through me off, I was not really expecting that and it only kind of makes me wonder even more about the real innocence of her character.
Overall, I highly recommend this book for anyone that loves to sit down and enjoy a contemporary fiction set in a small town. It was well done.
Please follow and like us: