Wesley James Ruined My Life
by
Jennifer Honeybourn
Series:
standalone
Published by
Swoon Reads
on July 18th 2017
Genres:
Young Adult
,
Contemporary
Pages:
256
Format:
Paperback
Source:
Library
Buy on Amazon
Rating:
Sixteen-year-old Quinn Hardwick's having a rough summer. Her beloved grandmother has been put into a home, her dad's gambling addiction has flared back up and now her worst enemy is back in town: Wesley James, former childhood friend—until he ruined her life, that is.
So when Wesley is hired to work with her at Tudor Tymes, a medieval England themed restaurant, the last thing Quinn's going to do is forgive and forget. She's determined to remove him from her life and even the score all at once—by getting him fired.
But getting rid of Wesley isn't as easy as she'd hoped. When Quinn finds herself falling for him, she has to decide what she wants more: to get even, or to just get over it.
A cute Young Adult Contemporary romance about a girl named Quinn Hardwick, who is having it kind of rough. Her grandmother is having Alzheimer and is put into a home. Her father's gambling addiction seems worse than ever and she has a trip to London with her band that she needs to afford because it has always been her dream to go there. To top things off, Wesley James is back in town and he has ruined her life.
This was a cute read… I flew through it fast, but it was quite a bit frustrating. First, Quinn is 16 years old and Wesley James had an incident like 5 years ago when he was just a little kid, he said something and Quinn automatically accuses him of ripping apart her family. Uh, she is 16 years old and still blames him for something that happened at like 11? Come on Quinn, grow up. Every time her friend pointed out that there was no way it was Welsey's fault she wouldn't hear it.
So attraction grew, but I found Quinn frustrating and immature. There wasn't much character growth here as she didn't realize her mistakes till like 90% of the book and it was because her mother finally decided to say something after 5 years? Yea, not very believable.
Hello, Sunshine
by
Leila Howland
Series:
standalone
Published by
Disney-Hyperion
on July 11th 2017
Genres:
Young Adult
,
Contemporary
Pages:
368
Format:
Hardcover
Source:
Library
Buy on Amazon
Rating:
A Prep School Girl with a Hollywood Dream
Becca Harrington is a reject. After being rebuffed by every college on her list, she needs a fresh start, so she packs up everything and moves to LA, giving herself one year to land an acting gig or kill herself trying.
Unfortunately, not everything turns out as planned, and after a few grueling months, LA is looking like the worst idea ever. As hard as she tries, Becca can't land an agent, she's running out of cash, and her mom is hounding her to apply to more schools. In an act of desperation, Becca and her friend Marisol start posting short videos online—with the help of their adorable filmmaker neighbor, Raj—and the videos catch the attention of a TV producer. Could this be it? Her big break? Or will she have to move back home with nothing but some bad head shots and a monstrous credit-card bill?
Becca may not get the Hollywood ending she was hoping for, but perhaps she'll learn there's more than one way to achieve her dream.
Readers will love every page of this funny, romantic, aspirational, and ultimately triumphant novel about a girl who just wants to make it on her own.
Becca Harrington feels like a reject after being rejected by all the colleges on her list, so she drops everything and moves to LA where she gives herself a year to land a gig as an actress. To make matters worse, Becca ends up being dumped by her high school sweetheart after he drops her off at LA and ends up living in a small one room apartment as she struggles to get an agent to notice her.
Umm… I found this interesting, apparently, because I kept reading it. The book did take me a while to get through. I did not understand how Becca was so naive the entire time.
She shows up in the city and has every door slammed in her face because she does not know what she is doing and has no formal training. They kept saying she was a good actress, but I found it hard to believe. She shows up in LA thinking she can just walk into an office and get an agent to see her. No real history of acting, no head shot, just show up. Right.. no
The romance was weird. There was Raj who was in love with her and lived in her building and befriended her. Becca is still heartbroken over her ex boyfriend, but then she meets a fellow actor during one of her shoes and sleeps with him – thinking they can be the next big Hollywood couple. Ah! But wait, he warned her before they slept that he wasn't looking for anything with her. So Becca flies off irrationally when he acts like she was just a one night stand the next morning because she was picturing them as a couple already. Raj is put on a second burner.. Not okay, I did not feel she deserved him and honestly wished he sent her packing.
Overall, okay read – but Becca keeps being frustrating the entire time because despite everything she still does not seem to get it even 90% into the book. Same mistakes, just as naive.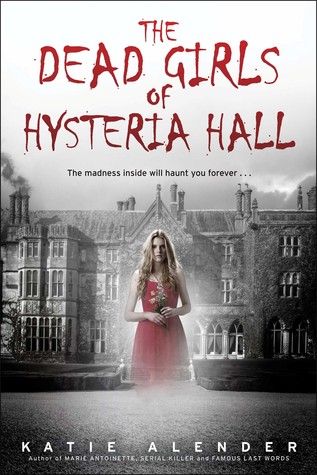 The Dead Girls of Hysteria Hall
by
Katie Alender
Series:
standalone
Published by
Point
on August 25th 2015
Genres:
Young Adult
,
Paranormal
Pages:
329
Format:
Hardcover
Source:
Library
Buy on Amazon
Rating:
In this asylum, your mind plays tricks on you all the time…
Delia's new house isn't just a house. Long ago, it was the Piven Institute for the Care and Correction of Troubled Females—an insane asylum nicknamed "Hysteria Hall." However, many of the inmates were not insane, just defiant and strong willed. Kind of like Delia herself.
But the house still wants to keep "troubled" girls locked away. So, in the most horrifying way, Delia gets trapped.
And that's when she learns that the house is also haunted.
Ghost girls wander the halls in their old-fashioned nightgowns. A handsome ghost boy named Theo roams the grounds. Delia finds that all the spirits are unsettled and full of dark secrets. The house, as well, harbors shocking truths within its walls—truths that only Delia can uncover, and that may set her free.
But she'll need to act quickly, before the house's power overtakes everything she loves.
From master of suspense Katie Alender comes a riveting tale of twisted memories and betrayals, and the meaning of madness.
I think it's safe to say at this point I have read everything this woman has ever written.
This book was fun and creepy and just what I wanted, ghosts.
Delia inherits her grandmother's house, and her parents take both her and her sister during the summer to help them fix the house. Delia is also in trouble because she tried to sneak out on a trip without her parents knowing and lied to them, now they don't trust her.
After finding something strange in the house and trying to get out, Delia's parent's don't believe her, lock her up and she dies.
Now Delia is stuck in the house unable to move on because something is keeping her and the other girls of Hysteria Hall trapped and she must find out who and why.
Interesting story, I was glued to the pages. There is another strange sibling relationship here that is rocky at the beginning (seems to be typical for this author) but ends up being resolved at the end as Delia's tries to save her sister from the house claiming her as another soul.
Creepy, interesting, atmospheric and perfect for fall. A bit slow going, now much has been happening for a while, but overall, a good read.