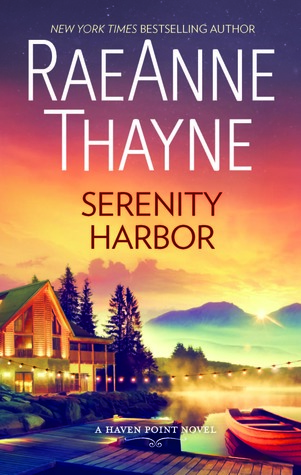 Serenity Harbor
by
RaeAnne Thayne
Series:
Haven Point #6
Published by
HQN Books
on June 27th 2017
Genres:
Contemporary Romance
Pages:
377
Format:
Kindle Edition
Source:
Publisher
Buy on Amazon
Rating:
I received this book for free from Publisher in exchange for an honest review. This does not affect my opinion of the book or the content of my review.
In the town of Haven Point, love can be just a wish — and one magical kiss — away…
Computer-tech millionaire Bowie Callahan is about the last person that schoolteacher Katrina Bailey wants to work for. As far as she can see, he's arrogant, entitled and not up to the task of caring for his young half brother, Milo. But Kat is, especially if it brings her closer to her goal of adopting an orphaned little girl. And as her kindness and patience work wonders with Milo, she realises there's more to sexy, wary Bo.
Bo never imagined he'd be tasked with caring for a sibling he didn't know existed. Then again, he never pictured himself impulsively kissing vibrant, compassionate Katrina in the moonlight. Now he's ready to make her dream of family come true…and hoping there's room in it for him, too…
A story about a young teacher who is in the process of re-evaluating her life and in the middle of adopting a special needs girl from Columbia when she meets Bowie Callahan – a computer-tech millionaire and his special needs brother.
Reading a Thayne book is like coming home to a sweet cup of warm chocolate. The story is lovely, warm and sweet. I found myself drawn to the two people who were trying hard to find a way to deal with the new developments in their lives.
Katrina had sworn off men due to her boyfriend dumping her on their trip to Columbia and all she wants to do is adopt a little girl she met on her trip and become her mother. Bowie just found out about Milo his young brother who has a possible case of Autism and hopes that Katrina could help him while he awaited the Autism specialist. The attraction between the two had a rocky start, but I loved watching it grow between them through the story and enjoyed seeing these two develop as characters.
The ending was super sweet and heart touching.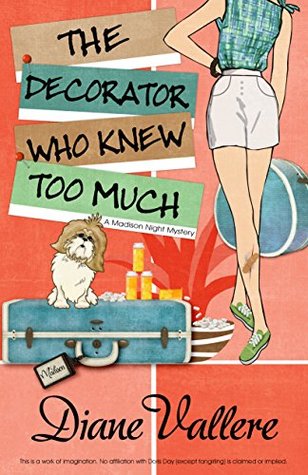 The Decorator Who Knew Too Much
by
Diane Vallere
Series:
Mad for Mod Mystery #4
Published by
Henery Press
on April 18th 2017
Genres:
Cozy Mystery
Pages:
264
Format:
Kindle Edition
Source:
Publisher
Buy on Amazon
Rating:
I received this book for free from Publisher in exchange for an honest review. This does not affect my opinion of the book or the content of my review.
When Interior Decorator Madison Night accepts an assignment in Palm Springs with handyman Hudson James, she expects designing days and romantic nights. But after spotting a body in the river by the job site, she causes a rift in the team. Add in the strain of recurring nightmares and a growing dependency on sleeping pills, and Madison seeks professional help to deal with her demons.

She learns more about the crime than she'd like thanks to girl talk with friends, pillow talk with Hudson, and smack talk with the local bad boys. And after the victim is identified as the very doctor she's been advised to see, she wonders if what she knows can help catch a killer. An unlikely ally helps navigate the murky waters before her knowledge destroys her, and this time, what she doesn't know might be the one thing that saves her life.

"If you love Doris Day, you'll love Madison Night, decorator extraordinaire. She specializes in restoring mid-century homes and designs, and her latest project involves abductions, murder and vengeance." – Books for Avid Readers

"Diane Vallere…has a wonderful touch, bringing in the design elements and influences of the '50s and '60s era many of us hold dear while keeping a strong focus on what it means in modern times to be a woman in business for herself, starting over." – Fresh Fiction

Related subjects include: cozy mysteries, women sleuths, murder mystery series, whodunit mysteries (whodunnit), humorous murder mysteries, book club recommendations, amateur sleuth books, southern humor, Doris Day, chick lit.
Madison Night accepts an assignment in Palm Springs with her beau and handyman Hudson James. The two travel to Hudson's sister and brother-in-law to help with the new development that his brother-in-law is in
Charge of.
Things were suppose to be easy with designing by day and romantic get away at night, but when Madison spots a body in the water – things prove a little more difficult. Now Madison finds herself tangled in deeper secrets, and a few of them are pointing back towards the new development.
Cute, cozy mystery, really awesome easy to love main-character and this entire book was just an easy read. The story was interesting, it kept me hooked. The writing was entertaining and has made the series sound extremely promising.
I have not read the other books in the series but I loved this enough to make sure I pick up any other follow-up because Madison Night and her Doris Day wardrobe obsession is my kind of girl. Her personality alone was charming and addictive.
If you are looking for a good cozy mystery, I recommend this one for you to try.
Please follow and like us: