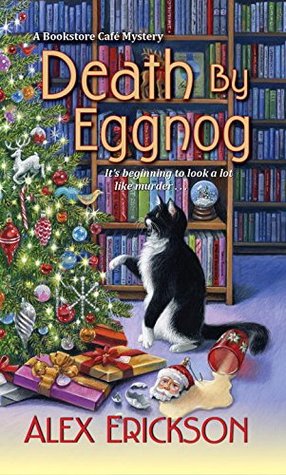 Death by Eggnog
by
Alex Erickson
Series:
Bookstore Cafe Mystery #5
Published by
Kensington Publishing
on September 26th 2017
Genres:
Cozy Mystery
Pages:
304
Format:
Kindle Edition
Source:
Publisher
Buy on Amazon
Rating:
I received this book for free from Publisher in exchange for an honest review. This does not affect my opinion of the book or the content of my review.
Krissy Hancock is staying in her adopted hometown of Pine Hills, Ohio, for Christmas this year--and she even has a whole week off from her combination bookstore-cafe. But a killer is about to dampen her spirits . . . Unfortunately, Krissy's been roped into filling in for a sick elf in the local holiday musical extravaganza. With a demanding director, backstage gossip, and two men in fierce competition for the starring role, it isn't all sweetness and Christmas lights. Then a murder puts a stop to the production, and Krissy is faced with a pageant of suspects. Could her ex-boyfriend, a fellow elf, really be the culprit as the police are claiming? Or will the actor playing Santa be trading his red suit for an orange jumpsuit? When her behind-the-scenes investigation starts getting dangerous, the only thing Krissy really wants is to make it to Christmas dinner alive. But first she'll have to finish wrapping up this case . . .
After her father cancels their Christmas plans, Krissy Hancocks finds herself staying home for the holidays. Already taken time off from work, one of the towns people ropes her into helping with a Christmas play. Everything seems to be going fine until the very crude Santa is found dead in his dressing room and the person suspected of murder is no other than Krissy's ex-boyfriend who now wants Krissy to clear his name.
I enjoyed this for the most part, I thought it was interesting and it seems like a great read for Christmas with a small town setting and a group of people who really love the holidays.
This would have been a 4 star read, but I took half a star off because of who done it in the end. I thought it came out of no where and the reason was just like, blah, really? It felt a bit disappointing.
Sugar Pine Trail by RaeAnne Thayne
Series: Haven Point #7
Published by Harlequin Books on September 26th 2017
Genres: Contemporary Romance, Holiday
Pages: 384
Format: Kindle Edition
Source: Publisher
Buy on Amazon
Rating:
I received this book for free from Publisher in exchange for an honest review. This does not affect my opinion of the book or the content of my review.
An unlikely attraction brings comfort, joy and unforgettable romance this holiday season!
Librarian Julia Winston is ready to ditch the quiet existence she's been living. She's made a list of new things to experience, but falling for Jamie Caine, her sexy military pilot neighbor, isn't one of them. Julia's looking to conquer life, not become the heartbreaker's latest conquest. But when two young brothers wind up in Julia's care for the holidays, she'll take any help she can get—even Jamie's.
Happy to step in, Jamie reveals a side of himself that's much harder to resist. Not only is he fantastic with kids, he provides the strength Julia needs to tackle her list. She knows their temporary family can't last beyond the holidays, but the closer she gets to Jamie, the more she wonders if things could be this merry and bright forever…
If you are looking for some holiday reading this Christmas season, look no further. RaeAnne Thayne is an amazing author to pick up when you are looking for a cozy, heartwarming romances. Yes, they are predictable as far as romance goes, but her books are very character driven.
Julia Winston was a lovely librarian character with a big heart that took in two boys in need and gave them a temporary home, even if she knew it would eventually break her heart.
Jamie had quite a lot of heartbreak in his life when it came to women and family, but watching his affection grow for Julia was so heartwarming.
Wonderful characters, sweet romance, and heartwarming writing that just keeps me coming back for more.
Please follow and like us: