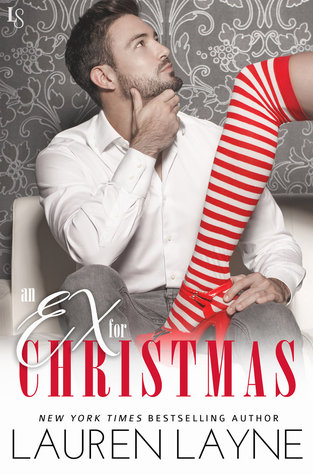 An Ex for Christmas
by
Lauren Layne
Series:
Love Unexpectedly #5
Published by
Loveswept
on November 7th 2017
Genres:
Contemporary Romance
,
Christmas
Pages:
218
Format:
Kindle Edition
Source:
Bought
Buy on Amazon
Rating:
Heat:
She's making a list—and checking it twice. But is there a nice guy among all her naughty exes? The New York Times bestselling author of Blurred Lines returns with a charming friends-to-lovers rom-com.
When a psychic tells spunky, superstitious Kelly Byrne that she's already met her true love, she becomes obsessed with the idea of tracking him down before Christmas. Kelly immediately writes up an "Ex List" and starts contacting old boyfriends to figure out which one is the one. When her college sweetheart rolls into town, Kelly convinces herself that they're meant to be. The trouble is, sparks are flying with someone she's never given a chance: her best friend, Mark.
Mark Blakely has watched the guys on Kelly's list break her heart, and he's not looking forward to watching them do it all over again. Mark's always been there for her, but the timing's never worked out for their relationship to be something more. Now, just as Mark is ready to move on, the sexual tension between them is suddenly off the charts. With Christmas morning around the corner, he just hopes Kelly will wake up and realize that everything she wants has been right in front of her all along.
Lauren Layne's USA Today bestselling Love Unexpectedly series can be read in any order
This ebook includes an excerpt from another Loveswept title.
When a psychic tells a superstitious Kelly Byrne that she had already met her true love, she becomes obsessed with tracking him down so she isn't alone for Christmas. Kelly makes an "Ex List" and starts contacting her old boyfriends to try and figure out which one of these guys are her true love that she has passed up on. But, Kelly never expected that this Christmas sparks might be flying with someone else.
Mark Blakely has been Kelly's best friend forever. He has watched the guys on Kelly's list break her heart and isn't really looking forward watching, or experiencing that again. Plus, Mark has been sitting on the sidelines long, and is ready to move on to something more. All he has to do is convince the woman who is looking elsewhere to see what is in front of her.
YES! This is exactly the type of romance I adore and always on the look out for. Kelly and Mark were so perfect together in this book. It's been a while since I have enjoyed or read a romance, so when I picked this one up and was unable to put down, I knew I had a winner.
I enjoyed the humor and the romance. I totally love best friends to lovers tropes, so I was sold on this right away. Plus, Layne has a way of building up romances that are both adorable, tension filled and steamy. I really liked the build up, I loved when sparks flew between the two with both became aware of each other.
I loved that they co-own a dog and how wonderful and protective their friendship/relationship was. Turning the pages both warmed my heart and made me giggle. Layne does a great job of lacing humor into her books.
If you love Christmas, this really brings romance and holiday to the table as Kelly is a complete Christmas junky.
I did like Kelly, I liked her spunk and her personality, but her belief in the Sight and superstition turns into a gospel she lives by and feels a little crippling at times. When she was starting to discover her feelings for Mark, she never took the time to sit back and think about the woman's words, what they meant, and that maybe, just maybe she didn't have to live by them. It was especially exasperating when she mentions that she always wanted to feel like that about someone, as she does for Mark.
Mark totally won the story for me, I wish if she author was going to put one chapter from his POV in it that maybe there would have been more. I'd really liked to get into his head and find out his thoughts on Kelly's process and how he felt about it, because it felt like Mark had a big role in what kept happening to Kelly and her Ex's.
There was a bit of unnecessary drama thrown into the end, I honestly did not expect Kelly to actually get through her list and I would have been fine with that, especially with the way she felt for Mark.
But this was a totally cute, totally feel good Christmas romances that just melts your heart. I think it's perfect for the holiday season.