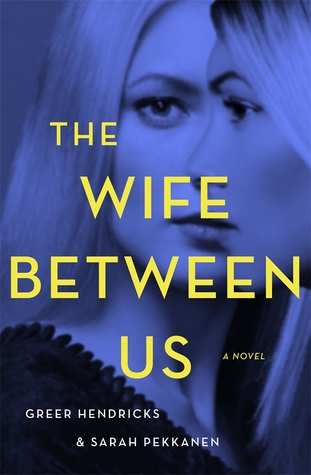 The Wife Between Us
by
Greer Hendricks
,
Sarah Pekkanen
Series:
standalone
Published by
St. Martin's Press
on January 9th 2018
Genres:
Mystery
,
Thriller
,
Suspense
Pages:
352
Format:
Kindle Edition
Source:
Publisher
Buy on Amazon
Rating:
Heat:
I received this book for free from Publisher in exchange for an honest review. This does not affect my opinion of the book or the content of my review.
A novel of suspense that explores the complexities of marriage and the dangerous truths we ignore in the name of love.
When you read this book, you will make many assumptions.You will assume you are reading about a jealous wife and her obsession with her replacement.You will assume you are reading about a woman about to enter a new marriage with the man she loves.You will assume the first wife was a disaster and that the husband was well rid of her.You will assume you know the motives, the history, the anatomy of the relationships.Assume nothing.
Discover the next blockbuster novel of suspense, and get ready for the read of your life.
The Wife Between Us is a story about a woman whose husband has left her for another younger replacement. Richard was a lovely doting husband, who was wealthy, charming, and attractive. She thought she gave him everything, but now she lives with her aunt in a small apartment and works for the department store trying to keep as low key as possible.
She thought she was done with Richard, until she find out that Richard is now getting married to her younger replacement and now she must stop the wedding from happening. Especially since the young replacement has no clue.
Oh.., Wow.., Wow.. I will stop right there. I don't think I can go on past this point without ruining the book and with this book you have to go into this completely blindly. It is far the best way to experience what is coming.
There is an abundance of secondary characters at play and everything is very well done, including the main characters.
Hendricks and Pekkanen do and amazing collaboration job with this book. Once I started it, I was completely hooked from the first chapter. I could not put it down. The writing just drew me in and did not relinquish me until I was done. I wanted to know what was happening, I needed to know how it was going to end.
There are a lot of twists and turns, at times it feels like the authors spun you around into a circle. I don't find it a bad thing, despite the fact that it felt a little flip floppy and at times I was questioning what I originally knew about the book. Looking back at it, it was all just part of the ploy to keep you guessing and on the edge of your seat until the very last page.
I applaud the two ladies for a job well done. For the addictive writing style of this book. For a well done, interesting plot that kept me hooked and flipping through the pages.
This book felt like a puzzle and it is because it's not till you keep reading do you see the pieces come together as more is revealed through the story and finally everything starts to come together as a whole.
I personally found that I really enjoyed this, not because just for how it was done, but because of the plot. I found that I really loved the plot. It wasn't easy to read at time, especially the relationship parts, but oh, I was hooked.
I think the only issue I had was, that I wanted to know more about Richard's sister and the fact that at times it did feel a little flip floppy – but again – this was all part of the plan and that plan was the reason I was so hooked through the entire book. The style was creative, it felt original, I have not myself read anything like it, and I really appreciated it. But, guys I absolutely love books like these that feel like domestic thrillers, they get bonus brownie points.
Please follow and like us: