Good Morning Everyone! Hope you guys are having a great week so far. Sophia Rose is back on the blog today. She has a review of a classic and if you follow the instruction and rafflecopter below she also has a great giveaway for you! Enjoy!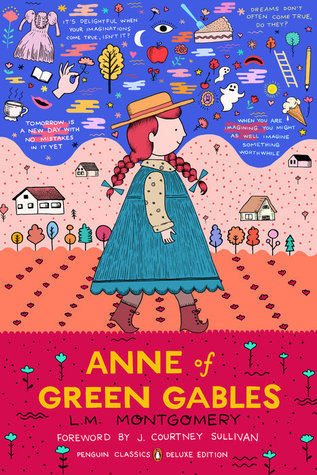 Anne of Green Gables
by
L.M. Montgomery
,
Benjamin Lefebvre
,
J. Courtney Sullivan
Series:
Anne of Green Gables #1
Published by
Penguin Classics
on March 1st 2018
Genres:
Fiction
,
Childrens
Pages:
416
Format:
Paperback
Source:
Publisher
Buy on Amazon
Rating:
I received this book for free from Publisher in exchange for an honest review. This does not affect my opinion of the book or the content of my review.
The beloved coming-of-age tale of a spunky heroine named Anne "with an E," now for the first time in Penguin Classics and packaged in a Deluxe edition. L. M. Montgomery's novel Anne of Green Gables recounts the adventures of Anne Shirley, an 11-year-old orphan mistakenly sent to a pair of siblings who intended to adopt a boy to help work on their farm in Prince Edward Island. Yet Anne's quirky personality and good-natured spirit causes the siblings to grow to love her anyway, and soon the entire town falls for the precocious little girl with bright red hair. Cherished by both children and adults, Anne of Green Gables is a celebration of fierce individualism, and the families we create, rather than the ones we are born into. This Deluxe edition is enhanced with a foreword by bestselling author J. Courtney Sullivan, and an introduction and suggestions for further reading by Benjamin Lefebvre, as well as reviews and a selection of early writing by L. M. Montgomery about the process of writing Anne.
Decades later and I still count Anne of Green Gables as one of my favorite all-time books. As a young girl, it was likely one of the three most influential books I read. Over and over. I delighted in the later TV film adaption, but still gravitated to the sparkling, light-filled prose of the print copy on my shelf. I have carried around that copy over thousands of miles and years.
I was all agasp when I was offered the Penguin Classics Deluxe Edition knowing that 2018 marks the 110 year anniversary of the book's release and 75 years since the gifted author's death. The book's whimsical cover and end papers made me sigh with happiness to see and touch them. I'm a sucker for the rougher cut style cream colored pages. And it was fascinating reading the author biography, forward, introduction, and later the discussion of how Montgomery came to write in the author's own words.
But the piece de resistance was the ageless story about a little red-headed orphan girl brought by mistake into the colorless, lonely lives of older siblings, Matthew and Marilla Cuthbert, of P.E.I.'s Green Gables farm.
"Matthew, much to his own surprise, was enjoying himself. Like most quiet folks he liked talkative people when they were willing to do the talking themselves and did not expect him to keep up his end of it."
"You're not eating anything," said Marilla sharply, eying her as if it were a serious shortcoming. Anne sighed. I can't. I'm in the depths of despair. Can you eat when you are in the depths of despair?"
I've never been in the depths of despair, so I can't say," responded Marilla.
Weren't you? Well, did you ever try to IMAGINE you were in the depths of despair?"
No, I didn't."
Then I don't think you can understand what it's like. It's very uncomfortable a feeling indeed."
Anne with an 'e' makes her odd and endearing way into the hearts of many including readers because of her sincere, honest, but many times disastrous ways. Bosom friend Diana. Long bitter school rival Gilbert (at least on Anne's part, wink). Mentor in teacher, Miss Stacy. Nosey, managing neighbor, Rachel Lynde. And oh so many more connections in the little village of Avonlea and beyond.
"Gilbert told Charlie Sloan that you were the smartest girl in school, right in front of Josie."
"He did?"
"He told Charlie being smart was better than being good looking."
"I should have known he meant to insult me."
"Miss Barry was a kindred spirit after all," Anne confided to Marilla, "You wouldn't think so to look at her, but she is. . . Kindred spirits are not so scarce as I used to think. It's splendid to find out there are so many of them in the world."
There are no flashes of swashbuckling danger or passion in this story, but there are universal themes of childhood, family, friendship, dreams, mistakes, and growing up from a child and adult perspective with which young and old, male or female can connect. The book still brings me to laugh, cry, and sigh throughout. I've been quoting Anne-isms now for years like 'tomorrow is a new day with no mistakes in it' or 'I'm having a Jonah day' or 'bosom friends' or 'we're kindred spirits' or 'I'm in the depths of dispair'. So many.
"My life is a perfect graveyard of buried hopes."
"I don't know what lies around the bend, but I'm going to believe that the best does."
Picking up this new edition with its classic tale was sheer joy. I meandered down to the Lake of Shining Waters and gasped at the beauty of the White Way of Delight, and sighed over the loveliness of October, and girlhood fancies and dreams. I was impacted by the uplift I got from reading of a more innocent time and place, but with real people going about their normal lives.
Whether you are a newbie or a long-time Anne lover, I can definitely recommend picking it up and losing yourself in the pages.
GIVEAWAY OPPORTUNITY
I have a treat today for US residents. Penguin Classics is offering up one print copy of the book to one of our US readers. Fill in the Rafflecopter for your opportunity to win.
U.S. residents 13 years of age or older (if you are underage have an adult enter on your behalf)
Must reply within 48 hours to collect your prize
Have you read or watched a film adaption of Anne of Green Gables? Do you have a favorite Anne-ism or favorite scene?
Please follow and like us: