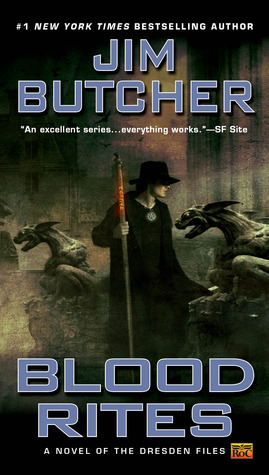 Blood Rites
by
Jim Butcher
Series:
The Dresden Files
,
#6
Published by
Roc
on August 3rd 2004
Genres:
Paranormal
,
Urban Fantasy
Pages:
452
Format:
Paperback
Source:
Bought
Buy on Amazon
Rating:
For Harry Dresden, Chicago's only professional wizard, there have been worse assignments than going undercover on the set of an adult film. Dodging flaming monkey poo, for instance. Or going toe-to-leaf with a walking plant monster. Still, there is something more troubling than usual about his newest case. The film's producer believes he's the target of a sinister entropy curse, but it's the women around him who are dying, in increasingly spectacular ways.
Harry is doubly frustrated because he got involved with this bizarre mystery only as a favor to Thomas, his flirtatious, self-absorbed vampire acquaintance of dubious integrity. Thomas has a personal stake in the case Harry can't quite figure out, until his investigation leads him straight to Thomas' oversexed vampire family. Harry is about to discover that Thomas' family tree has been hiding a shocking secret; a revelation that will change Harry's life forever.
Another brilliant installment in The Dresden Files series.
I just cannot seem to get enough of Harry or the trouble he keeps finding himself in.
Opening Sentence
The building was on fire, and it wasn't my fault
This time Harry finds himself working undercover on the set of an adult film, protecting people from a deadly curse as well as trying to find the person behind such dark magic.
To top it off, another vampire of the black court has made a move into the city and is looking to kill Harry and he must find and get rid of her first before she takes any more lives.
This book was exciting. I loved the new and old characters. I loved that Thomas makes an appearance in this book and the secrets that unfold with him.
We get to learn more about Harry's past as more characters reveal information about Harry's mother.
I adore that Jim Butcher used the books in the past and the events that have happened not only to shape Harry's character as he continues to develop through his experiences, but also how they effect stuff that is currently happening in the book.
I just enjoy the humor and the writing and storytelling. There is action and adventure and it just makes my day. This is one of my favorite Urban Fantasies and I cannot wait to see what happens next. I am especially excited about the changing in the dynamic of Harry and Murphy.