Happy 2018 Everyone! I know it's a couple of days too late, but it's been a long month in general. But, now that the holidays are over lets try and get back into the swing of things shall we? Today we are kicking off with Sophia Rose and her review of JoJo Moyes new book, enjoy!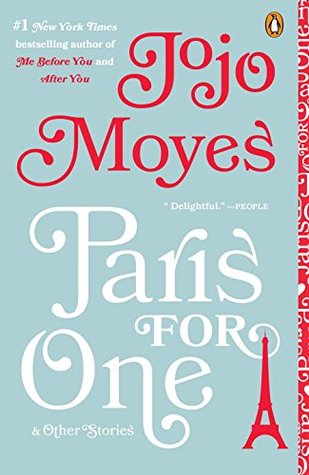 Paris for One and Other Stories
by
Jojo Moyes
Series:
standalone
Published by
Penguin Books
on October 3rd 2017
Genres:
Womens Fiction
Pages:
320
Buy on Amazon
Rating:
Heat:
I received this book for free from in exchange for an honest review. This does not affect my opinion of the book or the content of my review.
From the #1 New York Times bestselling author of Me Before You and After You, Paris for One and Other Stories is an irresistibly romantic collection filled with humor and heart.
"A vicarious jolt of Parisian romance. . . Delightful." -People Magazine
"An old-fashioned, feel-good love story. . . It's as if Moyes has booked a vacation and is taking us along. To Paris. Amour!" -USA Today "Dreamy escapism, a book you can curl up with and easily finish over a weekend, with or without a glass of wine." -Miami Herald
Nell is twenty-six and has never been to Paris. She's never even been on a romantic weekend away--to anywhere--before. Traveling abroad isn't really her thing. But when Nell's boyfriend fails to show up for their mini-vacation, she has the opportunity to prove everyone--including herself--wrong. Alone in Paris, Nell finds a version of herself she never knew existed: independent and intrepid. Could this turn out to be the most adventurous weekend of her life? Funny, charming, and irresistible, Paris for One is quintessential Jojo Moyes--as are the other stories that round out the collection.
From the Hardcover edition.
This was my first encounter with JoJoMoyes writing and I have to confess that I was somewhat reluctant after reading all the angsty and teary-eyed reviews of Me Before You. I'm a chicken about really heartwrenching stories so I held back. But then I spotted this short story collection and thought it might be safe enough.
Well, I made a good call I think, but not because Paris For One was devoid of angst. No, this was a fantastic collection that gave me an idea of the writing gift the author displays, her talent for going deep in an economy of pages, and gave me so many lovely story gems all in one volume. I might just be brave (read greedy for more, there) enough to pick up more of her books.
So… Paris For One and Other Stories.
There were nine stories total including Paris For One which is a novella and the others as short stories. Each showed a different facet of love and life all from each heroine's perspective only: a young woman ditched by her boyfriend to do Paris alone, rekindling the romance for a middle-aged couple, a new chance at the road not taken (aka former lover vs husband), a woman finding her mojo when she finds some killer shoes, shop girl flirts with robber during hold up, finding contentment in a material world, an infidelity accusation backfires, a two-week pretend life for a bored woman, and a woman who sees her life clearly while on a hunt to fulfill her Christmas list.
They were all good in their own ways and I could see the appeal hitting me differently if I read these in different moods because they hit all facets of women's lives and feelings. I enjoyed the most, Paris For One as a girl who never took a step without making a list learns to take chances now and then and finds her confidence, but also thought Hold Up was a hoot, Crocodile Shoes made me root hard for the heroine and Last Year's Coat resonated with me the most, I think, because this woman struggled hard with every day issues.
And, I think that was the appeal of each story. All these gals were every day women that I recognized in myself or others I know. They were familiar, but yet they had new experiences. This book brought out my emotions, but also left me musing afterward.
All in all, I was well satisfied with this collection of shorts and definitely want to try her novel-length books. These are definitely for those who enjoy women's fiction and chic lit.
My thanks to Penguin-Random House for the opportunity to read this book in exchange of an honest opinion.
Please follow and like us: