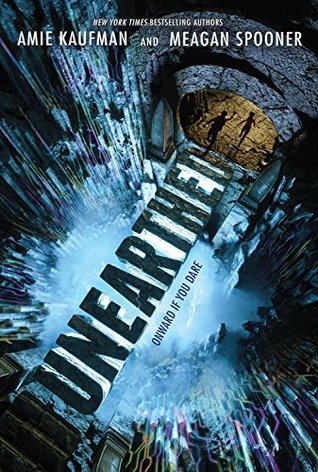 Unearthed
by
Amie Kaufman
,
Meagan Spooner
Series:
Unearthed
,
#1
Published by
Disney-Hyperion
on January 9th 2018
Genres:
Young Adult
,
Science Fiction
Pages:
384
Format:
Kindle Edition
Source:
Library
Buy on Amazon
Rating:
When Earth intercepts a message from a long-extinct alien race, it seems like the solution the planet has been waiting for. The Undying's advanced technology has the potential to undo environmental damage and turn lives around, and Gaia, their former home planet, is a treasure trove waiting to be uncovered.
For Jules Addison and his fellow scholars, the discovery of an alien culture offers unprecedented opportunity for study... as long as scavengers like Amelia Radcliffe don't loot everything first. Mia and Jules' different reasons for smuggling themselves onto Gaia put them immediately at odds, but after escaping a dangerous confrontation with other scavvers, they form a fragile alliance.
In order to penetrate the Undying temple and reach the tech and information hidden within, the two must decode the ancient race's secrets and survive their traps. But the more they learn about the Undying, the more their presence in the temple seems to be part of a grand design that could spell the end of the human race...
The Plot
Earth intercepts a message from an ancient Alien race that is supposed to be extinct, about the technology on their planet Gaia and how it can be an earths doom or salvation. I was super excited for this because space, aliens, another planet, sounds fun right? I found myself a bit confused. This book had some science fiction notes to it, but a large part of it felt like it took place on earth. Most of the book follows these two teenagers, each other on Gaia on their own accord to save one of their family members back home. Mia is a scavenger and wants to bring back a power cell in hopes to buy back her sister from a contract she locked herself in. Jules wants to save his father by unlocking the secret behind the second message that they uncovered, warning the earth about possible dangers. They enter a temple and together they must solve puzzles in order to uncover what this alien race is hiding. But everything is set in this rock temple that feels more like they are back on earth than anything. I really LIKED the concept of this book, I thought it had a lot of potential, but the plot in book one felt a little odd until the end. Most of the book we follow these kids solving these puzzles which can feel tedious reading about.
The characters
I had no issues with the characters for the most part. I like Mia and I liked Jules and I liked that the author kept them true to their nature most of the book. Jules is book smart, Mia is street smart. She knows how to lie and deceive in order to stay alive and ends up throwing Jules under the bus several times in hopes of keeping them alive when danger started nipping at their heels. The characters weren't always likable for me, but I think that's what drew me to them. They felt human, they both had a bit of a selfish reason to be there and both lied to each other in order to try and benefit themselves. But it was also nice to see them evolve as characters by the end of the book and realize that they are going to have to set their differences aside in order to save humanity.
Romance
The romance was awkward. Did not work for me at all. I would have been fine without it in this book. I don't generally like relationships that are built on lies and both of these characters lied and deceived each other at the beginning of the book. Also, it was awkward with all the goo goo eyes the two were throwing at each other and felt a bit of instalove for me really.
Pacing
Oh gosh the pacing felt terribly off for most of the book. It was awkwardly slow. I didn't care to read about the puzzles because I found that I was rereading what they needed to do in order to understand how they were solved. It's different when you are watching a movie, over your brain trying to scramble to make sense of what is happening. Also, because this was from two POVS, Amelia's and Jules there was a lot of stuff that kept being super repetitive and I felt like the author kept rehashing things we already knew over and over again, it got boring up until like 70% of the book when it finally started to pick up. I enjoyed the last 70% of the book, the pacing picked up, it got exciting, and I found myself pushing more to finish it.
The ending
I don't even know where to go with this. It confused me. I can kind of guess what is going on in general, but the big reveal at the end was a bit odd and I am not too entirely sure if I care for it. Remember, I was really looking forward to the whole alien, science fiction part of this book and I am not really getting much from it yet. Hopefully the conclusion will be so much better, because I am looking forward to see how it ends.
Please follow and like us: