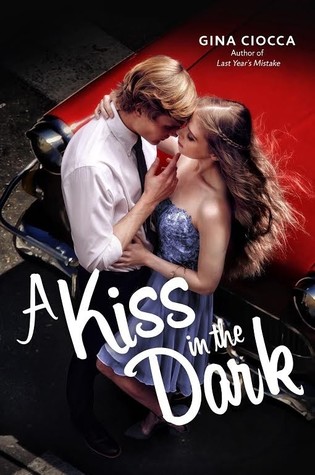 A Kiss in the Dark
by
Gina Ciocca
Series:
standalone
Published by
Simon Pulse
on March 6th 2018
Genres:
Young Adult
,
Romance
Pages:
352
Format:
Kindle Edition
Source:
Publisher
Buy on Amazon
Rating:
I received this book for free from Publisher in exchange for an honest review. This does not affect my opinion of the book or the content of my review.
When the lights go out at a Georgia high school football game, Macy Atwood finds herself in the arms of a boy who kisses her senseless – but is gone by the time the lights come back on. All she knows is that there was something special – and oddly familiar – about her mystery kisser.
Noah Granger, Ridgedale's resident bad boy and newest transfer student, has no problem taking credit for the kiss, but Macy can't shake the feeling that he's lying. Especially since a photograph of Macy and former star football player Joel Hargrove resurfaced online moments before the blackout, a not-so random reminder of how hard she fell for Joel last year. And how doing so ultimately sent her lifelong friendships with Meredith Kopala and Ben Collins up in literal smoke.
Soon junior year's wounds begin to reopen as Macy realizes the events that unfolded are somehow tied to her mystery kisser. Discovering how means finally facing what really went wrong with Meredith, Ben, and Joel – and finding out what Noah is covering up.
But the closer Macy gets to figuring it all out, the more she starts to worry that the boy who kissed her in the dark and the boy who is stealing her heart might be two very different people.
Macy had a rough junior year and is hoping to make the best of her senior year, including mending some relationships that were destroyed last year. When the lights go out at her high school during the football game, Macy finds herself in the arms of a boy who kisses her senseless. The boy seems to know her and everything about him is familiar, but she can't quite figure out who is he.
Noah, the resident bad boy has no qualms about taking credit for the kiss and Joel – her junior crush who bailed from taking her to homecoming is acting weird again.
But Macy is also trying to build a bridge between her best friend Meredith and her former friend Ben after something happened during Junior year as she continues to try and find the boy who kissed her in the dark.
Okay, this book was… Okay.
First, I am very confused because the football game happens at night and when the lights go out, well am I the only one who is confused how Macy still did not see this person? Because I did not get an impression that this was a dome setting (maybe I missed the part?) because otherwise, Macy should have been able to see the person who kissed her. Not really up to how she was so blind that moment.
Two, Macy was a sweet character and easy enough to follow, but oh my god I did not understand how she was super oblivious. Like the signs were everywhere and the other characters knew, but no one apparently bothered to tell her what was going on. I found this beyond frustrating and I wanted to throttle her. She was always confused about Ben and Joel and was questioning their behavior and "mysterious" words the entire damn book and somehow could not see what is in front of her? I find it hard to believe. That, or the character herself really was that thick.
This book takes place during senior year, but we get chapters that tell us what unfolded during junior year. I liked Meredith and I felt so sorry for what she went through.
I thought the romance could have been so sweet, but a lot of the book focused on Macy navigating senior year and a lot of it was about homecoming. I couldn't relate to the obsession of homecoming because when I was in high school about ten years ago, we didn't have homecoming in my school. The romance kind of happens slowly and by accident, but the focus of the book felt like everyone around Macy were mad at her the entire time because she seemed to just…Not get it.
Overall, I found some of the book cute. It was a fast read. I just found some things to not make sense and the whole case with Macy being completely blind to everything was a little frustrating through the book. But, I did find that I still enjoyed it well enough. Also, I LOVED Macy's parents and I was glad for positive parent representation in the book.
Please follow and like us: