Welcome back everybody! Sophia Rose on the blog today with Six Feet Under by Tonya Kappes. Have you read this southern cozy yet?  Read what Sophia Rose thinks below. Kappes writes fun cozies with great characters and ghosts with humor and lots of southern charm.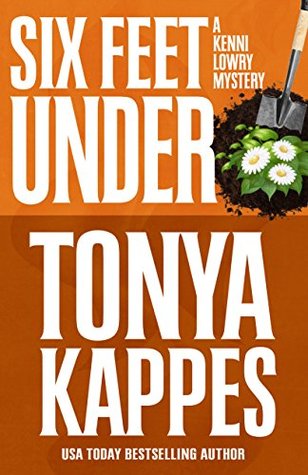 Six Feet Under
by
Tonya Kappes
Series:
Kenni Lowry #4
Published by
Henery Press
on March 13th 2018
Genres:
Cozy Mystery
Pages:
268
Format:
Kindle Edition
Source:
Publisher
Buy on Amazon
Rating:
I received this book for free from Publisher in exchange for an honest review. This does not affect my opinion of the book or the content of my review.
Too many cooks in the kitchen spoil the broth. And let me tell you, this broth is in trouble. Get ready for a Southern showdown.
The residents of Cottonwood, Kentucky are sent into a tizzy when the Culinary Channel comes to town to film an episode of Southern Home Cookin' with celebrity chef Frank Von Lee.
Especially Sheriff Kenni Lowry.
Her mama's award-winning chicken pot pie is what brought Frank to town, and they don't make hair in the South bigger than her mama's ego after the news.
When Frank Von Lee is found dead from food poisoning and the most likely culprit is Mama's chicken pot pie, Kenni's poppa, the former sheriff, comes back from the Great Beyond to assist in the investigation.
But nothing's prepared Kenni for such a personal tie to a case, and she finds herself pushing the limits of the laws she's sworn to protect.
This book's so delicious it'll make your mouth water and leave you hankerin' for more.
- - - - - - - - - - - - -
SIX FEET UNDER by Tonya Kappes | A Henery Press mystery
Poppa's ghost is back and that means someone's gonna die! But, this time, the suspect is none other than Sheriff Kenni Lowry's mama with the motive, means, and opportunity.
Six Feet Under is the fourth book in this engaging cozy mystery series with paranormal elements set in small town Kentucky. It's fun and quirky and delivers an engaging mystery while it's at it. I find each book works alright standalone, but there are ongoing series elements like Kenni's romance with Finn and a few other mild relationship and character mentions.
The story focuses on a cooking celebrity coming to town to critique mama's chicken pot pie only to die of food poisoning when he samples some of the said pie and prepared to deliver a less than flattering review. Others might have a horse in the race, but it's Kenni's mother who seems to be suspect number one. Kenni is reeling from the implications and from being too connected to the case to be allowed to work it. Will the fledgling romance with Finn survive him seeing her wrestle with temptation about the evidence and him being placed in the lead investigative role.
There's not as much angst as one might suspect with such a situation and there is plenty of Mama Lowry's over the top antics. And, the murder isn't the only crime going on in town- illegal botox parties, fake handicap hangers, and citizens ready to disturb each other's peace.
And through it all, Kenni wonders if now is a good time to tell Finn that she is aided in her law work by her deceased poppa's ghost.
I enjoy these for the sheer entertainment value and I like these quirky, at times crazy people who are also salt of the earth as it comes. The mysteries aren't terribly complex, but there is a little challenge. So, altogether, I anticipate each new installment in the series and heartily recommend them to those looking for a new small town, slightly paranormal cozy mystery series to try.
I rec'd this book from Net Galley to read in exchange for an honest review.
Please follow and like us: