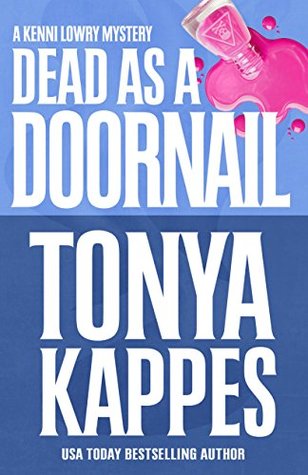 Dead As A Doornail
by
Tonya Kappes
Series:
A Kenni Lowry Mystery #5
Published by
Henery Press
on May 15th 2018
Genres:
Cozy Mystery
,
Paranormal
Pages:
177
Format:
Kindle Edition
Source:
Publisher
Buy on Amazon
Rating:
I received this book for free from Publisher in exchange for an honest review. This does not affect my opinion of the book or the content of my review.
Beauty is skin deep, but ugly goes clear to the bone. And doesn't our Sheriff Kenni Lowry know that? Well, she knows a lot of things.
Lucy Lowell takes great pride in writing negative reviews in the local newspaper for anything that does not go her way. When Lucy is found dead, it appears to be from natural causes.
But Sheriff Kenni Lowry knows there is more to it because the ghost of her grandfather, the ex-sheriff, is standing over the body.
His presence can only mean one thing: Murder!
Since Kenni's relationship with Deputy Finn Vincent has heated up, Kenni is having trouble conducting the investigation without Finn questioning her every move.
Can Kenni unravel the mystery on her own or will she have to tell Finn the real reason she knows it was murder—the ghost of her poppa?
It's blowin' up a storm and only Kenni knows how it'll end.
- - - - - - - - - - - - -
DEAD AS A DOORNAIL by Tonya Kappes | A Henery Press mystery
Sophia Rose's Review…
Small town antics, a wedding nightmare, and an inexplicable murder are Kenni's challenge in this latest series installment.
Dead As A Doornail is book five in the quirky and light Kenni Lowry paranormal cozy mystery series. The series does flow in a chain when it comes to Kenni getting used to her deceased grandpa's ghost helping her solve murders along with her growing love interest with Finn. However, the mysteries are all standalone and I had no trouble jumping in at book three and continuing on. Need to go back for the first two at some point.
So, the latest…
Kenni gets set up by, who else, her mother to be a maid of honor in the Mayor's wedding when she doesn't really like the mayor or his bride. She also finds herself investigating a death that, at first, only she knows is murder b/c her poppa's ghost tells her. With each book, she draws closer to Finn and also the growing dilemma of knowing she needs to tell him about Poppa's ghost. I have no idea how that will go over and it's an added layer of tension in an otherwise mystery comedy.
These books are over the top and unapologetic about that. Fun and fast reads, but still offer a twisting mystery through all the other small town antics usually led by Kenni's mother. Oddly, I find this kind of story relaxing and I look forward to each new installment in the series.
If you're looking for sheer light entertainment in a fast-read mystery then look no further.
Please follow and like us: