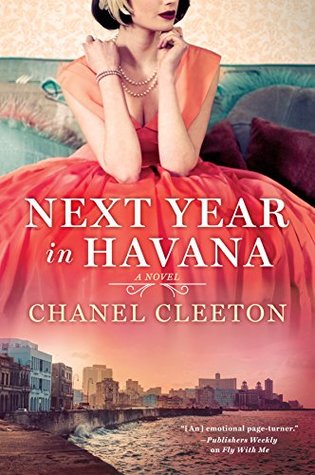 Next Year in Havana
by
Chanel Cleeton
Series:
standalone
Published by
Berkley
on February 6th 2018
Genres:
Historical Fiction
Pages:
394
Format:
Kindle Edition
Source:
Publisher
Buy on Amazon
Rating:
I received this book for free from Publisher in exchange for an honest review. This does not affect my opinion of the book or the content of my review.
After the death of her beloved grandmother, a Cuban-American woman travels to Havana, where she discovers the roots of her identity--and unearths a family secret hidden since the revolution...
Havana, 1958. The daughter of a sugar baron, nineteen-year-old Elisa Perez is part of Cuba's high society, where she is largely sheltered from the country's growing political unrest--until she embarks on a clandestine affair with a passionate revolutionary...
Miami, 2017. Freelance writer Marisol Ferrera grew up hearing romantic stories of Cuba from her late grandmother Elisa, who was forced to flee with her family during the revolution. Elisa's last wish was for Marisol to scatter her ashes in the country of her birth.
Arriving in Havana, Marisol comes face-to-face with the contrast of Cuba's tropical, timeless beauty and its perilous political climate. When more family history comes to light and Marisol finds herself attracted to a man with secrets of his own, she'll need the lessons of her grandmother's past to help her understand the true meaning of courage.
Elisa Perez has always dreamt of returning to Cuba after the revolution. Her and many others who have left for exile in America were waiting for the day that Castro would no longer have control of their beautiful country so they could make their way home. The day has finally arrived, but Elisa Perez never had the chance to witness it.
Finally making it onto Cuban soil after many years of her grandmother's stories, Marisol Ferrera is both excited and saddened that she does not get to experience Cuba with her grandmother as Elisa passed away recently. But she wants to fulfill her grandmother's dying wish and that is to spread her ashes in Cuba. One problem, Elisa never told Marisol where she wants her ashes spread and as Marisol debates where would be the best place to lay her grandmother to rest, she comes to discover a lot of hidden family secrets since the revolution.
Oh gosh, this book. My first dive into this authors work and I do not regret it. This. Was. Fantastic. Slow moving at first yes, this book took a bit to get into, but once I was fully invested, I absolutely adored it!
This is told in two different time lines. We get to see how Marisol fairs in modern day Cuba, uncovering secrets about her grandmother that she was never told as well as possibly falling in love. Plus, we get to experience Cuba in the 1958 and how the revolution happened as well as Elisa Perez beautifully poignant story.
I loved Elisa's story, it was beautiful and heartbreaking and I found myself more invested in her romance over Marisols. As Elisa accidentally falls in love with a revolutionary called Pablo, her family is sitting pretty, but scared of what will happen to their country. Coming from a wealthy family, Elisa is a daughter of a sugar baron and her father a huge supporter of Batista. When Batista escapes Cuba after losing the war to the revolutionaries, Elisa's world is completely shaken and thrown upside down.
The twist in the end totally shattered my heart. I felt that it was coming as everything started to unravel, but I still felt unprepared. Cleeton is such a fantastic writer and storyteller and does such a wonderful job at weaving Cuban history into the storyline. I felt like I learned a bit more about Cuba and what the country was before the revolution. I also felt sad that it isn't what it use to be after years under Castro's rule.
The way Cleeton writes about the passion Cuban's feel for their country in this book is both overwhelming and emotional as evident in the current timeline with Marisol and Luis. Luis is Ana's grandson. Ana is Elisa's best friend who stayed in Cuba despite the revolution and it is through their families hardships and passion due we witness the struggle and perseverance of families in Cuba.
There isn't much negatives about this book. The slow pace aside at points, I do feel like the book could have been shortened just a tad bit at some spots. Also, I wasn't sure how I felt about such a clean ending with Luis and Marisol, it just felt a tad bit too convenient for me to be believable.
Overall though, this was a great historical fiction with a mix of romance. The story that was told was interesting and the romance between Elisa and Pablo was just so heartbreaking.