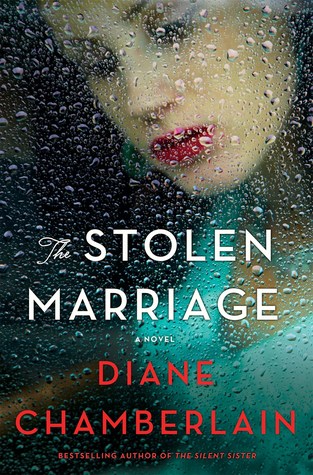 The Stolen Marriage
by
Diane Chamberlain
Series:
standalone
Published by
St. Martin's Press
on October 3rd 2017
Genres:
Historical Fiction
Pages:
384
Format:
Kindle Edition
Source:
Publisher
Buy on Amazon
Rating:
I received this book for free from Publisher in exchange for an honest review. This does not affect my opinion of the book or the content of my review.
From perennial bestseller Diane Chamberlain, a compelling new novel
In 1944, twenty-three-year-old Tess DeMello abruptly ends her engagement to the love of her life when she marries a mysterious stranger and moves to Hickory, North Carolina, a small town struggling with racial tension and the hardships imposed by World War II. Tess's new husband, Henry Kraft, is a secretive man who often stays out all night, hides money from his new wife, and shows no interest in making love. Tess quickly realizes she's trapped in a strange and loveless marriage with no way out.
The people of Hickory love and respect Henry and see Tess as an outsider, treating her with suspicion and disdain, especially after one of the town's prominent citizens dies in a terrible accident and Tess is blamed. Tess suspects people are talking about her, plotting behind her back, and following her as she walks around town. What does everyone know about Henry that she does not? Feeling alone and adrift, Tess turns to the one person who seems to understand her, a local medium who gives her hope but seems to know more than he's letting on.
When a sudden polio epidemic strikes the town, the townspeople band together to build a polio hospital. Tess, who has a nursing degree, bucks Henry's wishes and begins to work at the hospital, finding meaning in nursing the young victims. Yet at home, Henry's actions grow more alarming by the day. As Tess works to save the lives of her patients, can she untangle her husband's mysterious behavior and save her own life?
The story
Tess DeMello was going to have the perfect life. She was going to marry the love of her life and get a nursing degree. Everything was going great, until Vincent took on volunteer work for a couple of months away from Tess and her entire world falls apart.
Unable to stop herself from feeling sad about her future husband's long absence and a niggling feeling that he might be seeing someone else – Gina takes Tess to Washington, where a drink too many leads Tess into sleeping with a mysterious stranger and falling pregnant.
Unable to forgive herself and not knowing what to do, Tess breaks off her engagement and moves elsewhere in hopes of starting her life all over again. When the father of the child decides to do right by her and she marries the mysterious stranger and moves to his hometown of Hickory, North Caroline where she learns the struggle of racial tension and hardships imposed on the town by World War II.
Thoughts
Woah, just Woah you guys. I started this book last night, read it till the wee hours of the morning and when I woke up I had this book on my mind and had to finish it. I just finished it and still reeling from the emotional storyline.
I was so angry with Tess at first and her mistakes because it started out badly and what looked like unforgivable, but ended up mounting until the character started growing from her mistakes into this strong-willed woman that has seen and been through so much hardship and heartbreak in such a short amount of time.
This book dealt with a lot. It dealt with Tess and her loveless marriage, leaving a cloud of mystery hanging over the entire book by making you wonder what is going on the entire time. Just as I thought I had it figured out the author takes this in a completely different direction I was not expecting.
Chamberlain also weaves so much history and everything that people have gone through during this time period with racial tension, laws, World War II, Polio, the building of the Polio hospital and all the sickness and heartbreak. It just added such a punch to the entire book and made it so riveting and hard to put down.
I spent half the book feeling like Tess deserved what she got when she made the stupid choice of leaving the love of her life and the second half respecting her and everything she went through.
I loved that Tess kept pushing and defying the customs and her husband and mother-in-law with the respect that came to her nursing license. I like that she took charge of that part of her life in order to make herself happy again.
The author throws us into the action right away with the opening of the book and the book sits in two parts. The events leading to the accident and the events following the accident. You see a lot of character growth as the story goes on and it just completely blew my mind.
I was sad, I was teary, I was enthralled in the story and the characters writing. It was so well written, the storytelling was remarkable and I was so drawn and flipping through the pages that I actually had a hard time saying goodbye to these characters.
The pacing was perfect, I never felt like there was a dull moment. The author kept me glued to the pages wanting to know what was happening, what was going to happen to these characters. I loved how she incorporated this time period into these characters lives and made them feel really genuine and human, that at times I forgot that they are fictional.
If you enjoy Historical fiction, absolutely wonderful writing, an emotionally gripping story, raw characters, I strongly recommend you read this because, I just cannot express how much I loved this book and everything about it.