This book may be unsuitable for people under 17 years of age due to its use of sexual content, drug and alcohol use, and/or violence.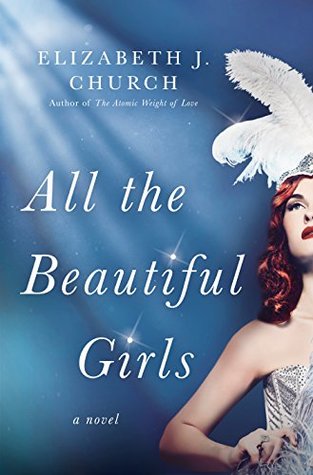 All the Beautiful Girls
by
Elizabeth J. Church
Series:
standalone
Published by
Ballantine Books
on March 6th 2018
Genres:
Historical Fiction
Pages:
336
Format:
Hardcover
Source:
Publisher
Buy on Amazon
Rating:
Heat:
I received this book for free from Publisher in exchange for an honest review. This does not affect my opinion of the book or the content of my review.
A powerful novel about a gutsy showgirl who tries to conquer her past amongst the glamour of 1960s Las Vegas--and finds unexpected fortune, friendship, and love.
It was unimaginable. When she was eight years old, Lily Decker somehow survived the auto accident that killed her parents and sister, but neither her emotionally distant aunt nor her all-too-attentive uncle could ease her grief. Dancing proves to be Lily's only solace, and eventually, she receives a "scholarship" to a local dance academy--courtesy of a mysterious benefactor.
Grown and ready to leave home for good, Lily changes her name to Ruby Wilde and heads to Las Vegas to be a troupe dancer, but her sensual beauty and voluptuous figure land her work instead as a showgirl performing everywhere from Les Folies Bergere at the Tropicana to the Stardust's Lido de Paris. Wearing costumes dripping with feathers and rhinestones, five-inch heels, and sky-high headdresses, Ruby may have all the looks of a Sin City success story, but she still must learn to navigate the world of men--and figure out what real love looks like.
With her uncanny knack for understanding the hidden lives of women, Elizabeth J. Church captures both the iconic extravagance of an era and the bravery of a young woman who dances through her sadness to find connection, freedom, and, most important, herself.
TRIGGER WARNING for Child Abuse/Sexual Assult.
I wish I knew about the trigger warnings in this book before I started reading this. I love historical fiction and have read quite a bit of it in the past, so needless to say when the author dwells into parts of child sexual abuse as part of her story, it took me a bit by surprise. I never expected it to be so in my face and in a way, graphic. I would have appreciated it if the author had implied the fact, but this felt like it crossed a line when a scene between the main character and her uncle takes a very disturbing turn. Was it meant to shock people or make them aware of such incidents?
The story follows a young girl named Lily, she is the sole survivor after her family ends up in a car crash. She ends up living with her Aunt and Uncle and as a little girl, she always craves for her aunts love and approval. Only problem is? Her aunt never had children and does not really know how to give love in the way Lily craves it. Her uncle on the other hand, is a disgusting pig who visits Lily at night time and takes advantage of her. I found these parts really hard to read, but I have this bad habit of not finishing a book so I somehow managed to plow on through all the stomach rolling scenes. To top it off, the frustration mounted when Lily, as a teenager finally lets the secret slip in front of her Aunt and she does not believe her despite the shock that rolls through her.
I felt as a reader, I am aware of certain things and that the author wrote some of the scenes between Lily and her uncle as a shock value. If it's meant to educate, I guess I can understand that, but I felt that implied would have been enough in the case that this is a historical fiction.
Moving on, Lily is in Vegas and is struggling. She is now going by the name of Ruby Wilde. She really wants to be a dancer, but is not cut out to be the type of dancer she wants. She is approached by a man asking her to reconsider being a showgirl and upon attending a show, Ruby Wilde changes her mind about how distasteful it is and becomes a showgirl.
This book started out rocky, it got a lot more interesting in the middle. I loved the entire part about her being the showgirl and her struggles with her past that she had to overcome in order to be comfortable around men and in her own skin. I have never read anything about Vegas in this era before so it was fascinating to learn about the type of bubble they lived, the glitz and the glamour while the rest of the world was going through reality and struggles.
I really loved how Ruby got close to her girlfriends and there was a struggle with drug use, but she managed to get past that with the help of her friend Rose.
It felt like it was going great, until Ruby meets a man and the book takes a disturbing turn into abuse category again. To top it off, it also proved that there was no character growth for Ruby until the last few chapters of the book. It was both infuriating and frustrating, especially since so many people who she trusts tried to warn her and help her.
I do have to say, the writing itself in this book was actually really well done. The author is a gifted writer, that is for certain, it's just the story in general did not work for me.
Overall, once you bypass the first part that wasn't just hard, but disturbing and disgusting to read – the Vegas parts of this book were informative – and then it takes a turn with the love interest I did not care for. I can't say I recommend this book, but if your interested, a library is a great way to go.