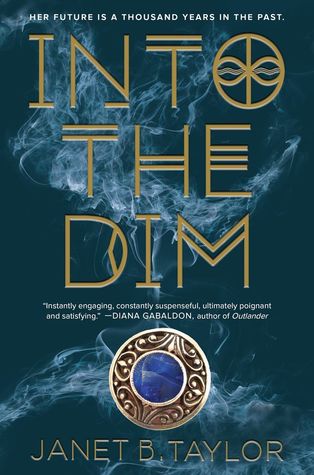 Into the Dim
by
Janet B. Taylor
Series:
Into the Dim
,
#1
Published by
HMH Books for Young Readers
on March 1st 2016
Genres:
Young Adult
,
Time-Travel
,
Science Fiction
Pages:
428
Format:
Kindle Edition
Source:
Publisher
Buy on Amazon
Rating:
I received this book for free from Publisher in exchange for an honest review. This does not affect my opinion of the book or the content of my review.
When fragile, sixteen-year-old Hope Walton loses her mom to an earthquake overseas, her secluded world crumbles. Agreeing to spend the summer in Scotland, Hope discovers that her mother was more than a brilliant academic, but also a member of a secret society of time travelers. Trapped in the twelfth century in the age of Eleanor of Aquitaine, Hope has seventy-two hours to rescue her mother and get back to their own time. Along the way, her path collides with that of a mysterious boy who could be vital to her mission . . . or the key to Hope's undoing.
Phew, took me a lot longer than I thought to finish this book – almost a year. Into the Dim follows a girl named Hope who believes her mother to be dead, until her estranged aunt comes to find her and tells her otherwise. Now, Hope with a couple of friends, must travel back in time to her mothers last known location and rescue her.
I really wanted a good time traveling book, so I was really excited for this one, but it fell a bit flat for me. I loved the concept of the dim and how it worked in the way that you can only travel to a certain location only once to prevent yourself from running into yourself and causing some major disturbances. I thought that was kind of neat and different.
I had the hardest time connecting with Hope and all of the characters read and acted younger than they were suppose to be. Hope was homeschooled, she doesn't know how to approach other people, boys are an alien to her, but she has a great photographic memory. Her actions at times were a bit annoying, especially when it came to the books two leading boys, Collum and Bran. Right away when you hear two leading boys, you go, uh oh right? Yup, there is a big potential for a love triangle on the horizon. Hope is desperately pinning over Bran and how handsome he is, and how a boy like him would never look at a girl like her – despite the fact that he was coming on to her clear as day. Bran and Hope are also connected in more way than one, but his biggest secret doesn't seem to deter her from being all goo-goo eyed over the boy.
Collum was brave, kept to himself and his interaction with Hope leads me to believe he is developing feelings for the girl – even if she has wool over her eyes and can't seem to get it through his actions because she is too focused on Bran.
Phoebe is Collum sister and honestly from her actions and her character, I thought she was like 8? But no, this girl is not only a teenager, she spends a lot of time clinging to her boyfriend before they are sent into the dim to help rescue Hope's mother.
One of my main issues was the fact that somehow these adults in the book end up sending 3 teenagers into a very dangerous era, knowing well that there is a woman who is out to get them, purposely putting them in danger without the chaperone. Not only must they recover Hope's mother, they must also seek out a stone that will allow them to travel wherever they choose to. So the result? These kids get almost killed, over and over again if it wasn't for the Queen of the era they were traveling to overseeing their safety.
Also, the repetitiveness was strong in this one. I couldn't begin to count the number of times I found myself frustrated. No matter where these kids went, or did, they always got caught over and over again and had to find a way to escape over and over again. Honestly, I wanted to scream for them to just give up trying, it was only going to end the same anyway.
In the end, I guess a part of me enjoyed it, because the concept was interesting and now that I know that there seem to be only two books – I might eventually read the second just to see how it ends.