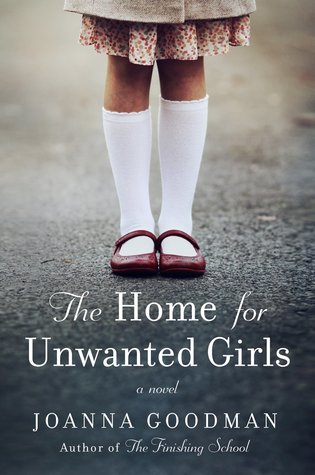 The Home for Unwanted Girls
by
Joanna Goodman
Series:
standalone
Published by
Harper Paperbacks
on April 17, 2018
Genres:
Historical Fiction
Pages:
384
Format:
Paperback
Source:
Publisher
Buy on Amazon
Rating:
I received this book for free from Publisher in exchange for an honest review. This does not affect my opinion of the book or the content of my review.
Philomena meets Orphan Train in this suspenseful, provocative novel filled with love, secrets, and deceit—the story of a young unwed mother who is forcibly separated from her daughter at birth and the lengths to which they go to find each other.
In 1950s Quebec, French and English tolerate each other with precarious civility—much like Maggie Hughes' parents. Maggie's English-speaking father has ambitions for his daughter that don't include marriage to the poor French boy on the next farm over. But Maggie's heart is captured by Gabriel Phénix. When she becomes pregnant at fifteen, her parents force her to give baby Elodie up for adoption and get her life 'back on track'.
Elodie is raised in Quebec's impoverished orphanage system. It's a precarious enough existence that takes a tragic turn when Elodie, along with thousands of other orphans in Quebec, is declared mentally ill as the result of a new law that provides more funding to psychiatric hospitals than to orphanages. Bright and determined, Elodie withstands abysmal treatment at the nuns' hands, finally earning her freedom at seventeen, when she is thrust into an alien, often unnerving world.
Maggie, married to a businessman eager to start a family, cannot forget the daughter she was forced to abandon, and a chance reconnection with Gabriel spurs a wrenching choice. As time passes, the stories of Maggie and Elodie intertwine but never touch, until Maggie realizes she must take what she wants from life and go in search of her long-lost daughter, finally reclaiming the truth that has been denied them both.
Trigger warning for rape
It's 1950's in Quebec and Maggie is the daughter of the local seed store owner. The French and the English just barely tolerate each other, the tensions are high. Maggie's heart is captured by Gabriel Phenix, a poor french farmer from next door. When Maggie get's pregnant at 15 years of age, her parents give up her baby Elodie for adoption so Maggie could get her life back on track.
Elodie is being raised in one of Quebec's impoverished orphanage's. When all the sudden the laws change, her orphanage is converted into a mental institution and hundred of orphans become trapped in that system, classified as mentally ill.
Years later, Maggie cannot stop thinking about Elodie, and hopes to find her daughter again.
This book follows both Maggie and Elodie and how they grow as people in the life they have been thrown in. This book also explores The Duplessis Orphans who were the children that were victimized and falsely certified as mentally ill by the government of Quebec, Canada mid 20th Century. It wasn't easy to read at times, the beginning of the book especially was a bit rough for me, because it involves rape of Maggie as a teenager by an adult and it was very uncomfortable.
I thought the writing in this book was well done, the author did a fantastic telling both Maggie and Elodie's stories, even if Elodie's part was also difficult to read at times, you just cannot help but sympathize with the characters.
This topic was new to me, I did not know much about Canadian history prior to this book, nor about the animosity between the people. I found this whole topic fascinating and very heartbreaking, especially with what happened to these orphans.
There was a bit of a struggle with this book at times based on the misogyny of the male characters and how they kept assuming that children will make a bad marriage better. When Maggie first get's married, I wanted to throttle her husband for disregarding Maggie's dream and forcing her into producing babies. Thought given the time frame, it isn't all that surprising, does not make it any less annoying.
The ending did feel like it wrapped up kind of weird and convenient, I didn't expect it to be as neat but it was really touching.
Overall, the writing I found really good. The storytelling flowed. I did find myself invested in the characters and their storylines. I did enjoy it and looking forward to more from this author in the future.