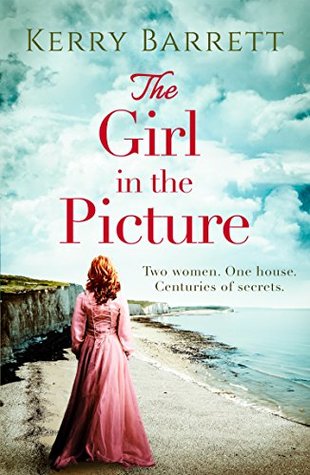 The Girl in the Picture
by
Kerry Barrett
Series:
standalone
Published by
HQ Digital
on September 20th 2017
Genres:
Historical Fiction
Pages:
384
Format:
Kindle Edition
Source:
Publisher
Buy on Amazon
Rating:
Heat:
I received this book for free from Publisher in exchange for an honest review. This does not affect my opinion of the book or the content of my review.
Two women. One house. Centuries of secrets.

East Sussex Coast, 1855

Violet Hargreaves is the lonely daughter of a widowed industrialist, and an aspiring Pre-Raphaelite painter. One day, the naïve eighteen-year-old meets Edwin; a mysterious and handsome man on the beach, who promises her a world beyond the small costal village she's trapped in. But after ignoring warning about Edwin, a chain of terrible events begins to unfold for Violet…

East Sussex Coast, 2016

For thriller-writer Ella Daniels, the house on the cliff is the perfect place to overcome writer's block, where she decides to move with her small family. But there's a strange atmosphere that settles once they move in – and rumours of historical murders next door begin to emerge. One night, Ella uncovers a portrait of a beautiful young girl named Violet Hargreaves, who went missing at the same time as the horrific crimes, and Ella becomes determined to find out what happened there 160 years ago. And in trying to lay Violet's ghost to rest, Ella must face ghosts of her own…
Please be advised, trigger warning for sexual assault and physical abuse.
When Ella and her husband decide to take the jump and move her family out of the city into a small town into a house on a cliff, the last thing Ella expected was the house to be tied to an unsolved murder case that happened 150 years ago. Upon finding a beautiful self portrait of a young woman who may have lived in the house a hundred years ago, Ella cannot help but immerse herself in the mysterious murder and the disappearance of Violet Hargreaves, especially since the girls history seems to resemble what Ella went through growing up.
East Sussex Coast, 1855
Violet is a lonely 18-year-old girl whose father is a widowed Industrialist and travels a lot. To fill her lonely days, Violet paints, despite her father's disapproval of Violet painting – it is her escape.
She meets a handsome married neighbor next door who claims he knows artists in London that can help Violet get noticed and break out into their world. All Violet wants more than anything is to escape her small town and do what she loves most and that's paint. But, when Violet ignores warnings about Edwin, she sets in motion the horrible set of events that had the town's people wandering for years of what had occurred and a mystery that was never solved.
This was so interesting. It's a historical fiction but those who are afraid of slow moving Historical Fiction don't be. Kerry Barrett delivers a beautiful if not horrific story about two women set years apart with centuries worth of secrets. She spins a lovely tale of a girl named Violet, who just wanted something more than a lonely marriage out of life and Ella a thriller-writer who might be just curious enough to uncover it.
The entire time I was reading Violet's story I found myself rooted to my seat, finding it completely riveting and thoroughly heartbreaking.
I wanted to know how it all ended for the young girl so naive, yet so full of passion.
The ending had me gasping, because I did not expect that to go the way it did. Not only was it completely heart wrenching, but also quite a bit horrifying. You can't even tell that it's coming until a certain point and at that point you get to know Violet enough to really feel for the girl and her outcome.
I wasn't sure how plausible the ending was to be honest, but I guess I could see it happening. It felt original, unexpected and definitely creative. Ella's obsession with Violet was strange and at times it did feel hard to believe because I did not know why she was so consumed in a mystery that happened so long ago, with not much to go on, but her prodding really paid off in uncovering the ugly truth that was hidden all these years unanswered.
I highly recommend this book for anyone who enjoys an engrossing story that builds up in tension and mystery, with characters that will stick to your heart long after it is finished.