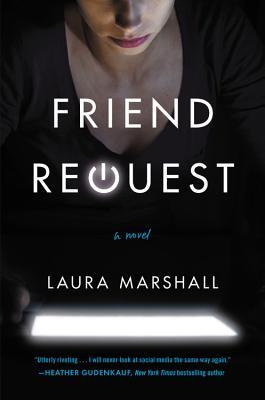 Friend Request
by
Laura Marshall
Series:
standalone
Published by
Grand Central Publishing
on September 5th 2017
Genres:
Mystery
,
Thriller
Pages:
384
Format:
Kindle Edition
Source:
Publisher
Buy on Amazon
Rating:
I received this book for free from Publisher in exchange for an honest review. This does not affect my opinion of the book or the content of my review.
A paranoid single mom is forced to confront the unthinkable act she committed as a desperate teenager in this addictive thriller with a social media twist. Maria Weston wants to be friends. But Maria Weston is dead. Isn't she?
1989. When Louise first notices the new girl who has mysteriously transferred late into their senior year, Maria seems to be everything the girls Louise hangs out with aren't. Authentic. Funny. Brash. Within just a few days, Maria and Louise are on their way to becoming fast friends.
2016. Louise receives a heart-stopping email: Maria Weston wants to be friends on Facebook. Long-buried memories quickly rise to the surface: those first days of their budding friendship; cruel decisions made and dark secrets kept; the night that would change all their lives forever.
Louise has always known that if the truth ever came out, she could stand to lose everything. Her job. Her son. Her freedom. Maria's sudden reappearance threatens it all, and forces Louise to reconnect with everyone she'd severed ties with to escape the past. But as she tries to piece together exactly what happened that night, Louise discovers there's more to the story than she ever knew. To keep her secret, Louise must first uncover the whole truth, before what's known to Maria--or whoever's pretending to be her--is known to all.
The book follows a woman named Louise who gets a facebook request from a girl named Maria Weston, but Maria Weston is dead isn't she?
We are thrown into a past/present kind of situation where Louise remembers a girl named Maria being a new transfer student in her school. At that time Louise was struggling to fit into this group of popular girls with her friend Sophie, who basically uses her and isn't really nice to her and ignores her. So Louise befriends Maria, but when Sophie notices it, she deliberately drags Louise out of that relationship and the girls start bullying her and being completely nasty to Maria.
This book has triggers for drug abuse, bullying, and I think sexual abuse.
So Louise gets sucked into this popular world where girls use drugs and they thought it would be funny to spike Maria's drink with Esctesy during something called the leavers party. Well, Maria disappeared from that party after the incident and everyone believes she jumped off a cliff, but there is no body so no one knows for sure what happened that night, or do they?
I felt the book started out slow at first, but eventually it begins to build momentum and I found myself invested wanting to know what was going on.
I found Louise to be a very passive kind of character. She lives in the shadows of what she had done, she is single divorced mom and her ex-husband part took in that whole incident of supplying the drug and being a part of.
I had a hard time liking Louise. I felt like she was very, I don't know, she just existed as a character? Like there were several scenes in the book that I wanted to throttle her because despite the fact that she has a son the survival instinct in her takes quiet the time to kick in.
I was disappointed greatly by the ending. I was actually just cringing the entire time I was reading it and I found it physically painful to read it, because I hated the ending. It could have been so good, but Louise as a character just made me so angry at the end and the whole reveal flopped. Like all the build up the mystery, it could have gone somewhere so much better, but it didn't.
The whole part, featuring the past and what they did to Maria was really hard to read at times as well because their actions just felt so unwarranted and you just feel for the girl.
Overall, this was interesting to begin with. I did struggle with Louise on several parts. Including, not being able to understand her not reaching out to the cops in certain situations and also the ending just flopped for me.