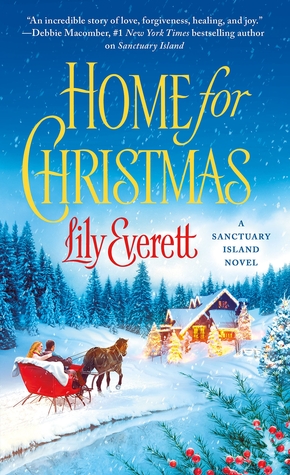 Home for Christmas
by
Lily Everett
Series:
Sanctuary Island #4
Published by
St. Martin's Paperbacks
on October 6th 2015
Genres:
Holiday
,
Contemporary Romance
Pages:
320
Format:
Kindle Edition
Source:
Publisher
Buy on Amazon
Rating:
I received this book for free from Publisher in exchange for an honest review. This does not affect my opinion of the book or the content of my review.
Tis the season for family and love…
At least it's supposed to be. For Libby Leeds, however, the holiday season is just another reminder of things she'd rather forget. When she left Sanctuary Island as an orphaned child, she never thought she'd go back except in her dreams, dreams she's kept alive by writing monthly column of her fictional small-town life, until her publisher sends her back home for the holidays.
Owen Shepard is a fallen hero, wounded in action rescuing three of his fellow soldiers, but after a whirlwind of media attention, all this charismatic Army Ranger wants is to get back on his feet and make it to Sanctuary Island to be with his daughter in time for Christmas. What he didn't expect was to be put on a crash course with a columnist hiding her past. Will the magic of Sanctuary Island at Christmastime allow them to find healing together?
Libby Leeds has made a name for herself by sharing heartwarming stories of her perfect home life on Sanctuary Island as a world famous cook. Problem is Libby has not set foot on the island since she was a little girl, she Libby definitely isn't famous, let alone can she cook. Libby needs money for her uncle who took care of her after her parents' death because he is having an early case of Alzheimer's and the places that is perfect, is also costly.
Owen Shepard is a wounded war hero who is returning to Sanctuary Island in over to recover from his injury and meet his daughter for the first time. Libby's editor insists that Libby plays the part of the famous cook and cover the story of Owen Shepards long road back under false pretenses.
This was an odd story. I wasn't sure how I felt about the premise as a whole. Libby pretends to be someone who she is not in order to get money for her uncle.She writes a letter to Owen saying she wants to host a Christmas dinner for him and his daughter at her home (Owen just happens to be a fan of Libby's writing), but she doesn't know how to cook or how she is going to pull this off.
Off the bat their relationship is built on a lie. I can't understand the extend of damage this lie could really cause, but she was taking advantage of both Owen and his daughter – despite being a good of heart – that left me feeling a little questionable about the romance.
Owen would have been easy to like, but his determination to get back into duty and leave his daughter was again behind a little frustrating at times.
I wish that Nash had his own book, I felt like there was a lot more to his story, but his relationship with Ivy gets resolved fairly quickly in this book.
What I did enjoy is Libby's grandfather and how misunderstood, he was as a person and who he really is, just an old man that wants his family together on Christmas – and the two do not seem to realize his loneliness for a while.
Overall, this was just okay. I had a hard time getting behind the romances and the characters. I understood that there were good intentions behind both Libby's lies and Owen's need to run off and leave everything behind, but it just didn't completely work for me. It still ended up being a cute story, I just felt like It could have been better. The premise wasn't my cup of tea.