The Murders of Molly Southbourne
by
Tade Thompson
Series:
Molly Southbourne #1
Published by
Tor.com
on October 3rd 2017
Genres:
Science Fiction
,
Horror
Pages:
128
Format:
Kindle Edition
Source:
Publisher
Buy on Amazon
Rating:
I received this book for free from Publisher in exchange for an honest review. This does not affect my opinion of the book or the content of my review.
Every time she bleeds a murderer is born. Experience the horror of Tade Thompson's The Murders of Molly Southbourne.The rule is simple: don't bleed.
For as long as Molly Southbourne can remember, she's been watching herself die. Whenever she bleeds, another molly is born, identical to her in every way and intent on her destruction.
Molly knows every way to kill herself, but she also knows that as long as she survives she'll be hunted. No matter how well she follows the rules, eventually the mollys will find her. Can Molly find a way to stop the tide of blood, or will she meet her end at the hand of a girl who looks just like her?
For as long as Molly can remember, she has been watching herself die. Whenever Molly bleeds, another molly is born and is set on trying to destroy her.
Because of this, Molly lives on a farm with her parents and isn't allowed to go anywhere. She also has to follow a certain set of rules.
But as Molly gets older, she trains to take care of herself and eventually her parents – although reluctantly – allow Molly to attend college. Unfortunately for Molly, she cannot escape who she is, no matter where she goes.
If you are looking for something bloody for Halloween, this is a good quick novella to pick up. I found the story interesting, albeit a bit on
a stomach turning side, as some of the scenes for me personally were a little much to read.
The story was quick and the concept I felt was really good, but it left me with a lot of questions. I know this is part of a short novella series, but I didn't understand why this isn't a fully composed book. I really wanted to know why this was happening to Molly, why the molly's kept coming even if she wasn't bleeding at some parts, and also why the one molly was different. Plus, why they want to kill her?
Too many whys.
Also, there is a bit of a language translation issue for me. The mother is supposed to speak Russian and Ukranian and keeps calling Molly Dorogoy. This isn't conjugated properly, as Molly is a female the female version of that endearment would have been Dorogaya. It might not matter to some, but it is suppose to be the feminine version if used correctly.
Gwendy's Button Box
by
Stephen King
,
Richard T. Chizmar
,
Maggie Siff
Series:
standalone
Published by
Simon Schuster Audio
on May 16th 2017
Genres:
Fantasy
,
Mystery
Pages:
2 hrs and 42 mins
Format:
Audiobook
Source:
Library
Buy on Amazon
Rating:
INCLUDES KING'S EDGAR AWARD-NOMINATED STORY "THE MUSIC ROOM" AND A CONVERSATION BETWEEN STEPHEN KING & RICHARD CHIZMAR!
Stephen King teams up with long-time friend and award-winning author Richard Chizmar for the first time in this original, chilling novella that revisits the town of Castle Rock—paired on audio with King's Edgar Award–nominated story "The Music Room."
There are three ways up to Castle View from the town of Castle Rock: Route 117, Pleasant Road, and the Suicide Stairs. Every day in the summer of 1974, twelve-year-old Gwendy Peterson has taken the stairs, which are held by strong—if time-rusted—iron bolts and zig-zag up the cliffside.
Then one day when Gwendy gets to the top of Castle View, after catching her breath and hearing the shouts of kids on the playground below, a stranger calls to her. There on a bench in the shade sits a man in black jeans, a black coat, and a white shirt unbuttoned at the top. On his head is a small, neat black hat. The time will come when Gwendy has nightmares about that hat…
The little town of Castle Rock, Maine has witnessed some strange events and unusual visitors over the years, but there is one story that has never been told—until now.
12 years old Gwendy Peterson takes the suicide stairs every day in hopes to eventually lose weight. One day she meets a strange man at the top of the stairs, who offers her a Button Box, insisting that the box belongs to Gwendy. In her gut, Gwendy believes that the Button Box is truly hers and spends years protecting the box, knowing that if fell into the wrong hands it could destroy everything.
This was a great quick listened. I enjoyed the story a tell, reminiscent of Pandora's Box. Gwendy was an easy character to like and I enjoyed her growth through the years and how her age effected her reaction to the Button Box.
The story is set in Castle Rock and a large part of me was hoping this would be a more atmospheric kind of read.
Overall, the story was quick and enjoyable. I was a bit confused by the ending and it did leave me wanting more. I was expecting a lot more to happen as far as the box was concerned, and I also wanted to know more about the mysterious stranger.
Maggie Stiff did an amazing job narrating the story. I hope she does more audibooks in the future.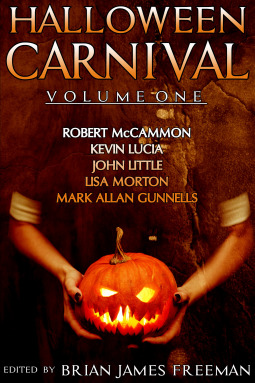 Halloween Carnival Volume 1
by
Robert McCammon
,
Kevin Lucia
,
John Little
,
Lisa Morton
,
Mark Allan Gunnells
,
Brian James Freeman
Series:
standalone
Published by
Random House Publishing Group - Hydra
on October 3rd 2017
Genres:
Short Stories
Pages:
165
Format:
Kindle Edition
Source:
Publisher
Buy on Amazon
Rating:
I received this book for free from Publisher in exchange for an honest review. This does not affect my opinion of the book or the content of my review.
STRANGE CANDY by Robert McCammonChocolate bars and sour suckers are trick-or-treat staples, but beware the odd sweet at the bottom of your bag. You never know who it's from—or what it might do to you.
THE RAGE OF ACHILLES by Kevin LuciaFather Ward should have heeded the warnings about hearing confession on All Hallow's Eve. Because a man is about to tell him a secret more haunting than any he has heard before.
DEMON AIR by John R. LittleFear of flying is not uncommon. But on this transpacific airline, the real danger isn't the flight itself. It's whoever—or whatever—is up in the air with you.
LA HACIENDA DE LOS MUERTOS by Lisa MortonTrick McGrew, former cowboy star of the silver screen, has never believed in tall tales. But down in Mexico, the land of La Llorona, he's about to find out just how real urban legends can be.
#MAKEHALLOWEENSCARYAGAIN by Mark Allan GunnellsSome people will go to any lengths to rack up retweets, likes, and follows on social media, no matter who they end up hurting . . . or even killing.
Not sure I have much to say about this. Some of it was enjoyable. The story about the author and Halloween Murders was interesting, albeit a bit confusing in the end. I wanted the book to be more Halloweenish in it's feel, but some of the stories were just downright sad. The first story was sad and the story about the father and his son was really sad.
I liked the last story in the book about the Mexican ghost. I thought it was creepy enough to be interesting. Even so, the story had a few problematic concepts.