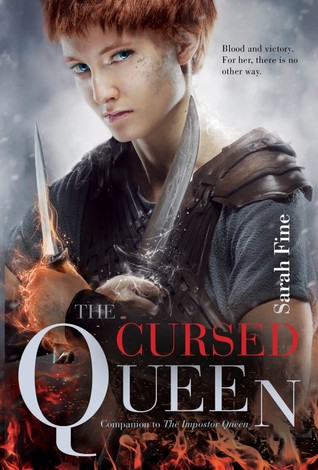 The Cursed Queen
by
Sarah Fine
Series:
The Impostor Queen
,
#2
Published by
Margaret K. McElderry Books
on January 3rd 2017
Genres:
Young Adult
,
Fantasy
,
Glbt
Pages:
432
Format:
Paperback
Source:
Publisher
Buy on Amazon
Rating:
I received this book for free from Publisher in exchange for an honest review. This does not affect my opinion of the book or the content of my review.
Ansa has always been a fighter.
As a child, she fought the invaders who murdered her parents and snatched her as a raid prize. She fought for her place next to Thyra, the daughter of the Krigere Chieftain. She fought for her status as a warrior in her tribe: blood and victory are her way of life. But the day her Krigere cross the great lake and threaten the witch queen of the Kupari, everything changes.
Cursed by the queen with fire and ice, Ansa is forced to fight against an invisible enemy—the dark magic that has embedded itself deep in her bones. The more she seeks to hide it, the more dangerous it becomes. And with the Krigere numbers decimated and the tribe under threat from the traitorous brother of the dead Chieftain, Ansa is torn between her loyalty to the Krigere, her love for Thyra, and her own survival instincts.
With her world in chaos and each side wanting to claim her for their own, only one thing is certain: unless Ansa can control the terrible magic inside her, everything she's fought for will be destroyed.
My Struggle with The Cursed Queen was real…
The Cursed Queen is a companion novel of The Imposter Queen. Although the two are set in the same world, they follow two different sets of character. In this specific book, we follow Ansa, who as a child lost her parents to Krigere invaders and was taken and raised by that tribe of people. All Ansa knows is blood and the thrill of being a fighter, nothing else seems to matter outside of her love for Thyra, the daughter of the Krigere Chieftain.
But on one mission Ansa faces of the Witch Queen and something happens. Now Ansa fears that she is cursed by the same magic of the Kupari Queen and must not reveal the war waging inside her. As Ansa battles the invading magic from destroying everything around her, Thyra is now the new Chieftain and her tribe is being escorted by Jasper, of another Krigere tribe in hopes of "combining" their forces under Thyra's uncle Nisse.
Got it?
Okay, I had a lot of issues with this book. I knew it wasn't going to follow the same sets of characters, but I wasn't expecting to be trusted into a world where there seems to be that the Krigere have, almost like a civil war going on. It felt like we started in the middle of the story and it quickly got confusing.
It did not help that Ansa was a really hard character to warm up to through most of the book. She comes off childish, with loose loyalties, immature, and flip flops so much it was giving me whiplash. Ansa was easily manipulated and what was going on between Thyra and her uncle felt like way over her head. She seemed a lot younger than Thyra especially with the level of competence she kept presenting. I also did not understand her way of turning her book on people she cared for most, especially Thyra. She kept saying how much she loves her and would follow her, but continually through the book demonstrated the opposite.
Ansa's loyalties were all over the place and she just did not know how to trust anyone. It was a wonder that most of the characters tried to alienate her from their plans, she couldn't really be trusted. I found her character super frustrating and I did not like her very much. She finally grew as a character, but it was also like 90% into the book and by then I was already set on not caring.
I loved the world and Sarah Fines writing was still good, there was a lot going on in the book, but it did take a while for you to kind of get used to everything. A lot of stabbiness, a lot of blood and death.
The other thing that did not work for me was the romance. I prefer mine to develop over time, this one is just there and we are supposed to accept it. I like that there was a female/female romance in this, which gave this book diversity – but it was hard to accept the romance because of Ansa's character. For someone who was so in love with Thyra, she had a funny way of showing it with the lack of faith she started to have in her.
Overall, this is advertised as a companion novel. If you want to know more about Ansa before the third book, go ahead, but don't hold it with too much expectation. I DNF'ed it a couple of months ago, but in light of the third book I decided to finish it. I struggled, but hopefully others had/will have a better experience.