This book may be unsuitable for people under 17 years of age due to its use of sexual content, drug and alcohol use, and/or violence.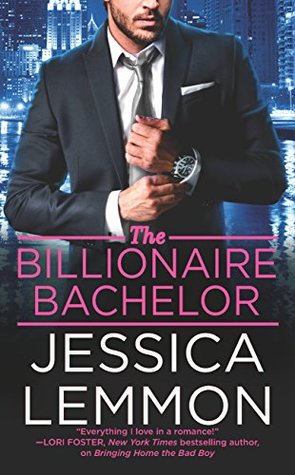 The Billionaire Bachelor
by
Jessica Lemmon
Series:
Billionaire Bad Boys #1
Published by
Forever
on June 30th 2016
Genres:
Contemporary Romance
Pages:
384
Format:
Paperback
Source:
Bought
Buy on Amazon
Rating:
Heat:
Indecent Proposal
Manwhore. That's what the board of directors-and the tabloids-thinks of billionaire bachelor Reese Crane. Ordinarily he couldn't care less, but his playboy past is preventing the board from naming him CEO of Crane Hotels. Nothing-and no one-will keep him from his life's legacy. They want a settled man to lead the company? Then that's exactly what he'll give them.
Merina Van Heusen will do anything to get her parents' funky boutique hotel back-even marry cold-as-ice-but-sexy-as-hell Reese Crane. It's a simple business contract-six months of marriage, absolute secrecy, and the Van Heusen is all hers again. But when sparks fly between them, their passion quickly moves from the boardroom to the bedroom. And soon Merina is living her worst nightmare: falling in love with her husband . . .
I was looking for something different to read when I came across The Billionaire Bachelor and figured I could give it a shot.
Boy was I rewarded with a fun story, great characters and a romance that sizzles long after the pages are done.
The Plot
Two hotel owners collide when Merina Van Heusen discovers that her precious hotel has been sold off to Crane Hotels.
Reese Crane is on track of making CEO, there is just one problem, the board of directors do not seem him fit to take over his father's position. Reese has lived and breathed Crane hotels ever since he threw himself fully into his family's legacy, and now a bunch of old man, who don't approve of his lifestyle, are standing in the way of him losing everything.
Now, Reese much ditch his playboy lifestyle and settle down, and who do better with than a woman who hates his guts. But, Reese has something that Merina wants, and knows she is perfect to not screw things up.
Oh I loved the plot. It was an enemy to lovers story with a fake marriage that over time succumbs to passion and morphed into something more.
Like a miracle had occurred. Had he grown a conscience? Her eyes narrowed in suspicion. "What's the catch?"
He smiled, then said two words that made her go temporarily blind in one eye.
"Marry me."
It was fun, it was exciting and it was something totally different from my recent reads so I was glad to have discovered this. I was totally engrossed with the plot, hooked, line and sinker. I was unable to put this book down and was cranky from the lack of sleep, but it seemed totally worth it.
The plot was totally character driven and I loved both equally with their prickly personalities. I loved that there was a build up and the way things played up, with even a bit (a little bit) of angst thrown in at the end. The story was everything I wanted and more.
The Characters
Merina and Reese were definitely the stars of the show. Thought I love the fact that this is book one in a trilogy of Crane brothers – because I totally adored Tag and cannot wait to read his story.
Reese was passionate, calculating, and a bit detached. He has a story and it consists of heartbreak that left him running for the hills when it comes to relationships. So marrying was equivalent of having a lobotomy, I'm sure.
He likes his women, he doesn't like emotions or exposing his weak side. Reese does not want to get hurt ever again after that devastating heartbreak, which made him a little frustrating in the end when the possibility of love came pounding on his doorsteps. He get's closed up, but he opens up with Merina without even trying to show that he actually does care and in turn exposes his heart.
Merina was prickly and I really liked her and her spunk. She really knew how to get under Reese's skin and the two worked and clicked so well together. There was heat, there was steam, and a romance that absolutely sizzled. The chemistry was explosive, it didn't feel forced, and kept things completely engrossing and interesting.
I adored these two so much that I am going to miss them.
Overall
Overall, this entire book was a win. I did have one issue and that was at the end where everything Reese has been trying to avoid, catches up to him and he closes down. I did realize that it's a part of him that kept him protected from heartbreak, so it did make sense that he had responded the way he did, but at the same time Merina was different. I wanted to throttle him for being so stupid.
When the fog cleared, he did redeem himself and the story ended on a touching note. I loved seeing the vulnerable side of him.
The writing was good, the characters were well rounded, raw, real, emotional, sprinkled with humor. It kept me turning the pages, and will keep me coming back to find out what the author has in store for me next!
"Are you capable of being monogamous?" It was easier to needle him than address the gauntlet resting between them like a huge pink elephant.

"I don't prefer it."

Which was no answer at all.

"So this is a bribe."

"It's a proposal." One eyebrow lifted slightly. "In this case, literally."
"When a woman says 'fine'…," he started.

"Run." Tag's smug expression fell as he sat ramrod straight. "Like you have zombies on your tail. 'Fine' is not a term of endearment from a woman."

"Yeah, that's what I thought."

Tag's eyes went to Reese's phone. "Who gave you the F-word?"

"Merina. In answer to my marriage proposal." He leaned on his desk, hands folded. "I'm assuming that's a yes."

"You should assume the position, man. That does not sound like a good sign."