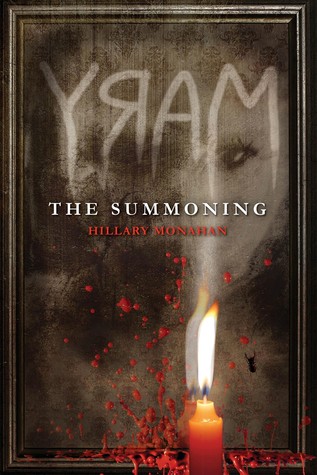 MARY: The Summoning
by
Hillary Monahan
Series:
,
Published by
Disney-Hyperion
on September 2nd 2014
Genres:
Young Adult
,
Horror
Pages:
245
Format:
Paperback
Source:
Bought
Buy on Amazon
Rating:
There is a right way and a wrong way to summon her.
Jess had done the research. Success requires precision: a dark room, a mirror, a candle, salt, and four teenage girls. Each of them--Jess, Shauna, Kitty, and Anna--must link hands, follow the rules . . . and never let go.
A thrilling fear spins around the room the first time Jess calls her name: "Bloody Mary. Bloody Mary. BLOODY MARY." A ripple of terror follows when a shadowy silhouette emerges through the fog, a specter trapped behind the mirror.
Once is not enough, though--at least not for Jess. Mary is called again. And again. But when their summoning circle is broken, Bloody Mary slips through the glass with a taste for revenge on her lips. As the girls struggle to escape Mary's wrath, loyalties are questioned, friendships are torn apart, and lives are forever altered.
A haunting trail of clues leads Shauna on a desperate search to uncover the legacy of Mary Worth. What she finds will change everything, but will it be enough to stop Mary--and Jess--before it's too late?
This book follows a girl named Shauna and her best friends, Jess, Kitty and Anna. Jess develops this obsession in summoning Bloody Mary and says she actually knows the correct way, all the girls have to do is follow the rules and not let go of each others hands.
Well, Jess becomes overly aggressive about her obsession over Bloody Mary and ends up holding back a few things she refused to tell the girls. One of the summonings gets out of hand and they bring Bloody Mary into their world through the mirror. Mary tags Shauna and when the spell goes wrong, Mary does not return to her world and ends up haunting Shauna through the mirrors and anything "shiny"
Now Shauna is mad at Jess for being so careless and lying, but also enlists her in the help of finding a way of getting Mary off her.
This was a quick read and it was okay. It was most definitely creepy and as I was reading this during Halloween, it definitely bought out all the freaky parts.
Some parts and descriptions, particularly of Mary, made my stomach turn.
Like the other girls, I found myself frustrated and angry with Jess because of what she had done. I found her to be a horrible friend.
Overall, like I said, it was okay. I enjoyed it well enough, I got the creepy and the freaky out of it, but also some frustration as well. Not sure if it will hurry me to pick up book two anytime soon though.