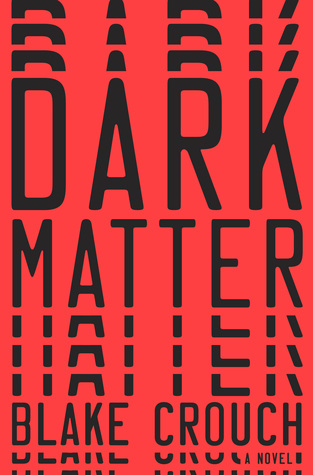 Dark Matter
by
Blake Crouch
Series:
standalone
Published by
Crown
on July 26th 2016
Genres:
Science Fiction
,
Thriller
Pages:
342
Format:
Hardcover
Source:
Library
Buy on Amazon
Rating:
Heat:
"Are you happy with your life?"
Those are the last words Jason Dessen hears before the masked abductor knocks him unconscious.
Before he awakens to find himself strapped to a gurney, surrounded by strangers in hazmat suits.
Before a man Jason's never met smiles down at him and says, "Welcome back, my friend."
In this world he's woken up to, Jason's life is not the one he knows. His wife is not his wife. His son was never born. And Jason is not an ordinary college physics professor, but a celebrated genius who has achieved something remarkable. Something impossible.
Is it this world or the other that's the dream? And even if the home he remembers is real, how can Jason possibly make it back to the family he loves? The answers lie in a journey more wondrous and horrifying than anything he could've imagined—one that will force him to confront the darkest parts of himself even as he battles a terrifying, seemingly unbeatable foe.
From the author of the bestselling Wayward Pines trilogy, Dark Matter is a brilliantly plotted tale that is at once sweeping and intimate, mind-bendingly strange and profoundly human—a relentlessly surprising science-fiction thriller about choices, paths not taken, and how far we'll go to claim the lives we dream of.
I can't believe it took me this long to pick this book up. I actually bought this for my dad about a month ago and after he finished, he told me "Lily, you got to read this." I was a bit busy, had a lot on my plate, and did not get a chance to. I went to the library and behold, they had a copy available and I snatched it up.
Guys! I could NOT, put this book down. It was…Wow.
What is so great about this? Uh… Everything. It's a science fiction, but it doesn't completely read like one. I admit, there had been parts that made my head swim a little, but who cares? Crouch is a fabulous writer. The man knows how to suck you in from the very first page and it just never really lets you go. I lost sleep because of this, for reals. But who needs sleep, right?
This book never had a dull moment for me, I was eating up the pages eager for the end, wanting to know how it all turns out. Quite the roller coaster ride.
Don't ask me to explain what this is about, I might literally explode. Read the blurb, that is the gist of it, the rest you pretty much have to experience on your own.
This book grabbed me from page one and never really let me go. My eyes are burning me, I am tired, but I am so glad I got to finish this. Crouch is really such a great storyteller.
Does most of this book make sense? No, it's a science fiction. But, it's interesting, it's different, it's compelling and it's the first book in over a month that has me so damn giddy. I wasn't coming into this willing it to make sense. I just wanted fun, excitement, something different.
Different it was. I LOVED the concept, the idea of multiverse. How our lives branch out. How there is a possibility of like everything that we could do in a critical moment in our life. The characters were just so raw, so real, the main character especially. I couldn't help but feel the connection, I felt his love, pain, his loss and the need to come back home.
It was just so good. Crouch to me is a master in storytelling, he succeeded in everything for me. I felt it. I enjoyed it.
I took away half a star because in the end, I felt the ending to be a little weak. A LITTLE BIT. After everything, I felt like maybe it could have used a few more pages. But I get it. The characters were tired.
It is a bit open ended, it is. BUT, but, you guys in this case, given the structure of the book – it does not annoy me. It felt almost perfect. I couldn't have asked for anything better. It totally made sense following the events, so, go read it if you have not yet. The science fiction part of it is light, but it's science fiction, don't go into it thinking it has to make sense, just be open and enjoy every moment.