Happy Monday everyone! Hope everyone had a great weekend. We are starting off this week with Sophia Rose and her review of a Historical Fiction Novel/Classic Retelling. Enjoy!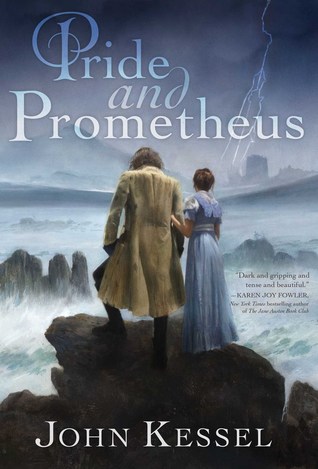 Pride and Prometheus
by
John Kessel
Series:
standalone
Published by
Saga Press
on February 13th 2018
Genres:
Historical Fiction
,
Horror
,
Classic Retellings
Pages:
384
Format:
Kindle Edition
Source:
Publisher
Buy on Amazon
Rating:
I received this book for free from Publisher in exchange for an honest review. This does not affect my opinion of the book or the content of my review.
"Dark and gripping and tense and beautiful." —Karen Joy Fowler, New York Times bestselling author of The Jane Austen Book Club and Pulitzer Prize finalist for We Are All Completely Besides Ourselves
Pride and Prejudice meets Frankenstein as Mary Bennet falls for the enigmatic Victor Frankenstein and befriends his monstrous Creature in this clever fusion of two popular classics.
Threatened with destruction unless he fashions a wife for his Creature, Victor Frankenstein travels to England where he meets Mary and Kitty Bennet, the remaining unmarried sisters of the Bennet family from Pride and Prejudice. As Mary and Victor become increasingly attracted to each other, the Creature looks on impatiently, waiting for his bride. But where will Victor find a female body from which to create the monster's mate?
Meanwhile, the awkward Mary hopes that Victor will save her from approaching spinsterhood while wondering what dark secret he is keeping from her.
Pride and Prometheus fuses the gothic horror of Mary Shelley with the Regency romance of Jane Austen in an exciting novel that combines two age-old stories in a fresh and startling way.
One glimpse of the blurb telling me that this was a mash-up of Jane Austen's Pride & Prejudice and Mary Shelley's Frankenstein and I had to read it. Two powerhouse classics with vastly different settings and atmosphere had me so curious about how the author would pull it off.
I confess to a little trepidation, as well. Both are powerful stories with different themes so I was crossing my fingers that one would not suffer at the expense to the other.
Well, never fear, the author had a different approach that really worked to blend the stories. This ended up being more of a P&P sequel mashed with the Frankenstein story. A person who has read or watched the movie adaption for Pride & Prejudice and Frankenstein would get more out of this, but I think someone only slightly familiar would get by just fine. Instead of the main Austen heroine, the author plucked out a secondary character from P&P to become his female lead across from the male leads of Frankenstein. A story swirling around Mary Bennet and Victor Frankenstein and his monster actually had even greater appeal. Mary suited the tragic heroine role more than any other of Austen's Bennet sisters.
The atmosphere of this story is not light and it's not a romance though it has romantic overtones. The atmosphere is toward the romantic tragedy side with a bittersweet flavor. Mary is a middle-aged spinster who is the odd-(wo)man out in her family. She's changed and grown and become a better person though very much the Mary people will recognize, but everyone in her life is so busy about their own affairs that this goes unnoticed. She's ripe for something new in her life- an adventure. The plight of Victor Frankenstein and his monster bring that.
Victor is nearly at the breaking point. He didn't set out to play God and pay the price, but he did and now he has a monster threatening to kill after having already killed if he doesn't provide the creature with a wife like him. Victor encounters the rare Mary Bennet and her family and spies his opportunity. Meanwhile, his creature watches with impatience and loneliness. He is angry at Victor's rejection and leaving him to fend for himself in a world that is disgusted by him and reviles him.
The pace is mostly slower with a few spikes of excitement. It's not true horror, but more gothic in air. Much of the story is more embedded in the Frankenstein tale and, as I did when I read that the first time, I sympathized with the creature more than his creator. I'm not a Victor Frankenstein fan.
I really only had one niggle and that was that I found the ending abrupt. This was probably on me because I was reeling from the last revelation that came just before that and perhaps wanted something more or different. That said, the ending was consistent with the story itself.
So, all in all, I thought this was a moving story- more thought-provoking than anything else- and definitely one I was glad to have read. I think it will have niche audience appeal toward those who enjoy the classics particularly those of a brooding, darker tragic tone.