At Grave's End
by
Jeaniene Frost
Series:
Night Huntress #3
Published by
Avon
on January 1st 2009
Genres:
Paranormal Romance
Pages:
342
Format:
Paperback
Source:
Bought
Buy on Amazon
Rating:
Heat:
Some things won't stay buried . . . at grave's end
Half-vampire Cat Crawfield and vampire lover Bones are caught by Patra, the wife of his sire Menchares, skilled in black magic and thousands of years old. Her name honors her mother Cleopatra. Patra unleashes a storm against their allies and families, ghouls and vampires. But Menchares still loves her.
I was in such a reading slump that I decided to pick up an oldie but a goodie. I missed Cat and Bones so much and this was a book I started two years ago and was finally able to finish it.
I am glad I picked it back up. I almost forgot how much I was enjoying this series when I first started it.
Cat and Bones are one of my favorite couple and they continue to prove why that is. I love their connection, and how they interact with each other.
At Grave's End was such a fun read I had a hard time putting it down. Lot's going on, lots of action, lots of excitement that had me hooked on the edge of my seat. If you have not given this series a try I strongly suggest it.
I adored the plot and how everything is starting to unfold and progress. I want to say there was some character growth, but I did find Cat to be on the immature side of the tracks even in book 3. I do also have to remember that Bones has been alive for a couple of hundred of years and has a lot more experience and growth under his belt.
Anyway, this book made me lose a lot of sleep, but I am looking forward to the next book in the series.
Seven Years
by
Dannika Dark
Series:
Seven #1
Published by
Dannika Dark
on October 20th 2013
Genres:
Paranormal Romance
Pages:
332
Format:
Kindle Edition
Source:
Borrowed
Buy on Amazon
Rating:
Heat:
Seven years ago, my world ended.Seven years later, my new life began.
It's been seven years since Lexi Knight lost her brother in a tragic accident. On the anniversary of his death, her brother's best friend shows up unexpectedly - a man she hasn't seen since the funeral. He is no longer the boy Lexi once knew, but a dangerous-looking man with tattoos and dark secrets. He broke her trust and abandoned her family, yet what he reveals makes it impossible to stay angry. Lexi has been secretly infatuated with Austin since childhood, so finding out he's a Shifter just makes him sexier. Dammit.
Austin Cole has returned to the city where he grew up, and just in time. He's lived a hard life these past seven years, and the shadows of his past are threatening to destroy Lexi's family. It's time that she learned the truth about her brother, but there is a shocking twist that Austin never saw coming. Now he must protect her family when her mother and sister wind up in mortal danger. Will Lexi learn to accept the truth about who he is, and can Austin salvage a relationship from the ruins of their past?
Destiny will find you.------------------------------------------------------------A romance series that will sweep you off your feet.
Cliffhanger-freeHEA
I picked this one up because I was on a paranormal kick and wanted something fun and exciting. Well, this was definitely fun, but I did find myself struggling with the book.
The first book in the series follows Austin and Lexi. Austin has been a family friend for a really long time until he disappeared shortly after Lexi's brother's death. He is now back in town and things getting awkward, especially since the Lexi's mother still does not forgive him for walking away from them.
Lexi works at a candy store and has a hard time with her cheating ex boyfriend who keeps coming, back, on top of it all a lot of strange men are showing up in her life and can't seem to keep their hands off her.
Okay, this was totally weird. The book was a giant wild ride but I found I didn't always enjoy it. Why?
SO much stuff happens.. Like, a lot.. Like everything just keeps piling up that my head just never really stops spinning. Seriously the amount of stuff the woman went through in this book would have her in a straight jacket, but instead she is all like oh okay, well what's next? Like no dealing with emotions at all.
Some stuff was also just so random. It felt like the author was trying to pack too many things into one book to keep it interesting.
Also… I have read werewolf books before, but recently authors started adding 'heat' into books and its just awkward cause now like EVERYONE wants to practically rape this girl and it was just..blah
The hardest part was buying into the romance since they felt like these two people never really wanted to be together. It almost felt forced.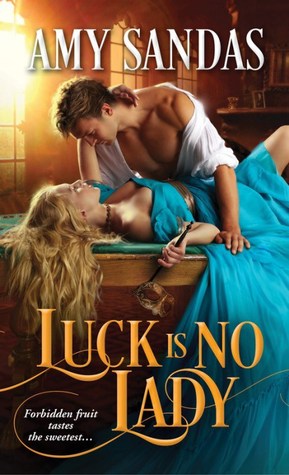 Luck Is No Lady
by
Amy Sandas
Series:
Fallen Ladies #1
Published by
Sourcebooks Casablanca
on April 5th 2016
Genres:
Historical Romance
Pages:
352
Format:
Paperback
Source:
Bought
Buy on Amazon
Rating:
Heat:
"You should not have kissed me," she replied breathlessly."I do a lot of things I shouldn't. It does not mean I won't do them again."
Gently bred Emma Chadwick always assumed she'd live and die the daughter of a gentleman. But when her father's death reveals a world of staggering debt and dangerous moneylenders, she must risk her good name and put her talent for mathematics to use, taking a position as bookkeeper at London's most notorious gambling hell. Surrounded by vice and corruption on all sides, it is imperative no one discovers Emma's shameful secret or her reputation-and her life-will be ruined.
But Roderick Bentley, the hell's sinfully wealthy owner, awakens a hunger Emma cannot deny. Drawn deep into an underworld of high stakes gambling and reckless overindulgence, she soon discovers that in order to win the love of a ruthless scoundrel, she will have to play the game...and give in to the pleasure of falling from grace.
Another book I am super glad I picked up. I found myself absolutely adoring Luck is No Lady and chewing up the pages.
The story follows Emma a spinster who is looking out after two younger sisters after both of their parents had passed. Their father happened to leave them in a major debt and she is now being hounded by the mysterious loner who wants the money and is willing to go far to get it from them.
Emma meets Roderick Bentley a bastard son of an earl that society seems to have an issue with. Roderick is wealthy and own a gambling hell with questionable acts that might ensue behind closed doors. He is also the man hiding behind the curtain that she slips behind to get away from another lord and steals a kiss.
Since Emma needs money, she applies as a bookkeeper named Ms Adams at the gambling hell without knowing that Roderick is the owner, that he knows exactly who she is and what they share.
Sparks fly, the attraction is real and the romance is so swoon worthy I had a hard time putting this one down. I adored every minute of this and I loved Emma and Roderick. I could not help but root for them, especially after everything he himself has gone through.