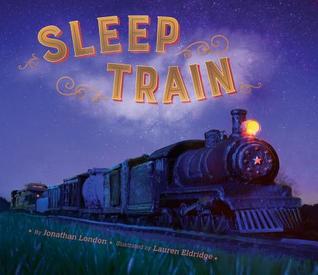 Sleep Train
by
Jonathan London
Illustrator:
Lauren Eldridge
Series:
standalone
Published by
Viking Books for Young Readers
on April 3, 2018
Genres:
Childrens
,
Picture Books
Pages:
32
Format:
Hardcover
Source:
Publisher
Buy on Amazon
Rating:
I received this book for free from Publisher in exchange for an honest review. This does not affect my opinion of the book or the content of my review.
A perfectly pitched bedtime story and counting book for sleepy train lovers, illustrated in dramatic 3D sculptures!
A little boy climbs into bed with a book and starts counting the train cars in it, between the engine and caboose. "Ten sleepy cars going clickety-clack," reads the refrain. But as the boy counts cars and gets sleepier and sleepier, his room looks more and more like one of the train cars from his book--the sleeping car, of course!
Rhythmically told by the author of the Froggy books, Sleep Train is also stunning to look at. 3D illustrator, Lauren Eldridge, has sculpted an entire train full of intricate details. Part bedtime story, part counting book, part children's fantasy, Sleep Train is a magical ride to dreamland.
When your little one is ready to sleep, and loves trains, Sleep Train is a great book to pull out during those night time hours.
It's a quick story about a sleep train making its way through the night with a little boy on the train who counts the box cars to sleep instead of sheep.
My son really enjoyed the story, but he is also really in love with trains so it was perfect. He loves the part where the little boy in the book starts counting the train cars and has even remembered some of the names.
I do believe both girls and boys will enjoy the story. I like that it does rhyme for the most part, but it tends to end up a little choppy at times. My son obviously did not mind it, as he enjoyed the story overall.
The illustrations are pretty, I like the night time setting, it's very catchy. I do wish that the little boy in this book was a bit better done, I found him myself to be a little on a creepy side as he looked like a wooden boy that belongs in Pinoccio.
Overall, this was a great addition to our nighttime routine and my son enjoy the train.