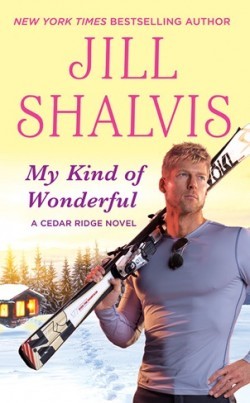 My Kind of Wonderful
by
Jill Shalvis
Series:
Cedar Ridge #2
Published by
Grand Central Publishing
on December 22nd 2015
Genres:
Romance
Pages:
368
Format:
Paperback
Source:
Publisher
Buy on Amazon
Rating:
Heat:
I received this book for free from Publisher in exchange for an honest review. This does not affect my opinion of the book or the content of my review.
UNEXPECTED AND UNDENIABLE...
Bailey Moore has an agenda: skiing in the Rockies, exploring castles in Europe, ballroom dancing in Argentina. Now that she has a second lease on life, she's determined not to miss a thing. What she doesn't realize is that item #1 comes with a six-foot-one ski god hot enough to melt a polar ice cap. She doesn't want to miss out on him either, but Hudson Kincaid isn't the type of guy to love and let go. And as gorgeous as Cedar Ridge is, she's not planning to stick around.
As head of ski patrol at his family's resort, Hud thinks he's seen it all. But never has he run into someone like Bailey. She might look delicate, but her attitude is all firecracker. And her infectious joy touches something deep within him that he's been missing far too long. Now he'll just have to convince Bailey to take a chance on her biggest adventure yet . . . something rare and all kinds of wonderful.
Guys! I cannot believe that as a lover of romances that it took me this long to pick up a Jill Shalvis book. No, really, I am quite embarrassed. Once I read My Kind of Wonderful, which of course I was unable to put down, I have crowned Jill my new Queen of Romance.
Jill's writing in romance is exactly what I crave.  I love the humor, I love the banter and I absolutely adore the quirky characters that dig their way into your heart.
Bailey and Hudson were the main characters of this book, though the rest of the Kincaid clan pops up in the book – with the exception of Jacob. Hudson was wonderful, even if he does come with a bit of baggage. He feels terrible about what happened between him and his brother Jacob and feels completely and utterly responsible for his mother and her state of mind. Between taking care of his mother, worrying about the whereabouts of his twin brother and taking care of the resort – Hud has no space for anyone in his heart.
Bailey was fantastic. She is a cancer survivor who has a list of things she wants to do in life, especially since she is now free of cancer. She is hired to paint a mural for the Kincaids at the resort, where she runs into Hud. The attraction between the two is crackling, and no sooner do they start a small fling, that quickly develops into something more, a lot more than either of them are willing to admit.
This book was quite a ride. The interaction between the Kincaid clan alone just made the entire journey worthwhile. The way they pick on each other is both endearing and amusing. There is a lot of love there, even if for the most part they are all step-brother's and sisters. The Kincaids significant others fit into the series perfectly. The book made me laugh, it brought joy into my heart and had me completely hooked. I am now looking forward to more from Jill and I will be reading the books that I have missed out on.