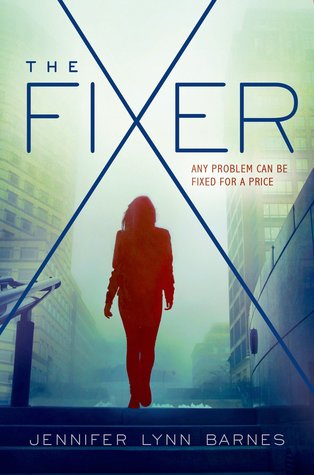 The Fixer
by
Jennifer Lynn Barnes
Series:
The Fixer
,
#1
Published by
Bloomsbury USA Childrens
on July 7th 2015
Genres:
Young Adult
,
Thriller
Pages:
372
Format:
Kindle Edition
Source:
Publisher
Buy on Amazon
Rating:
I received this book for free from Publisher in exchange for an honest review. This does not affect my opinion of the book or the content of my review.
This thriller YA is Scandal meets Veronica Mars.
Sixteen-year-old Tess Kendrick has spent her entire life on her grandfather's ranch. But when her estranged sister Ivy uproots her to D.C., Tess is thrown into a world that revolves around politics and power. She also starts at Hardwicke Academy, the D.C. school for the children of the rich and powerful, where she unwittingly becomes a fixer for the high school set, fixing teens' problems the way her sister fixes their parents' problems.
And when a conspiracy surfaces that involves the family member of one of Tess's classmates, love triangles and unbelievable family secrets come to light and life gets even more interesting—and complicated—for Tess.
Perfect for fans of Pretty Little Liars and Heist Society, readers will be clamoring for this compelling teen drama with a political twist.
Sixteen-year-old Tess Kendrick is about to have her entire world turned upside down. Having spent her entire life on her grandfather's ranch, Tess is suddenly uprooted and moved to D.C by her much older sister Ivy Kendrick, where she is thrown into a world of politics and power.
Tess never knew what Ivy did for a living in D.C. All Tess knows was that Ivy abandoned her after their parents death and the grudge against her sister for bailing and barely calling is strong.
It doesn't help when Tess learns from the kids at school that Ivy is a Fixer who fixes people's problems, including a lot of problems for the parents of the teens that go to her school.
When a conspiracy surfaces that might involve more than one family of her new school and Tess' own classmates, Tess finds herself in a very complicated situation and she doesn't like being kept in the dark. But what Tess does not realize is just how dangerous power and politics might be.
This was wonderful. My first book by this author and needless to say it will now be my last, I am already on book two and loving it.
Jennifer Lynn Barnes really knows how to write a complicated story that hooks you from the very first page and keeps you on the edge of your seat the entire time. I had the hardest time parting with this book. I loved the characters, I loved the mystery, I loved how all the lies connected and how everything unfolded.
That shocking moment about Ivy and Tess in the end, I almost did not see coming, but it ended up being such a good twist that only made the book even more compelling.
Tess is a character that is easy to follow. She is still pretty much a teenager in her own way, but it was nice to see that despite her loneliness and grudge against Ivy, she still cares very much.
The writing for this was just great, it kept me interested, the storytelling was well done, how everything connected seemed to be well though out and it ended up being a really engrossing read that I cannot wait for more from this author.