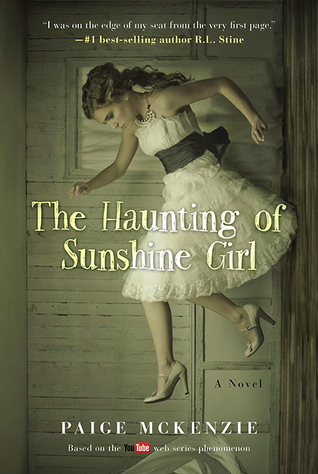 The Haunting of Sunshine Girl
by
Paige McKenzie
,
Alyssa B. Sheinmel
Series:
The Haunting of Sunshine Girl #1
Published by
Hachette Books
on February 2nd 2016
Genres:
Young Adult
,
Paranormal
,
Ghosts
Pages:
298
Format:
Paperback
Source:
Bought
Buy on Amazon
Rating:
Shortly after her sixteenth birthday, Sunshine Griffith and her mother, Kat, move from sunny Austin, Texas, to the rain-drenched town of Ridgemont, Washington. From the moment they arrive, Sunshine feels her world darken with an eeriness she cannot place. Something about their new house is just…creepy.
In the days that follow, Sunshine is followed around the house by an icy breeze, phantom wind slams her bedroom door shut, and eventually, the laughter Sunshine hears on her first night evolves into sobs. As the spirits haunting her house become more frightening—and it becomes clear that Kat is in danger—Sunshine must accept what she is, pass the test before her, and save her mother from a fate worse than death.
We follow a sixteenth year old girl named Sunshine Griffith as she and her mom make a move from Austin, Texas to Ridgemont Washington. From the moment the two arrive in their new home, Sunshine cannot shake off the creepy feeling that seems to follow her through the house.
It doesn't take long for Sunshine to realize what is happening. The house feels cold, there are footsteps of a little girl in the middle of the night, sobbing, bedroom door slamming shut, and her stuff gets thrown all over the floor.
It's not until one night where the experience what happened to the little girl that turns Sunshine's whole world upside down. Both her and her mother Kat witness something evil that has happened in the house, but her mother does not remember what happened the next day. Now her mother is acting strange and not at all like the loving woman that Sunshine is familiar with.
This book was interesting. I wasn't sure what I was expecting when I started reading it, but I found myself enjoying it.
Sunshine starts a new school and is drawn to a boy named Nolan, who becomes her really good friend. Nolan is incredibly smart and really adored his grandfather who had recently passed away. The loss had hit him hard, but Nolan holds on and believes in his grandfather's ghost stories so he and Sunshine become really close when Nolan ends up the only person who does not look at her as if she had gone insane.
There is also a strange art teacher that is really into weird and creepy.
Together Nolan and Sunshine must find out what Sunshine really is and save her mother before time runs out.
Outside of the special snowflake alert, I found myself kind of liking Sunshine. She loves film photography – a girl after my own heart. She is very loyal to the people she really cares about and very modest. She just wants to feel like a sixteen year old girl, but she experiences things that no one else can.
The book was pretty character driven and some parts were really spooky. I was kind of hoping the rainy eeriness setting of Ridgemont, Washington would add to the atmosphere, but that part I found a bit lacking.
Overall, I enjoyed it and cannot wait to see what happens next.