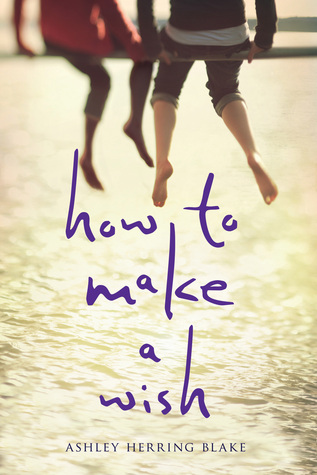 How to Make a Wish
by
Ashley Herring Blake
Series:
standalone
Published by
HMH Books for Young Readers
on May 2nd 2017
Genres:
Young Adult
,
Romance
,
Glbt
Pages:
336
Format:
Paperback
Source:
Publisher
Buy on Amazon
Rating:
Heat:
I received this book for free from Publisher in exchange for an honest review. This does not affect my opinion of the book or the content of my review.
All seventeen year-old Grace Glasser wants is her own life. A normal life in which she sleeps in the same bed for longer than three months and doesn't have to scrounge for spare change to make sure the electric bill is paid. Emotionally trapped by her unreliable mother, Maggie, and the tiny cape on which she lives, she focuses on her best friend, her upcoming audition for a top music school in New York, and surviving Maggie's latest boyfriend—who happens to be Grace's own ex-boyfriend's father.
Her attempts to lay low until she graduates are disrupted when she meets Eva, a girl with her own share of ghosts she's trying to outrun. Grief-stricken and lonely, Eva pulls Grace into midnight adventures and feelings Grace never planned on. When Eva tells Grace she likes girls, both of their worlds open up. But, united by loss, Eva also shares a connection with Maggie. As Grace's mother spirals downward, both girls must figure out how to love and how to move on.
The story follows two girls, Grace Glasser and Eva. Grace just wants to have her own life, but she is emotionally trapped by her unreliable mother, Maggie. Maggie, who does not know how to be a mother and jumps from boyfriend to boyfriend, with a constant change in their living environment.
Eva has just lost her mother and now lives with Grace's best friend Luca and his mother Emmy. She used to be a dancer before she lost her mother, now she is just looking to pick up the pieces.
Key Points
This book took me a couple of months to finish, mostly thanks to Grace's mother Maggie. I get that this was part of the plot and to add some sort of drama, but I am honestly so fed up with crappy parents in YA books that this completely turned the book upside down for me. I get that Maggie is not the only parent in this book and that Emmy is just wonderful, warm and understanding. The difference between the two single mother women is stark, but Maggie's actions had been literally just gross till the very end.
The plot was slow moving. Outside of Grace constantly being angry over Maggies actions and Maggie acts unhinged, there wasn't much going on. Not for a while anyway, but at that point I didn't really care.
I loved that this book had LGBTQ relationship and it was interracial as well. I always adore the diversity in my books. Problem is, Grace and Eva never worked for me. Grace just had too much problems and Eva was this sweet broken girl who just could not seem to understand Grace's problem. Like really, she didn't. Grace warns Eva countless of times to stay away from Maggie and even after Grace tells Eva why she wants her to stay away from Maggie and everything her mother is capable of, what does Eva do? Not listen to her and something bad unfolds.
I loved Eva, but the relationship felt forced and I wished Eva would have listened to Grace – I felt like she should have.
Overall, I can see how people would love this book for what it is but the main element of unhinged mother did me in. There is something that happens in the end of the book that honestly drove the rating down even lower for me.
The saving grace (no pun intended) here for me was Eva, Luca and Emmy – I thought they were great characters. I loved Emmy's kind heart and her dynamic with Luca. I loved that she cared so much for Eva and even Grace despite everything that happened.