This book may be unsuitable for people under 17 years of age due to its use of sexual content, drug and alcohol use, and/or violence.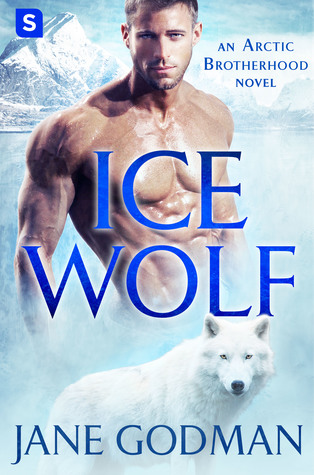 Ice Wolf
by
Jane Godman
Series:
Arctic Brotherhood #1
Published by
Macmillan
on March 7th 2017
Genres:
Paranormal
,
Romance
Pages:
300
Format:
Kindle Edition
Source:
Publisher
Buy on Amazon
Rating:
Heat:
I received this book for free from Publisher in exchange for an honest review. This does not affect my opinion of the book or the content of my review.
They are the Arctic Brotherhood.
They are deadly fighters, fierce protectors and loyal mates.
Elliott Wilder is a mild mannered Alaskan college professor. Wilder craves the things most people find boring. Seclusion. Monotony. Anonymity. But what Wilder craves most of all is the thing he can't have… memory loss. Four hundred years ago, Wilder and the other members of the Arctic Brotherhood were captured and tortured by the leader of the Siberian werewolves. Wilder is still haunted by memories of that night, when he wasn't able to protect his leader.
Now the Siberian wolf is on the loose and seeking revenge. Not only must Wilder lead the brotherhood, he must fight the attraction he feels toward its newest recruit, Jenny Piper. Jenny offers Wilder a glimpse of the life he can't have. As the brotherhood races against time to save humanity from the horror their enemies unleashed on the world, Wilder must reach inside himself to find the leader the brotherhood needs and the mate Jenny craves.
Why I gave this book a 1 star rating
Might contain spoilers, so don't read this if you don't wanna know okay?
What was the point? I never go into a book wanting to hate it. It's been a while since I read a paranormal romance and was in a mood for one. This one was receiving great early reviews and an eARC showed up in my inbox, so why not? The book and I started off on the right foot and it quickly went downhill from there. It had so much potential with it's Norse mythology background, but not only was the story lacking the way things unfolded really hit the nail on that coffin. The background story was a bit confusing and I felt like we needed more information to grasp it.
Instalove and main characters. I felt like there was an instalove in this book. Okay, I get it, they are wolves and the whole mating this… but it was awkward and annoying and none of the romance clicked for me. Not too mention that I did not like Jenny. When they go on the mission to capture a really bad guy in NYC, she seemed to have failed to get the memo and stupidly get's herself caught because she needed to go outside and think about her feelings for Wilder. Because she apparently could not do that from her hotel room. Yay for stupid female leads.
I thought this was a werewolf story and I guess it was, but not the way I remember or want my werewolves. They turned into wolves and I guess they are more in tune with being a wolf then human? Which honestly made some of their actions a bit weird. It was like watching human's act like animals. It was super weird and awkward.
Wolf mountain a wolf /cringe
There is this bad guy right? Not 100% sure why he is bad, but he captured the brotherhood like 400 years ago and Wilder saved Gunners life, but Gunner lost his hand in the process. Santin is suppose to be this big bad guy who gives them lots of trouble and is immune to silver. He has escaped his prison and is coming for them. The first encounter was fun, there was a fight and it gave this book a chance. The final confrontation with Santin happened so quickly and easily, I was left more than a little annoyed. Like…for reals?
Everything that follows is just so convenient, what was even the point of setting something like this up only to have it be so anti-climatic.
So the brotherhood discovers that Santin released Fenrir, their most powerful ally. Again, the final confrontation lacked in everything.
They bring down the bad guy with no problems in front of millions of people and no one ever get's in their way. So this god like creature get's taken down by a pack of wolves who have not been together in 400 years but suddenly click?
Wilder wanting to put everyone in danger cause he cannot stop moping about Jenny.
Weird human's being in animal heat.
Ugh, I just find that I have a hard time explaining. I just found it bad. It could have been better. There was so much potential and it faltered. Nothing lived up to it's potential. The love story in this was annoying and too quick. The plot-line was convenient and underdeveloped and anticlimactic. You can read the spoiler of my annoyance below
View Spoiler »
When they go to battle Santin, he goes to the palace of their goddess and captures her easily. So in a place where they are the strongest, all Santin had to do was stupidly walk up to Wilder talking and Wilder jams a needle into him and kills him, just like that… So this bad guy that was given them trouble dies just like that? what was the point? why even bother with this huge set up? « Hide Spoiler
Okay, I spent enough time wrapping my head around this review.