Just a quick note today to let you know that Sophia Rose will be on the blog today with her lovely new review <33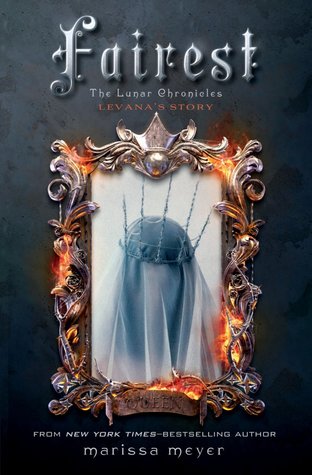 Fairest
by
Marissa Meyer
Series:
The Lunar Chronicles #3.5
Published by
Scholastic
on January 27th 2015
Genres:
Young Adult
,
Fantasy
,
Science Fiction
Pages:
224
Format:
Paperback
Source:
Bought
Buy on Amazon
Rating:
Mirror, mirror on the wall,Who is the fairest of them all?
Fans of the Lunar Chronicles know Queen Levana as a ruler who uses her "glamour" to gain power. But long before she crossed paths with Cinder, Scarlet, and Cress, Levana lived a very different story – a story that has never been told . . . until now.
Marissa Meyer spins yet another unforgettable tale about love and war, deceit and death. This extraordinary book includes full-color art and an excerpt from Winter, the next book in the Lunar Chronicles series.
Sometimes the villains are more fascinating than the heroes. Queen Levana has been the boogie-woman in the dark with nearly ultimate power since the beginning of The Lunar Chronicles series and she has not been afraid to wield the power to get what she wants. I was all on board for this book that takes a dip into her dark and shadowy past to see what came before and get a glimpse inside the mind of such a calculating woman.
Fairest falls between Cress and Winter in the series. I think it was a good place for the series to stop and pull over for this chronological prequel that makes sense to read it after learning the circumstances in the current situation and getting who all the players are before going back to see how it was all set in motion and then going on to get the last chapter in the story. I do not recommend reading it at the opening of the series because there is a feeling that though further back in time, that the reader has a good grasp on the world building. Plus, it's a series spoiler in ways if read first.
So, Fairest, Queen Levana's story and a loose retelling of the Wicked Queen and stepmother of the Snow White tale. It begins when Levana is fifteen, her parents have just died, and her sister is taking the throne. It stays with Levana as the narrator through the whole story.
I felt a certain sympathy for her. She never really stood a chance between a lack of nurture and her own nature. The story focuses on her quest to have something she can't understand or truly grasp- love, being loved, having a feeling of belonging and family, but she snatches for it anyway. She both breaks the beauty of what she had and discovers that it was an illusion all along because she wants two very different things constantly and those things are at cross purposes and can't exist at the same time the way she wants them.
It's a sad story, but the author did a fine job painting Levana as she is under her glamour. I had the joy of seeing how things in the series were set in motion and the significance of the players and their roles. This is a great lead in to the final book, Winter, especially now that I know better the heroine Winter's backstory from this book.
This won't be for everyone and it is cleverly written so a reader can choose to read it or skip it. Worth reading it though.