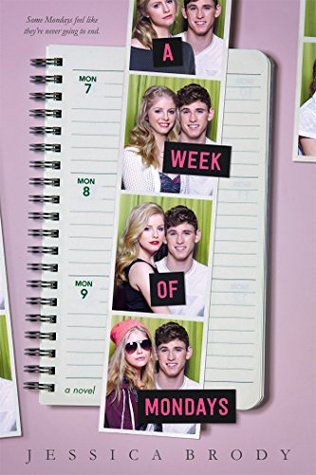 A Week of Mondays
by
Jessica Brody
Series:
standalone
Published by
Straus and Giroux
on August 2nd 2016
Genres:
Contemporary
,
Young Adult
Pages:
463
Format:
Kindle Edition
Source:
Library
Buy on Amazon
Rating:

When I made the wish, I just wanted a do-over. Another chance to make things right. I never, in a million years, thought it might actually come true...

Sixteen-year-old Ellison Sparks is having a serious case of the Mondays. She gets a ticket for running a red light, she manages to take the world's worst school picture, she bombs softball try-outs and her class election speech (note to self: never trust a cheerleader when she swears there are no nuts in her bake-sale banana bread), and to top it all off, Tristan, her gorgeous rocker boyfriend suddenly dumps her. For no good reason!
As far as Mondays go, it doesn't get much worse than this. And Ellie is positive that if she could just do it all over again, she would get it right. So when she wakes up the next morning to find she's reliving the exact same day, she knows what she has to do: stop her boyfriend from breaking up with her. But it seems no matter how many do-overs she gets or how hard Ellie tries to repair her relationship, Tristan always seems bent set on ending it. Will Ellie ever figure out how to fix this broken day? Or will she be stuck in this nightmare of a Monday forever?
From the author 52 Reasons to Hate My Father and The Unremembered trilogy comes a hilarious and heartwarming story about second (and third and fourth and fifth) chances. Because sometimes it takes a whole week of Mondays to figure out what you really want.
Sixteen-year-old Ellison Sparks is having the worse kind of Monday. She gets a ticket for running a red light, takes a really bad school picture, fails at her softball try-outs and her class election speech, and to top of the day, her boyfriend Tristan dumps her with a lame excuse.
Defeated Ellison thinks she can do better and wishes for a do-over, what she doesn't expect was to experience the same day over and over again with a chance to make it better for herself.
This was cute and a bit of a reminiscence of groundhog day. I liked the storyline a lot and that the author chose to use that kind of inspiration in a young adult novel not only to grow her character but also to teach a less.
Be yourself and do what makes you happy and hopefully everything falls into place.
Ellison was a bit frustrating at first, but she was a teenage girl who gets dumped by her popular rock star boyfriend and she has no idea why. Suddenly, when presented the chance to fix her day, Ellison seems to think that the only way she can break this cycle is if she can keep Tristian from breaking up with her. While doing that, she forms a rocky relationship with her best friend Owen when she tries to focus so hard on getting what she thinks she wants, versus what she really wants.
I liked that Ellison grew as a character, despite the little flop in the end that made me grate my teeth a little – but I loved the way things turned out and how she used the day not only to better herself but to also help fix her family life and her relationship with Owen.
I loved Owen in this book and wish there would have been more of him, but their relationship just ended up being so cute and heart-melting that it made it a stronger enjoyable part of the book.
Overall, this is a sweet, cute, YA Contemporary that I enjoyed from page one till the end and I am glad it teaches a lesson about discovering who you are and what really makes you happy and not just letting people influence you.