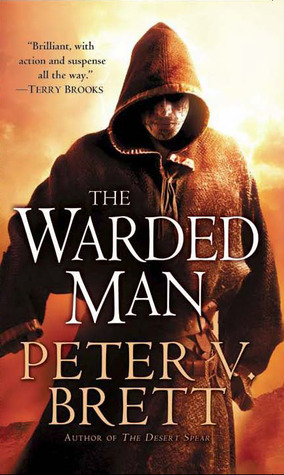 The Warded Man
by
Peter V. Brett
Series:
Demon Cycle
,
#1
Published by
Del Rey
on March 10th 2009
Genres:
Fantasy
Pages:
434
Format:
Kindle Edition
Source:
Library
Buy on Amazon
Rating:
Heat:
As darkness falls after sunset, the corelings rise—demons who possess supernatural powers and burn with a consuming hatred of humanity. For hundreds of years the demons have terrorized the night, slowly culling the human herd that shelters behind magical wards—symbols of power whose origins are lost in myth and whose protection is terrifyingly fragile. It was not always this way. Once, men and women battled the corelings on equal terms, but those days are gone. Night by night the demons grow stronger, while human numbers dwindle under their relentless assault. Now, with hope for the future fading, three young survivors of vicious demon attacks will dare the impossible, stepping beyond the crumbling safety of the wards to risk everything in a desperate quest to regain the secrets of the past. Together, they will stand against the night.
Why I enjoyed The Warded Man by Peter V Brett
It's been a long time since I read an adult fantasy. I introduced my husband to the book because I figured it was something he would like and then he pressured me into reading it. My relationship with The Warded Man started out slow. The book, like any adult fantasy is awfully dense and since it's been a while since I read an Adult Fantasy, I almost forgot how dense the books can get. I was pleasantly surprised that it did only take me a week to finish the first book.
So let's explore a few points of why I thought this was interesting.
The World
The world set in Peter V Bretts books is super different. It's dark, it's riddled with demons called Corelings that come from The Core. The corelings can come in different shapes and forms. There are wood demons, fire demons, wind demons, sand demons, etc. Mankind, fear them because they destroy towns, kill people without mercy and they seldom have a way of fighting them. They do only come out at night, and the only protections, most people have, that choose not to fight them, is warding. People ward symbols into their homes, or the walls of their town or posts in order to keep the demons out and from destroying their lives. If the wards fail, it creates a breach and the demons can come through without mercy and rain havoc on the town and its inhabitants.
There are stories of people who choose to fight the corelings, but most have succumbed to what they think is their fate and hide behind the wards. Those people choose to believe that their main job is to survive by populating humanity the world as fast as they can since their numbers are getting smaller.
The world is dark, it's gritty, its cruel and at times it was really hard to read. Parts of the book made me cringe. I can't say I enjoyed the parts about women thinking their only goal left in life is to make babies as soon as possible. It was both disturbing and hard to digest. I did enjoy the world as a whole and the different places that it was broken down into and how everything worked together. There was definitely a difference in people depending on where they came from.
The Characters
There are three major characters in the first book. We follow Arlen, Leesha and Rojer. Like all adult books, we start their journey from when they are very young and the events that unfold around them to make them into the type of people they become at the end of the book. All are cruel, all are not easy to read, but the world that they live in is dark and scary and molds them as people. I found them all really interesting and enjoyed how each chapter was devoted to a specific character as they grew, what was happening up until the point that their lives intertwined.
The Plot/Pacing/Writing
The plot was enjoyable, the stage is set and I cannot wait to see what happens next on their journey.
The pacing was slow at first, there is a lot of information, there is a lot of character growth at the beginning of the book. I started enjoying the book more the last 60% because the characters were grown and their life has taken a critical turn. There was more action and adventure, so the movement of the book was better.
The writing is good, Brett definitely knows how to weave a story that is unlike anything I have yet read. It's interesting and I am looking forward to see how it unfolds.