I hope you guys don't mind these. I have read more books than I can review and not all of them I have much to say about, but this is the easiest way for me to catch up and I still want to review what I read and how I felt.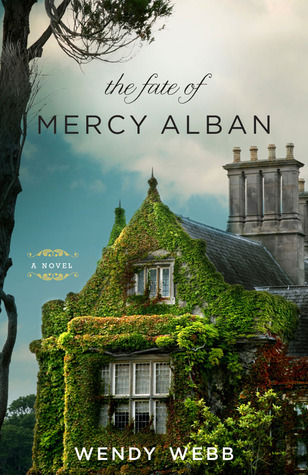 The Fate of Mercy Alban
by
Wendy Webb
Series:
standalone
Published by
Hachette Books
on February 5th 2013
Genres:
Paranormal
,
Mystery
Pages:
344
Format:
Kindle Edition
Source:
Library
Buy on Amazon
Rating:
From award-winning novelist Wendy Webb comes a spine-tingling mystery about family secrets set in a big, old haunted house on Lake Superior.
Grace Alban has spent twenty years away from her childhood home, the stately Alban House, for reasons she would rather forget. But when her mother's unexpected death brings Grace and her teen-age daughter home, she finds more haunting the halls and passageways of Alban House than her own personal demons.
Long-buried family secrets, a packet of old love letters and a lost manuscript plunge Grace into a decades-old mystery about a scandalous party at Alban House, when a world-famous author took his own life and Grace's aunt disappeared without a trace. The night has been shrouded in secrecy by the powerful Alban family for all of these years, and Grace realizes her family secrets tangle and twist as darkly as the secret passages of Alban House. Her mother was intending to tell the truth about that night to a reporter on the very day she died - could it have been murder? Or was she a victim of the supposed Alban curse? With the help of the disarmingly kind--and attractive—Reverend Matthew Parker, Grace must uncover the truth about her home and its curse before she and her daughter become the next victims.
This honestly would be perfect for fall, but I found the book fell a little short for me.
Grace Alban moves back into her childhood home after her mother dies and a strange woman that might be related to her shows up at the funeral. Grace thinks it's her aunt who disappeared from Alban House years ago. Lot's of town people think the family is cursed due to all the tragedies that happened at the house that is now a historical place.
The mystery was interesting if not frustrating. It's obvious the caretakers of the house know what is going on, but every time they are about to tell Grace what happened, they are like "Oh Miss Grace I will tell you everything, but first I must feed you" and then they forget to tell her. It just felt annoying and like everything could have been avoided, all the danger, if people would just tell her what's up. Especially since all of them were obviously in danger.
There is a missing book manuscript.
At one point you are reading a book about a man who was writing a book, in a book.
Oh, and the awkward relationship between Grace and her pastor, who she apparently beds after only knowing for a little while. Not very realistic.
Good concept, but poorly executed. I still do recommend it for a fall read because the concept was interesting enough.
This book may be unsuitable for people under 17 years of age due to its use of sexual content, drug and alcohol use, and/or violence.
The Untouchable Earl
by
Amy Sandas
Series:
Fallen Ladies #2
Published by
Sourcebooks Casablanca
on November 1st 2016
Genres:
Historical Romance
Pages:
416
Format:
Kindle Edition
Source:
Library
Buy on Amazon
Rating:
Heat:
He's a reclusive Earl with a painful secret that's kept him from knowing a lover's touch. She's a sheltered debutante tired of living by society's rules. But when she's forced from the ballroom to the brothel, Lily discovers the dark thrill of falling from grace...and into the arms of a man who could destroy her as easily as he saved her.
Lily Chadwick has spent her life playing the respectable debutante. But when an unscrupulous moneylender snatches her off the street and puts her up for auction at a pleasure house, she finds herself in the possession of a man who fills her with breathless terror and impossible yearning.
Though the Earl of Harte claimed Lily with the highest bid, he hides a painful secret―one that has kept him from knowing the pleasure of a lover's touch. Even the barest brush of skin brings him physical pain, and he's spent his life keeping the world at arm's length. But there's something about Lily that maddens him, bewitches him, compels him...and drives him toward the one woman brave and kind enough to heal his troubled heart.
When Lily get's kidnapped and sold to the brothel in order for her family debt to get paid off, she is rescued by the cold and brooding Earl of Harte. Not wanting to marry off just anyone, Lily asks the Earl if she can be his mistress as soon as he rescues her, but the Earl holds a secret, one that might not allow her to get too close to him.
Okay, I loved the first book of the series, but this one felt like it was written by a completely different person.
The first one actually had a story, depth and focus on character building and relationship. This was one sex and… sex.
Which was fine… If that is all you are prepared to read despite such a strong first book. I wasn't. I definitely did not see the shy, sweet Lily as anyone who would want to be involved in being a mistress, especially since she felt so innocent. I mean, for freaks sake the woman was just kidnapped and was being sold as a virgin in a brothel and all the sudden she is like oh, I want to sleep with you. How could you not have any sort of bad reaction?
I did like the Earl of Harte, his condition was interesting, but that is about it.
This book may be unsuitable for people under 17 years of age due to its use of sexual content, drug and alcohol use, and/or violence.
Wild Ride Cowboy
by
Maisey Yates
Series:
Copper Ridge #9
Published by
Harlequin Books
on August 29th 2017
Genres:
Contemporary Romance
Pages:
384
Format:
Kindle Edition
Source:
Library
Buy on Amazon
Rating:
Heat:
He's come back to Copper Ridge, Oregon, to keep a promise—even if it means losing his heart…
Putting down roots in Copper Ridge was never Alex Donnelly's intention. But if there's one thing the ex-military man knows, it's that life rarely unfolds as expected. If it did, his best friend and brother-in-arms would still be alive. And Alex wouldn't have inherited a ranch or responsibility for his late comrade's sister—a woman who, despite her inexperience, can bring tough-as-iron Alex to his knees.
Clara Campbell didn't ask for a hero to ride in and fix her ranch and her life. All she wants is the one thing stubborn, honorable Alex is reluctant to give: a chance to explore their intense chemistry. But Clara has a few lessons to teach him, too…about trusting his heart and his instincts, and letting love take him on the wildest adventure of all.
My first Yates book. I love cowboys and really wanted to give her a shot, but it just did not work for me.
I love that there were characters with an age difference. Alex was Clara's brother's friend in the service and her brother died in service and gave the ranch for a year to Alex so he can get Clara on track and then leave the rest to her.
Clara ends up attracted to Alex so they start a physical relationship.
I loved that these two were both kind of damaged characters and needed each other.
Not much happens. I was BORED for 90% of the book. Also, they had these lengthy monologue conversations pointing out each others problems that felt like just one bad therapy session that really numbed my brain cells.
I started skimming through the sex scenes. I wanted more tension and relationship building.
Alex just felt years mature over Clara, who despite claiming that she is not a child, felt too childish.