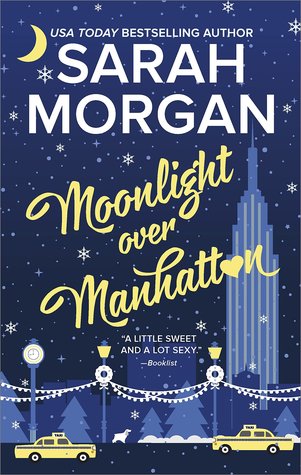 Moonlight Over Manhattan
by
Sarah Morgan
Series:
From Manhattan with Love #6
Published by
Hqn
on November 28th 2017
Genres:
Contemporary Romance
,
Holiday
Pages:
384
Format:
Kindle Edition
Source:
Publisher
Buy on Amazon
Rating:
Heat:
I received this book for free from Publisher in exchange for an honest review. This does not affect my opinion of the book or the content of my review.
She'll risk everything for her own Christmas miracle...
Determined to conquer a lifetime of shyness, Harriet Knight challenges herself to do one thing a day in December that scares her, including celebrating Christmas without her family. But when dog walker Harriet meets her newest client, exuberant spaniel Madi, she adds an extra challenge to her list--dealing with Madi's temporary dog sitter, gruff doctor Ethan Black, and their very unexpected chemistry.
Ethan thought he was used to chaos, until he met Madi--how can one tiny dog cause such mayhem? To Ethan, the solution is simple--he will pay Harriet to share his New York apartment and provide twenty-four-hour care. But there's nothing simple about how Harriet makes him feel.
Ethan's kisses make Harriet shine brighter than the stars over moonlit Manhattan. But when his dog-sitting duties are over and Harriet returns to her own home, will she dare to take the biggest challenge of all--letting Ethan know he has her heart for life, not just for Christmas?
Harriet Knight has lived a lifetime in shyness, when she finally decided to conquer her fears, she challenges herself to do one thing a day in December until Christmas that scares her. That includes online dating, which ends in disaster when the man that showed up at a date is much older than he said he was, a climb out the bathroom window to escape, and a hospital visit due to an injured ankle.
Ethan Black is a workaholic, a doctor that is rough around the edges and has already gone through one miserable relationship. He didn't count on the fact that he will be sitting his sister's dog, or that the dog will try and destroy his apartment. So he asks his dog sitter to move into his apartment temporarily, not expecting the explosion in chemistry that follows.
This was cute, it was a decent read. I can see why people loved it.
For me? It didn't get interesting until about 58% into the book. I felt it dragged until then, I was bored, and had a bit of a hard time. There wasn't anything particularly wrong with it, I just did not find myself really invested and was really bored. It took me 13 days to read this, ouch.
Harriet was sweet, the relationship, once it got to that point, was cute.
Ethan makes a dumb mistake, realizes he makes the dumb mistake and fixes it… All within a few last pages of the book.
Felt same old.
Also, this takes place in NYC and snows a lot right before Christmas. I lived in NYC for like 15 years and I wish there was this much snow before Christmas…Happens, but not as often and wonderfully as this book made it timing wise.
Overall, romance lovers will enjoy this one. It's sweet, it's got winter, good characters and good writing.