This book may be unsuitable for people under 17 years of age due to its use of sexual content, drug and alcohol use, and/or violence.
A Wedding for Christmas
by
Lori Wilde
Series:
Twilight
,
Texas #7
Published by
Avon
on October 25th 2016
Genres:
Contemporary
,
Romance
,
Holiday
Pages:
384
Format:
Kindle Edition
Source:
Publisher
Buy on Amazon
Rating:
Heat:
I received this book for free from Publisher in exchange for an honest review. This does not affect my opinion of the book or the content of my review.
The whole town is ready for the holidays: The Cookie Club is baking, Main Street glitters with lights, the carolers sing . . .There's even a Christmas wedding.
When bodyguard Ryder Southerland sees his best friend's sister Katie at an L.A. Christmas party, he mistakes the slinky blonde for a celebrity stalker and tackles her. Then they tackle each other . . . at his place. The next morning, Katie's gone, and Ryder tells himself it's for the best. It isn't. Now, one Christmas later, Ryder's falling for the woman he's been missing in the town he hasn't missed at all . . .
Katie Cheek's outgrown the romantic fantasies she had about Ryder when she was fifteen. Katie's packed their hot night away in a box labeled "fling"—or tried to. But Twilight's bad boy is the best man in her brother's wedding. And up-close and personal, Ryder's impossible to ignore. So Katie can either go into hiding—or surrender to Christmas magic.
This book is kind of a follow up to what happens in the last book when two women from two different worlds exchange houses for Christmas. It can however be read as a standalone.
I did not like this one as much as I liked the one before. I do feel like this was Wilde's weaker book in this series.
I really liked Ryder, I thought he was swoon worthy. He did come with some packages. He left town when his best friends sister kissed him and it freaked him out, especially since he always pictured their family as his, after living in their house for a while due to his own family issues. His father blames him as a kid for his mother's death, that was very unfortunate and very sad. I hated his father for what he put the kid through, especially since Ryder already blamed himself.
I hated Katie, she destroyed this book for me. She goes to LA, has sex with Ryder and disappears. When he shows up in town for his best friends wedding, it gets complicated. Ryder went to the military, he grew up, he changed, but Katie keeps making him pay for his past. I hated her stupid treatment of him and her stupid rules. I never felt that he deserved the way she handled things.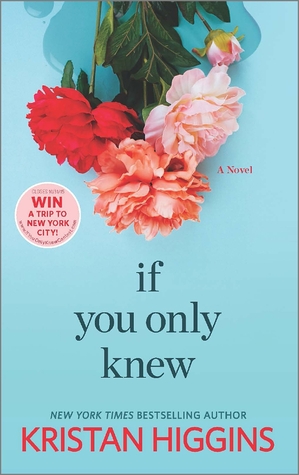 If You Only Knew
by
Kristan Higgins
Series:
standalone
Published by
HQN Books
on August 25th 2015
Genres:
Contemporary
,
Romance
,
Chick-Lit
Pages:
411
Format:
Paperback
Source:
Library
Buy on Amazon
Rating:
Heat:
Sisterhood in all its drama, hilarity and tears is at the heart of New York Times bestselling author Kristan Higgins's thoroughly captivating new novel, featuring the wit and romance that readers have come to expect from the much-loved creator of the Blue Heron series...
Wedding-dress designer Jenny Tate understands the happily-ever-after business, yet somehow she's still involved in her ex-husband's life. In fact, Owen's new wife may—inexplicably—be Jenny's new best friend. Sensing this, well, relationship isn't helping her move on, Jenny trades the Manhattan skyline for her hometown up the Hudson, where she'll be able to bask in her sister Rachel's picture-perfect family life…and hopefully make one of her own.
Her timing couldn't be more perfect, since Rachel will need her younger sister. Her idyllic marriage has just fallen to pieces in spectacular fashion after she discovers her husband sexting with one of his colleagues. Second chances aren't in Rachel's nature, but the desire for an intact family has her rethinking her stance on adultery, much to Jenny's surprise. Rachel points to their parents' "perfect" marriage as a shining example, but to protect her sister Jenny may have to tarnish that memory—and their relationship­—and reveal a secret about their family she's been keeping since childhood.
During this summer of secrets and lies, temptation and revelation, Jenny and Rachel will rely on each other to find the humor in their personal catastrophes, the joy in their triumphs…and the strength to keep hanging on.
After reading On Second Thought, I really wanted to read the other book related to this town and found If You Only Knew.
This follows Jenny and Rachel. Jenny is divorced, but remains friends with her ex-husband and his new wife. At the beginning of the book she is in her replacements baby shower and ends up delivering the baby.
I found that I really liked this book and the authors writing and the people, but I did not love this one. It is the weaker of the two.
I had a problem with the way Jenny treated Loki the dog and all her stupid remarks about him being old and when is he going to kick the bucket? She had this inner fantasy dialog that I found irritating and desperate at times. She really wanted to get married.
Rachel story was kind of heart breaking, but also on the annoying side. Her husband cheats on her and she keeps forgiving him until she finally has enough. When Jenny stands up to him, Rachel takes the losers side.
There was a bit of slut shaming in this book aimed at the woman who had the affair with Rachel's loser husband.

This book may be unsuitable for people under 17 years of age due to its use of sexual content, drug and alcohol use, and/or violence.
Shadow Falling
by
Rebecca Zanetti
Series:
The Scorpius Syndrome #2
Published by
Zebra
on August 30th 2016
Genres:
Post- Apocalyptic
,
Dystopia
Pages:
400
Format:
Paperback
Source:
Bought
Buy on Amazon
Rating:
Heat:
Before the Scorpius Syndrome tore through North America and nearly wiped out the population, Vivienne Wellington was the FBI's best profiler. The bacteria got her anyway. But she survived. She recovered. And when she woke up from a drug-nightmare of captivity, her skills as a hunter of men had gone from merely brilliant to full-on uncanny. Her mysterious rescuer wants her to put them to the test. But no matter how tempting he is, with his angel's eyes and devil's tongue, Vinnie knows she shouldn't trust him.
If the FBI were still around they would rate Raze Shadow as one of the bad guys. His military training can't wipe out his association with the Mercenaries, the most feared gang in a thousand miles. His loyalties are compromised. He won't even tell Vinnie his real name. But there's no FBI in the new America of fear and firepower, only instinct and risk.
And the way his arms wrap around Vinnie tells its own story. Whatever else Raze is concealing, he can't hide his desire . . .
This book continues with the events happening in book 1, I do not suggest to read this series out of order or a standalone because it has an ongoing story and conflict that keeps growing.
This was Raze's story, but as much as I was excited about it – I found it to be a bit on the disappointing side.
Raze needed Vivienne Wellington in order to exchange her to the mercenaries for his sister. Despite the fact that he knew about his sister's life being in trouble and what he had to do it did not stop Raze from sleeping with this woman and getting attached fairly quickly.
I found that stupid, reckless and made me think that they should have not gotten together in that kind of circumstances. Also, makes me really thankful that I do not have a brother to screw me over like that if god forbid something like this happened. Cause Raze only thought with his penis to begin with and not his loyalty to his family.
Also, just the whole set up, if I closed my eyes and listened to the book and ignored the names Vivvy and Raze – the set up and the personalities (including the spanking?) were pretty much exactly like the last two characters in book one.
I liked this because I loved the background conflict, but as far as the love story in this, I did not like it at all. Which was a shame, since I loved Raze in book 1, but did not think he would lead with his penis. I was hoping for a more back and forth, tug and pull and not straight to bed kind of thing.