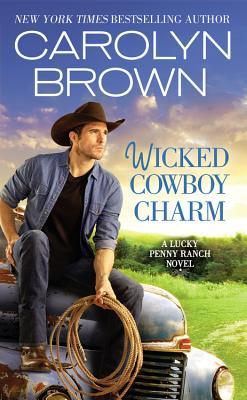 Wicked Cowboy Charm
by
Carolyn Brown
Series:
Lucky Penny Ranch #4
Published by
Forever
on January 31st 2017
Genres:
Contemporary Romance
Pages:
336
Format:
Kindle Edition
Source:
Publisher
Buy on Amazon
Rating:
Heat:
I received this book for free from Publisher in exchange for an honest review. This does not affect my opinion of the book or the content of my review.


ONE BLIZZARD, ONE BUNKHOUSE,AND A WHOLE LOTTA TROUBLE . . .
Josie Dawson is new in town, but it doesn't take a local to know that Deke Sullivan is trouble--in a smokin' hot package. He's sweet, sexy, and has charmed just about every woman in Dry Creek, Texas. Well, Josie won't be next. She'll keep her distance, even if he is great with babies and makes a mean cup of homemade hot chocolate. Deke Sullivan really is a one-woman type of guy. He just had to do a lot of looking to find that one woman. Now he thinks he's found her and he won't let a strong, sassy gal like Josie slip away. Just when he's wondering how to convince her he only has eyes for her, they get stranded in a tiny cabin during a major blizzard. If Deke can melt her heart before they dig out of the snow, he'll be the luckiest cowboy in Texas . . .
The Lucky Penny Ranch Series: Wild Cowboy WaysHot Cowboy Nights Merry Cowboy ChristmasWicked Cowboy Charm
With all my trusted bloggers fussing over Carolyn Brown and her writing, I knew I had to give in and give this author a try. I am glad to say that this is my first read by this author and although I wasn't in love with this story, particularly, I did really enjoy and really, really, liked her writing.
This is book four in Lucky Penny Ranch series and I believe it's the last book in this particular series, so shame on me for starting here – we get Deke and Josie's story to tie it all up.
Deke is a cowboy who loves his women and he isn't shy about it, spending lots of time in bars and picking up his one night stands. Josie is Jud's sister, who seems to think she has a prickly exterior and isn't looking for romance, but cannot deny the sudden attraction she feels towards Deke.
When the two hit the road to pick up a couple of bulls and horses (in Josie's case), the two never imagined that a big snowstorm was going to merge their paths together and get them stuck on the same farm when both were supposed to be miles apart.
It was a cute story, a bit of destiny tied into it. I did enjoy it, it was a soft read with what seems like perfect romance, a bit too perfect in this case. Nothing really goes wrong for Josie and Deke until like 70% into the book when they get home and hit a bit of a hick-up – but even then it felt like Brown was trying to stir things up a little. It didn't last long, but it felt unnecessary.
The book moved a bit slow for me, especially the first part. I couldn't wait for Deke and Josie to leave the bunkhouse. I usually enjoy snowed in plots, but this just felt a little monotonous for me, nothing really happens for the two until late in the 70% and by 90% I was just reading it as quickly as I could to move on.
What I did really like was Deke, I liked that he was such a HUGE animal lover and that was what warmed me up to him most. He was so swoon worthy. I wanted him to be more believable in his role as a woman's man, but he seemed to settle into settling down for one woman fairy quickly without much anxiety and that did not feel believable – but then I have only just met Deke – so maybe my opinion will change when I visit the rest of the series.
Josie seems to think she has a prickly exterior, I didn't get that vibe from her. She cares about her family, she was very quick into going into business with Deke instead of fighting out over the bulls with him, and overall she just seemed like an easy going, sweet person. She did take that one indiscretion with a solid skin though.
This overall was a really sweet story.
The writing, though, I really liked the style and I think I would enjoy the first few books in the series so I am definitely giving them a try. This book did not deter me from trying more of Brown's books, in fact, I cannot wait to read the other ARC's that are waiting for me on my kindle as well as some other backlist titles that have caught my eye.